Bahraini Sweet Rice (Muhammar)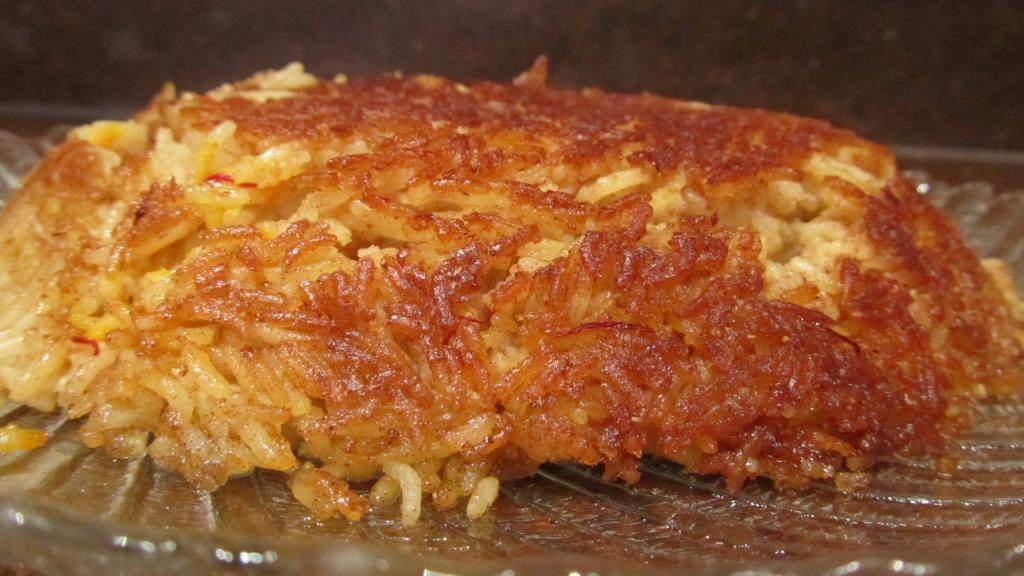 Ready In:

43mins

Ingredients:

7
directions
Combine, saffron, freshly ground cardamom and rose water in a small cup.
Bring a large pot of water to a boil with sea salt to taste. Add the rice and boil uncovered for precisely 8 minutes, then drain.
Mix the date molasses with the rice, then mix in the rose water mixture.
Choose a medium sized heavy bottomed pot (I use a cast iron pan, see intro). Melt the butter in it over medium heat. Add 2 spatula-fulls of rice and mix with the butter, patting down to cover the bottom of the dish. Pile the reminder of the rice in a loose cone shape and poke a few holes in the rice with the spoon handle. Sprinkle a few tablespoons of water over the rice, then cover tightly. Place over medium low heat and let cook for 20-25 minutes. Keep a close eye at the end as the rice can burn (use your nose to see if it begins to smell burned).
The easiest way to unmold the rice is to prepare a sinkful of cold water, dip the bottom of the pot in cold water for about 30 seconds, then invert the pot onto a serving platter. If the rice crust does not release fully, simply break up the crunchy pieces that stuck to the pot and scatter over top.
Serve with recipe#443922 or a Gulf Arabian fish or shrimp dish.
Enjoy!
Join The Conversation
Good grief, I burnt the rice. I wasn't being careful. Will try again and I think part of the problem was we have a highly efficient gas stove top and for that reason I will lower the heat to simmer and cook for 10 minutes remembering to check the rice at that point. I'll be back by the end of the month to re-review and star rate. Update: 21 April 2012 Success! Loved it! Heat was lowered the last 10 minutes to low and no burnt rice! To loosen the rice from the bottom of the pan, first I filled a 9" round Pyrex pie pan half full of water and submerged the pan. Worked perfectly! Served with simple roasted chicken and pan grilled asparagus. Reviewed for NA*ME March.

I LOVED this rice. The spices (I followed exactly, grinding my cardamom pods, etc) and the date syrup (like Rita I made date syrup which was delicious though more like a paste than a syrup) gave this buttery rice a marvelous flavor and the crunchy bits from the crust were heaven. My crust was not all it should have been--next time I hope it will be picture-worthy but it couldn't taste any better. I did use brown basmati rice. Great recipe!!!! Thanks, Umm.