Bacon-Wrapped Cream Cheese Chicken Breast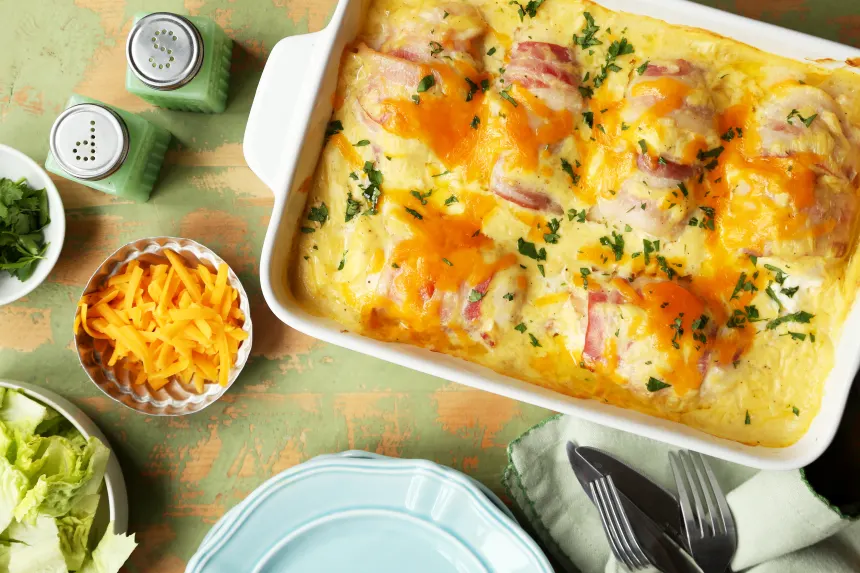 photo by Jonathan Melendez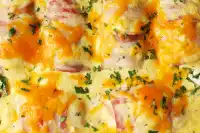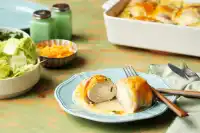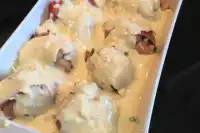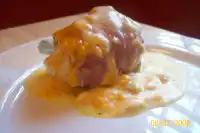 Ready In:

1hr 10mins

Ingredients:

12
directions
Set oven to 325 degrees F.
Butter a large baking dish.
Pound the chicken breast until flat (pound just enough to roll up easily).
Place 1 slice cream cheese in the middle of each breast.
Roll up the chicken breast (it does not matter if a little of the cream cheese comes out of the sides).
Wrap 2 slices of bacon around each breast, secure with a toothpick then place into prepared baking dish.
In a bowl mix undiluted soup with Parmesan cheese, sour cream, mayonnaise, milk, onion, salt and black pepper; mix until well combined then pour over chicken.
Bake for about 45 minutes or until the chicken is fully cooked.
Remove from oven and sprinkle with cheddar cheese (if using) then return to oven for a few minutes to melt cheese.
Delicious!
Questions & Replies

Got a question?
Share it with the community!
Reviews
I pounded the large Costco chicken breasts the best I could without destroying them. I found them really hard to roll and the cheese did escape because they weren't rolls. More like a taco. I had to add green onion to the cheese because I can buy only regular Philadelphia cheese. I placed 3 slices of bacon atop each breast instead of wrapping it around so that it would crisp a bit better. Served mashed potatoes with the sauce on top. Thank you for the recipe! We enjoyed it!

 

June 8, '07 This is the best everrrrr!!!! I make this almost every week. My DH favorite. Thanks a million , Kit for sharing this awesome recipe. I will give this more than 10 stars if i could. Soooooo YUMMY!!!!! Glen of Coolidge, Arizona May 28th, '07 This is the best ever!!!! My DH is sooo addicted with this one. It's a keeper. Thanks a million again, Kit for sharing!!! Big hugs, Glen of Coolidge, Arizona Hi again Kit, I made this for dinner last night and OOOH MY GOSH!!!! It was "DELICIOUS." Very very tasty and yummy. EXCELLENT RECIPE. Good job, Kit. I'll be making this again for our guests today. I can't wait to hear what they think. Thanks a million, Kit for sharing this. Yummy, yummy!! May 15th, '07 Hi Kit, I don't know how many times i've made this recipe already but like i said it's gotten to be a weekly thing for my hubby. This one is his PERSONAL favorite. I made this again last night but i didn't use cream of chicken soup instead, I put 1 cup of GRATED PARMESAN CHEESE, i used half and half instead of milk and use more sour cream iN it. What i did was, i added chopped fresh parsley into the sauce and i used part of it as a paste on the chicken before i rolled it up. I also put some shredded mozarella on top of the paste with the cream cheese. OHHH, it was delicious. I might add, my hubby really likes cheese. he-he. I also pre-cooked the bacon 400 degrees in the oven for 15 mins. and it was perfect for the rolling. Soo, more than 10 stars for this one. Thank you, thank you, thank you for sharing. luvyah, Glen of Coolidge, Arizona

 

This is amazing. Everyone who tried it loved it. I'm a hit or miss type of cook and this was a hit. The only issues I encountered were my pan was not deep enough for the chicken and sauce. I ended up with alot of extra sauce. I got some bread out and let the kids use it as a dip, they couldn't get enough and ended up eating the whole loaf. The other issue was temp and bake time. I turned my oven up to 375 and added another half hour to it. Still the chicken came out super moist. We're also bacon lovers so I pan fried some of the extra bacon and crumbled it on top of the dish at the end. Awesome recipe I will definitely try again.

 
Tweaks
June 8, '07 This is the best everrrrr!!!! I make this almost every week. My DH favorite. Thanks a million , Kit for sharing this awesome recipe. I will give this more than 10 stars if i could. Soooooo YUMMY!!!!! Glen of Coolidge, Arizona May 28th, '07 This is the best ever!!!! My DH is sooo addicted with this one. It's a keeper. Thanks a million again, Kit for sharing!!! Big hugs, Glen of Coolidge, Arizona Hi again Kit, I made this for dinner last night and OOOH MY GOSH!!!! It was "DELICIOUS." Very very tasty and yummy. EXCELLENT RECIPE. Good job, Kit. I'll be making this again for our guests today. I can't wait to hear what they think. Thanks a million, Kit for sharing this. Yummy, yummy!! May 15th, '07 Hi Kit, I don't know how many times i've made this recipe already but like i said it's gotten to be a weekly thing for my hubby. This one is his PERSONAL favorite. I made this again last night but i didn't use cream of chicken soup instead, I put 1 cup of GRATED PARMESAN CHEESE, i used half and half instead of milk and use more sour cream iN it. What i did was, i added chopped fresh parsley into the sauce and i used part of it as a paste on the chicken before i rolled it up. I also put some shredded mozarella on top of the paste with the cream cheese. OHHH, it was delicious. I might add, my hubby really likes cheese. he-he. I also pre-cooked the bacon 400 degrees in the oven for 15 mins. and it was perfect for the rolling. Soo, more than 10 stars for this one. Thank you, thank you, thank you for sharing. luvyah, Glen of Coolidge, Arizona