Bacon-Wrapped Cheddar Egg Bites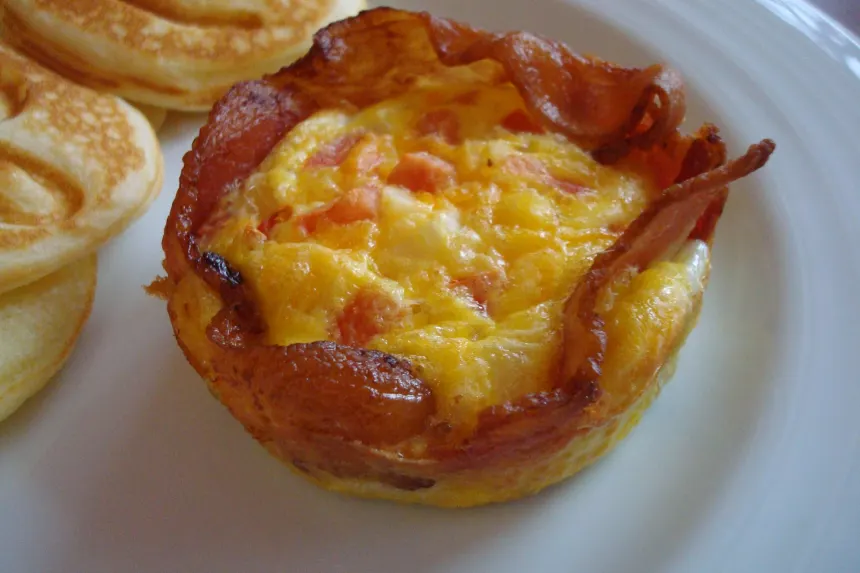 photo by Starrynews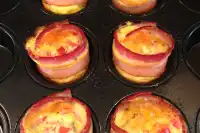 Ready In:

35mins

Ingredients:

5

Serves:

6
directions
Preheat oven to 375.
Spray muffin tin.
Line each spot with a bacon around the edges.
Whip all eggs.
Mix in cheese and other desired toppings.
Evenly pour the egg mix into each spot, filling about 1/2 way (6 eggs for a flatter muffin) or 3/4 way (9 eggs for a taller muffin).
Bake about 25 minutes or until bacon is cooked.
Pop out and enjoy!
Reviews
These were amazing! I only had thick cut bacon, and at 25 min, it didn't looked quite done, so I left it in for another 8 minutes for the bacon to finish up. I was worried the egg would cook through too much, but it turned out quite perfect! I made a half batch for the fiance and I, and we had three each. I used 6 pieces of bacon, 4 eggs, some milk, tomatoes, left over rotisserie chicken and cheddar. My muffin tin was non-stick to begin with, but I sprayed the tin as the recipe stated anyways. These didn't stick AT ALL! They popped out easily when they were done. The thick cut bacon REALLY made these turn out wonderful, and I highly suggest it. :)

 

Very easy breakfast recipe. Quick enough to make before work and still get there on time! I subbed red bell peppers for the tomatoes, but otherwise followed the recipe. Amazingly tasty for a low cal breakfast. Along with being incredibly easy, it's a great base recipe and easy to modify depending on your tastes. I've will added this to my recipe book with my additions. I can do the happy food dance!! THANK YOU!! GRPA

 

to get the texture of starbucks,( they are cooked in a vacuum seal bag ) you wold have to either buy a sous vide cooker ( how they are made) or could poach them in an egg poacher, and if you are an instata pot person, I think they have an insert to cook them, that is what makes them really good, only other thing is to try some 1/2&1/2 instead of milk or cut down cheese ( will make them creamier like a quiche.

 
Tweaks
Very easy breakfast recipe. Quick enough to make before work and still get there on time! I subbed red bell peppers for the tomatoes, but otherwise followed the recipe. Amazingly tasty for a low cal breakfast. Along with being incredibly easy, it's a great base recipe and easy to modify depending on your tastes. I've will added this to my recipe book with my additions. I can do the happy food dance!! THANK YOU!! GRPA