Bacon-Cheddar-Chive Scones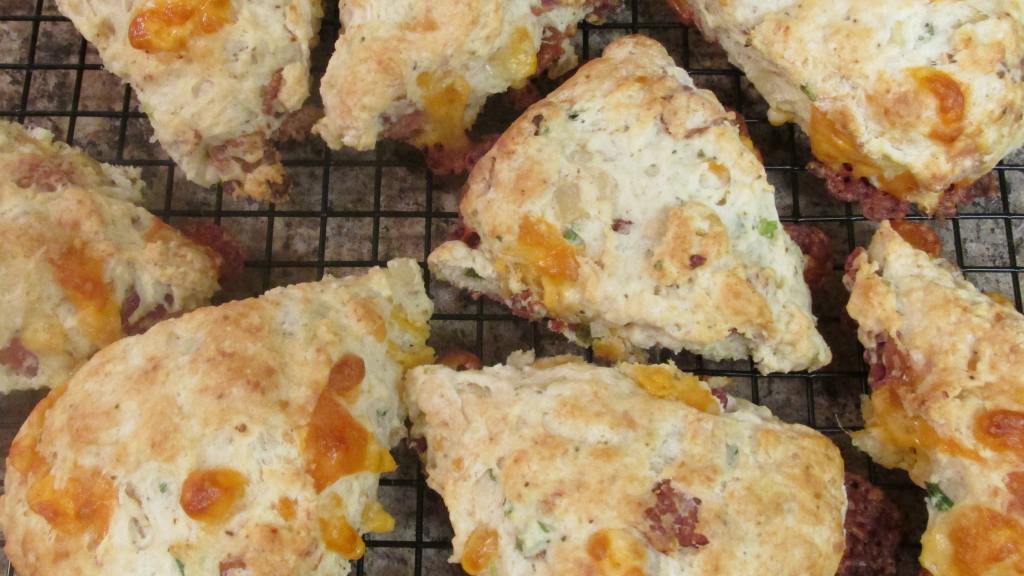 Ready In:

40mins

Ingredients:

10
directions
Preheat the oven to 425°F Lightly grease a baking sheet, or line it with parchment.
Whisk together the flour, salt, baking powder, and sugar.
Work the butter into the flour until the mixture is unevenly crumbly.
Mix in the cheese, chives, and bacon till evenly distributed.
Add ¾ cup of the cream, stirring to combine. Try squeezing the dough together; if it's crumbly and won't hang together, or if there are crumbs remaining in the bottom of the bowl, add cream until the dough comes together. Transfer the shaggy dough to a well-floured work surface.
Pat the dough into a smooth 7" disk about ¾" thick. Transfer the disk to the prepared baking sheet.
Use a knife or bench knife to cut the disk into 8 wedges, spreading the wedges apart a bit on the pan.
Brush the scones with a bit of cream; this will help their crust brown.
Bake the scones for 20 to 25 minutes, until they're golden brown. Remove them from the oven, and cool right on the pan. Serve warm, or at room temperature.
Yield: 8 large scones.
Join The Conversation
This was a lot of fun. I must say that I am not much of a baker, but I did pull this off pretty well. I will definitely be trying these again... it makes a nice side for a wonderful, filling breakfast. I used chopped scallions (since I already had some on hand from a previous dish I had made). I'm not sure if it is my oven temp, but this did seem a bit doughy, but the flavor was very good (definitely add salt). Thank you for posting. (Made for PRMR)

What a fabulous recipe.....I am no scone baker, but these little lovelies came out beautifully!<br/>So light and fluffy, but full of flavour!<br/>I grated half of my cheese, and cubed the other half...the grated to distribute throughout the mixture a little more evenly, and the cubed for that extra cheesy punch every now and then.<br/>Fresh garlic chives from the garden complimented it perfectly.<br/>I used the trusty KitchenAid, to bring it all together, adding around another 2-3 tbsp. cream to the dough, top get it all to stick together.<br/>I threw it straight onto the silicone paper lined baking sheet, and patted it into shape on there, moving it around to prevent it sticking as I did so.<br/>I baked for just under 20 minutes in a fan forced oven, and the results were absolutely wonderful.<br/>DH is loving them with soup for his lunches at work, and I am loving them just as they are.<br/>Definitely a repeat recipe. Thanks Annacia!<br/>Made for PRMR.

I made these 'just because' and because I made them I was totally disinterested in my dinner. These are wonderful as a snack or for breakfast or soup and salad. Just great period! I diced the cheddar and followed the recipe as written other than reducing it for two of us. I just used regular organic, unbleached AP flour and couldn't be more pleased with the results. Thanks for posting this gem. Made for The Bistro Babes ZWT 8