Authentic Spanish Paella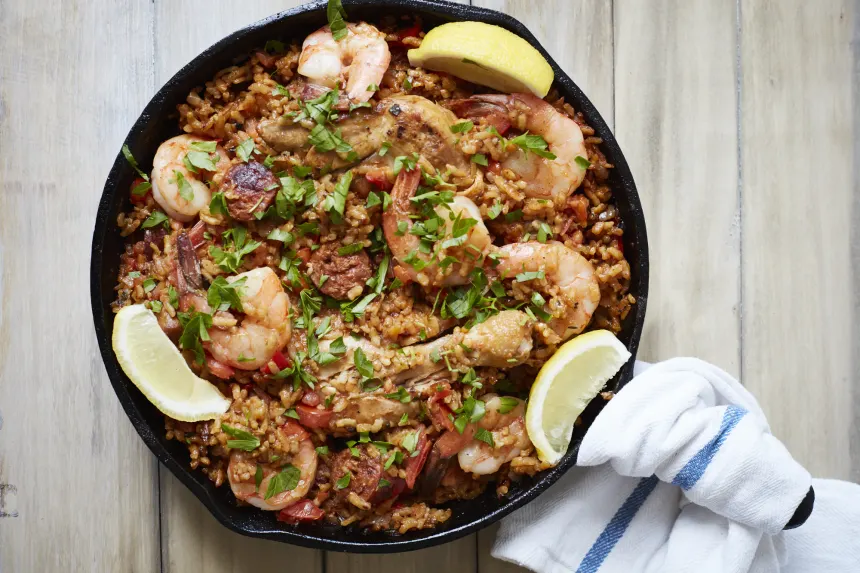 photo by eabeler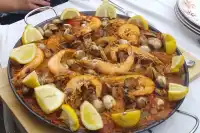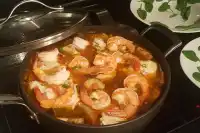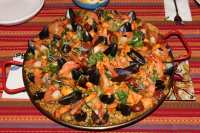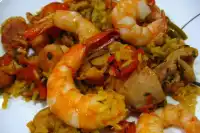 Ready In:

1hr

Ingredients:

16
directions
It's best to have all of your ingredients prepared before you start cooking.
Prepare the rabbit by separating the legs, cutting remaining meat into small slices and lightly salting. (In my area rabbit is seasonal. During the summer and fall I substitute with chicken legs).
I peel my shrimp, leaving only the tail and then salt them. In Spain they tend to leave the shrimp unshelled.
I always try to make my chicken stock from scratch (time permitting), adding a bit of rosemary, a tiny pinch of saffron and a bit of thyme. If you're going to use bouillon, I'd recommend at least heating it up with these herbs and then straining before you start.
Keep your stock hot but not boiling as you cook.
Coat the bottom of your pallera/pan with olive oil.
Brown your chorizo over high heat for 1-2 minutes. Do not fully cook, just get the outside well browned. Set aside. This should add a nice red color and a hell of a flavor to your oil.
Brown the Rabbit for 2-3 minutes. It should not be fully cooked. Set aside.
Brown garlic, onion and bell pepper until they're softened, adding plum tomatoes shortly before the mixture is finished.
Push the vegetables to one side of the pan and on the other add the half can of tomato paste. Caramelize it, flipping it and spreading it until it begins to loosen (1-2 min over hight heat).
Mix all of the vegetables and meats together with the caramelized tomato paste also adding the paprika, parsley and thyme.
Add rice, mixing together and stirring as the rice browns (1-1 1/2) minutes. As the rice browns mix in the saffron. Make sure to break it between your fingers and stir it in to release all those tasty oils.
When the rice is slightly translucent add enough chicken stock to cover the whole mixture. If it's been kept warm, it will begin to boil almost immediately. Lower to a medium heat but keep it at a steady boil.
This is where paella is made and broken. I stir a few times in the first 5-10 minutes, adding broth as necessary to keep the rice fully covered. After this you must let the paella SIT! Let it cook another 10-20 minutes (I find that this step takes longer on a stovetop), adding broth bit by bit to keep the rice submerged until the rice on the top is al dente. Don't worry about rice burning to the bottom, this part (which actually has a name which escapes me at the moment, it's something like socarrat) is a tasty delicacy.
Once you've stirred the paella for the last time and are letting cook, when you have about 8 minutes left to cook lay shrimp on top, turning over after 2-4 minutes to cook other side.
When the rice on top is still quite al dente, take paella off of heat and cover. You must let it sit for 15-20 minutes. I've taken the lid off prematurely and ended up with a crunchy mess. Patience is the key.
Once you're sure it's ready uncover, garnish with lemon wedges and enjoy!
Questions & Replies

Hi! I am very excited to make this recipe. I was hoping I could borrow your expertise to figure out the best way to cook it. (1) I don't have a paella pan and not ready to invest in one *yet*. I was planning on cooking in a 12" all clad saute pan (I read that non-stick and cast iron are not recommended). I see the recipe note says to half the recipe if cooking on a stove top and using a smaller pan. Would you recommend that I half the recipe even given the fact that the saute pan rim is higher? (2) Even with the all clad, would you recommend that I cook over my weber grill vs on the stove top? Or is the weber grill recommendation only if using a paella pan? THANK YOU! CAN'T WAIT TO TRY IT!

 
Reviews
I really wish that people would stop reviewing recipes that they have totally changed. I only want to hear from people who actually cooked this paella with the ingredients and techniques that the writer describes. If you want to create your own recipe, be my guest; but don't do it at the the expense of this fine cook. And please, paella is made with whatever you have on hand. It's a dish for common people, not food snobs.

 

If people like Ignacio and Gloria can leave one star reviews w/o making this recipe then I can leave a five star review even though I haven't made it yet. Cooking sites are replete with trolls who jump in saying things like, "This is not "authentic" Spanish paella...etc. Or, just dim things like, "You lost me at the rabbit." Yeah, that's helpful. I'll bet you get lost a lot. Oh, and did you notice neither of those people have left any other reviews or posted any recipes or even saved any recipes on this site? I plan on making this delicious sounding dish sometime soon and if it rates less than five stars. I'll change my rating. But until then my uninformed opinion is worth as much as Ignacio's and Gloria's. And I have reviewed a number of recipes on this site giving high ratings to most because I choose carefully and have only posted one recipe but it's a terrific one.

 

I just made this today, and it was EXCELLENT! My husband said it was some of the best paella he's ever had. I made a few mistakes that I will correct next time. I did mine in in an enameled dutch oven on the stove top. I ended up burning it badly to the bottom of the pan, so next time I will use lower heat and cook longer if necessary. I also might add the green beans later on (I added them towards the beginning). I left out the rabbit and chicken, and I used dried Thyme because fresh wasn't available. I also used bouillon with the added herbs. It still turned out great. It must be even better if you follow the directions exactly.

 
RECIPE SUBMITTED BY
I've been working in restaraunts and bars since I was fourteen. I grew up in a family of cooks where my father would hand me a spoon and say "keep stirring this roux for the next hour. . . KEEP STIRRING!" and my grandmother had me frying foods at six years old. I spent the last two years in Spain, and for any food lover who's never been, get off your ass.
View Full Profile