Authentic Mexican Enchiladas Verdes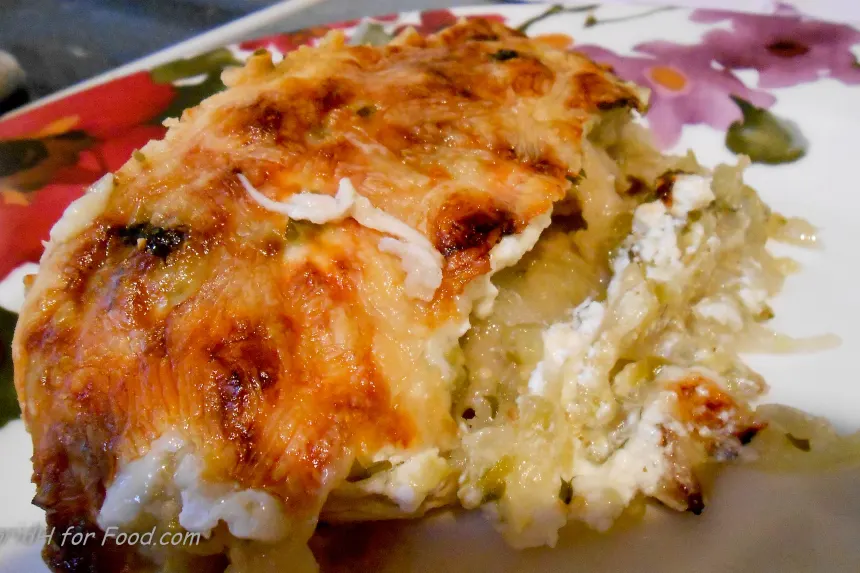 photo by IngridH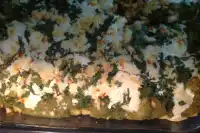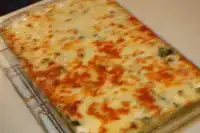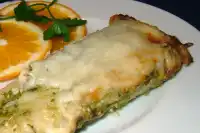 Ready In:

2hrs 30mins

Ingredients:

19
directions
Prepare sauce: Heat water in large pot to boiling.
Add tomatillos, 2 onion halves, 6 garlic cloves, and 7 serrano chiles.
Simmer uncovered 30 minutes.
Let cool slightly, then drain, reserving about 1 cup cooking liquid.
Place solids in blender or food processor.
Add remaining onion half, 4 garlic cloves, 3 chiles, the cilantro, and about 1/2 cup cooking liquid.
Process until smooth.
Heat oil in medium saucepan.
Add onion slices and saute until lightly browned.
Stir in sauce and season with salt.
Simmer uncovered until slightly thickened, about 30- 45 minutes.
If sauce thickens too much, thin it with remaining cooking liquid.
Meanwhile, when the sauce ingredients are simmering, prepare stuffing.
Heat 2 qt water in large pot to boiling.
Add chicken, onion, garlic, and salt to taste.
Simmer just until chicken is cooked through, about 30 minutes.
Let cool, then remove chicken from liquid.
Remove and discard skin and bones; shred meat.
Prepare tortillas: When the sauce is nearly ready and the stuffing is ready, heat small amount of oil in skillet over medium heat.
Cook tortillas one at a time, turning once, just until flexible but not crisp, about 20 seconds each.
Drain on a thick layer of paper towels wrapped up inside a clean cloth kitchen towel (or tortilla warmer).
This will drain them and keep them soft and warm.
Heat oven to 3500°F.
Coat two 13x9 baking pans with vegetable oil.
Dip each tortilla in sauce.
Fill tortillas with shredded chicken and roll up.
Arrange a dozen filled tortillas in each pan.
Top with green sauce.
Spoon creme fraiche (or sour cream) over sauce.
Sprinkle chopped onion and cilantro over the top.
Sprinkle cheese over all.
Bake for 25 minutes.
Broil briefly if the top needs some browning.
Serve hot with refried beans.

Note:

To freeze: Prepare recipe through step 26. Place rolled enchiladas on a baking sheet and freeze until firm. Transfer to a freezer bag. Seal, label and freeze. Place sauce in a second freezer bag and place both bags in a larger bag. Seal and freeze.
To serve: Thaw in fridge overnight. Complete assembly and bake as directed in recipe.
Questions & Replies

Got a question?
Share it with the community!
Reviews
This is the third time I've made these, always for company. They are labor intensive, sure, but they're the most authentic tasting and guests rave over them. They're also really cost-effective - you can feed a dinner party of 8 and still have leftovers for less than $30. I slice the serranos in half and leave most of the rib and seeds in them to give the sauce some extra heat. Since I only have one big stockpot, I boil the tomatillos, chiles, onion and garlic first, and then use that cooking liquid to boil the chicken for a little extra flavor that doesn't compete with the rest of the dish. It may seem like a lot of added oil, but that 2/3c that the sauce simmers in for 40 minutes keeps the sauce from soaking right into the tortilla and disappearing - don't skip that step! I usually add a bit of salt at that point as well. Thank you PanNan for a fabulous recipe that's well worth the work.

 

I liked these, but I didn't really love them. The green sauce is really nice, and worth the work that went into making it. I didn't care for the texture of the corn tortillas, they just kind of fell apart and turned mushy. I also felt that it needed a bit more flavor; some cumin sprinkled on top fixed that. I'd make these again, using flour tortillas and adding some cumin to the chicken. Made for ZWT8.

 

I made these for dinner last night, and boy was I pooped when I was done cooking hehe :-) Overall we enjoyed the enchiladas, however they seemed to lack in flavor. With the amount of serranos in the sauce I was suprised that it wasnt alittle more flavorful, but it just didnt have the amount of flavor we were expecting. The enchiladas were a little on the moist side, and a couple didnt hold together when removed from the pan. I think next time I might add some cumin, black pepper and lime to the chicken for added flavor, as I didnt feel the chicken had enough flavor. My tomatillos may very well have been smaller than what you call for, and that may have affected this, but Im not really sure. I'll definitely try these again with some added flavors and maybe some more chilies hehe :-)I may not use the addition of the onion on top of the enchiladas, as I think there is more than enough onion already w/out the extra chopped onion. Thanks for the recipe. Im sorry that this didnt work out for me as well as it does for you. I enjoyed making them very much :-) and it was definitely worth it.