Authentic Greek Moussaka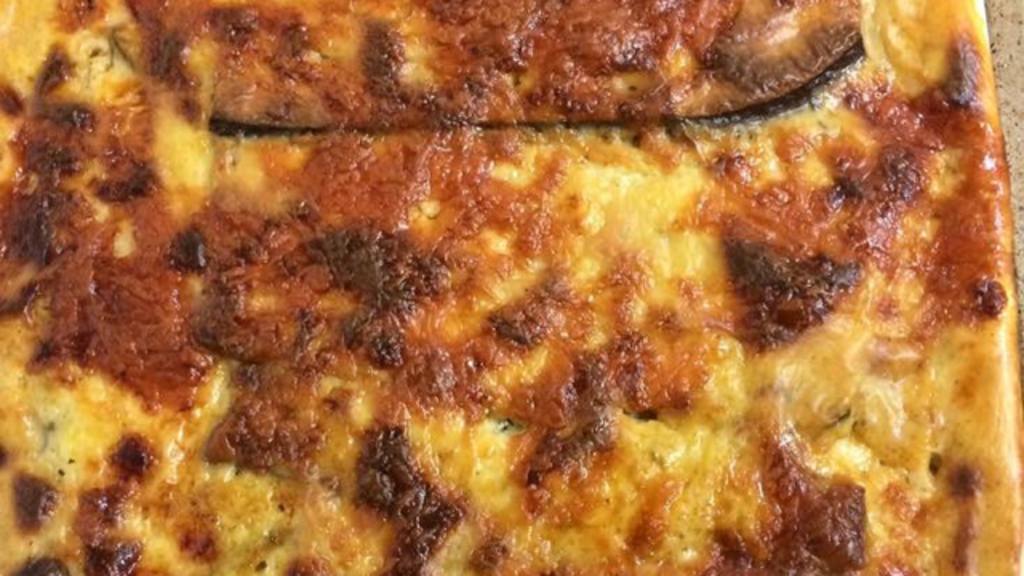 Ready In:

2hrs

Ingredients:

22
directions
Meat Sauce:

Melt butter in a 3 1/2 Quart Dutch oven, sauté onion, ground chuck or lamb and garlic, stirring until brown, 10 minutes.
Add herbs, spices and tomato sauce and stirring until it starts to boiling.
Reduce heat and simmer, uncover, 1/2 hour.
Halve unpaired eggplants lengthwise. Slice 1/2-inch thick.
Place in bottom of broiler and sprinkle lightly with salt.
Brush lightly with melted butter.
Broil 4-inches from heat, 4 minutes per side, or until golden.
Preheat oven to 350 Degrees.
Make Cream Sauce.
In medium saucepan, melt butter.
Remove from heat and stir in flour, salt and pepper. Add milk gradually.
Bring to boiling, stirring until thickened.
Remove from heat.
In small bowl beat eggs with wire whisk.
Beat in some hot Cream Sauce mixture. Return mixture to saucepan and mix well. Set aside.
To assemble casserole, in bottom of shallow, 2 quart baking dish (12x7x2 inches).
Layer half of eggplants, overlapping slightly. Sprinkle with 2 Tbsp of each of grated parmesan and cheddar cheese. Stir bread crumbs into meat sauce. Spoon evenly over eggplant in casserole, then sprinkle with 2 Tbsp of each of parmesan and cheddar cheese.
Layer rest of eggplant spices, overlapping, as before. Pour Cream Sauce over all. Sprinkle top of remaining cheese.
Back 35 to 40 Minutes or until golden brown and top is set.
If desired, brown top of little more under broiler, 1 minute.
Cool slightly to serve. Cut in Squares.
Join The Conversation
The overall impression from the people that were served this dish was that they hated it. The 'main' reason they all agreed on was the cinnamon. Considering these people have vastly different tastes I found this amazing they could agree on this particular thing regardless of what else individually they might find fault with. The recipe would probably be better off without the cinnamon.

 

LOVED IT! Blue Rose, this Moussaka is absolutely divine! I served it for Father's Day and everyone absolutely loved it. I cut the recipe in half but still used an 8x8 pan so I had to increase the cream sauce by half again as much. The only change I made was to add some freshly grated nutmeg to the cream sauce. Edited to say that OF THE 350 RECIPES I REVIEWED IN 2008, THIS HAS GONE INTO MY TOP 20 FAVORITES COOKBOOK.