Authentic German Black Bread (Schwarzbrot)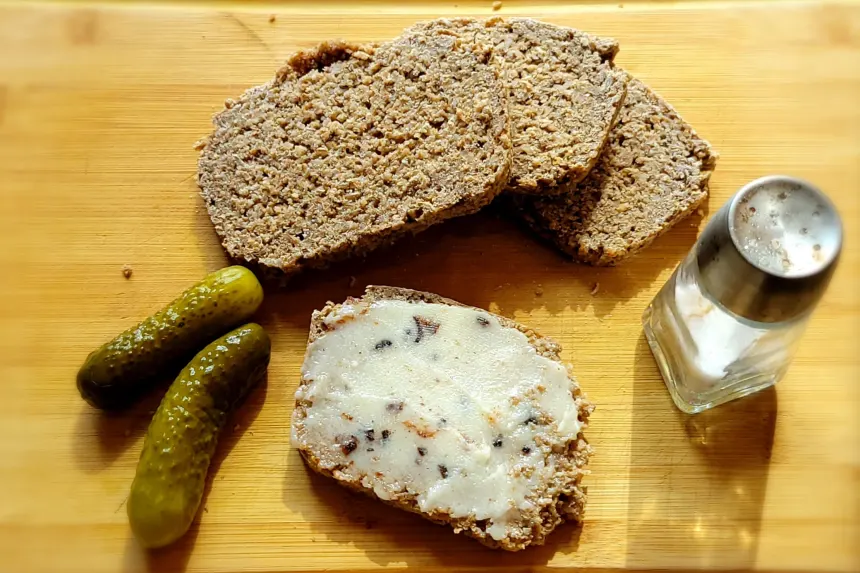 photo by dj25

Ready In:

19hrs 30mins

Ingredients:

4
directions
Combine the water, sourdough starter, and one half of the cracked rye. Mixture will be soupy. Cover and allow to set at about 70° F for 8 to 10 hours.
After 8 to 10 hours, the mixture will have absorbed water and be similar in consistency to porridge. Save 1 cup of this mixture for the next batch of bread, then add salt and the rest of the cracked rye.
Allow the dough to ferment at about 70° F for 4 more hours. At the end of this time, work and squeeze the dough with your hands to develop its cohesiveness. The dough is nothing like wheat bread dough. It is very moist and slippery and cannot be kneaded. When a handful is squeezed, it will squirt out between your fingers.
After working the dough for several minutes, pack it into bread forms, preferably glass. There's not much rising that goes on and too much air space in the bread would be detrimental to the texture. The moistness and acidity of the dough and the long baking time will strongly rust steel pans and etch aluminum ones. Pack the dough into the pan tightly and smooth the top with a spatula. Lay a piece of parchment paper over the top of the form and then cover tightly with aluminum foil. The aluminum foil keeps the bread from drying out and the parchment paper keeps the aluminum foil from dissolving into the bread. Bake at 225° F for 3½ hours.
Turn the oven off but allow the bread to remain inside for a couple more hours. Carefully remove the bread from the pans and place on a rack to cool and dry. Ideally, you should wait a day or two until the bread becomes firmer before attempting to slice it.
Questions & Replies

Got a question?
Share it with the community!
Reviews
This is the real deal, exactly like a plain Schwarzbrot I would have bought growing up in Germany!!! No, it doesn't turn black - if you want the really dark bread look for a Pumpernickel recipe, or you can find a recipe that adds some sugar beet syrup (which is the traditional coloring for blackbread). And if the bread is still raw after 3 1/2 hours of baking you need to follow the recipe and LEAVE IT IN THE OVERN FOR ANOTHER TWO HOURS! I highly recommend cracking your rye berries yourself, because while you're supposed to not have more than 25% of flour, you still need some flour to keep things together. This bread HAS to mature for two or three days before cutting, or it will be too wet and fall apart (the same thing happens in Germany if you buy some same-day blackbread, we always left ours on the counter for a day). The only thing I changed was that I used 1 1/2 tablespoons of salt rather than 1.

 

This produced a delicious loaf of schwarzbrot. I admire the simplicity of both the ingredients and the process. Recipes for simple peasant staples should reflect the nature of the situation: they're not complicated, exact, or time-consuming. There's no reason to fix what's not broken. This recipe fits the bill entirely. I followed the directions and waited a day after baking so that the moisture in the loaf would redistribute and solidify. I imagine that this is what previous reviewers complaining about gumminess failed to do. This is an essential stage when cooking rye bread. I used parchment paper slings in my loaf pans. This is not explicitly mentioned in the recipe, but probably should be. As to measuring cracked rye versus whole rye, I'd recommend simply weighing your water and then weighing out the appropriate ratio of cracked rye (i.e. 6 parts water to 7.5 parts cracked rye). The second time I made it, I baked it for fourteen hours to produce a sweeter, darker loaf.

 

This bread was an epic failure! I too had already cracked rye berries which I used as I don't have a grain mill. I followed the recipe EXACTLY.......the bread is still warm, not dark and will not come out of the pans...two loaves. I'm extremely disappointed after all the work and expense! It doesn't even garner a 1 star

 

I plan to start making this tonight, but I have cracked rye berries, and I cannot figure out how many cups of these equal 7 1/2 cups whole (the recipe says to measure before cracking, but I bought them cracked). Thank you for posting, I'm very much looking forward to trying it. My husband and I used to live in Germany, and we miss the bread and Broetchen.