Artisan Boule Bread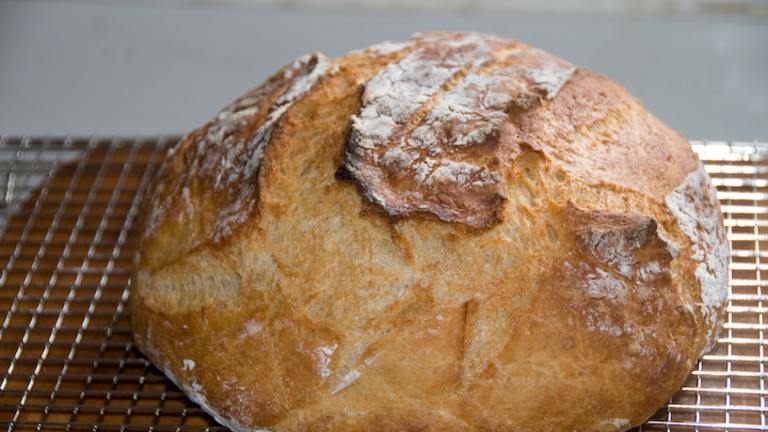 First, don't let the long list of instructions turn you away . . . it's very simple! This is my version of Artisan Bread in Five Minutes a Day (by Jeff Hertzberg and Zoe Francois), a revolutionary approach to bread baking. Actually it's a combination of Five Minute Bread and Cook's Illustrated Recipe #290761. Perfect answer to a busy life . . mix once and store in the refrigerator. (See list below of other uses for this recipe). When you're ready to bake take out the amount of pre-mixed dough needed and store the rest in the refrigerator for up to 10 days. The flavor will be similar to sourdough, developing more intensely over the days of storage. Preparation time indicated does not include pre-fermentation time, which can vary from 3 hours to 10 days. Special equipment needed: Large (5 - 6 qt.) plastic container with lid (not air tight) and a baking stone or a 5 qt. dutch oven (depending on your choice of baking methods). I've found that it's best to line a basket or bowl with parchment paper; let the bread rise, and then back in a preheated dutch oven. Note that the beer used in this recipe must be a lager; DO NOT USE AN ALE as they use a different type of fermentation. Do not use glass jars with screw tops (they could explode from the trapped gases).Lidded plastic buckets designed for dough storage are readily available -- I purchased mine through King Arthur Flour. Other ideas for use: Pita Bread: Recipe #310219 Lavash: Recipe #310451 Baguette: Recipe #317472
Ready In:

40mins

Yields:

Units:
Nutrition Information
directions
Mixing and Storing the Dough:

Note: If measuring flour rather than weighing, don't press down into the flour as you scoop it in with dry-ingredient measuring cups, By gently scooping up flour, then sweeping the top level with a knife or spatula.you willl get a more accurate measurement.
In large plastic storage container (with lid) mix together the flour, yeast and salt.
Add all the liquid at once and mix with a wooden spoon.
If mixing becomes too difficult to incorporate all the flour with the spoon, reach into the mixing bowl with very wet hands and press the mixture together. Note: kneading isn't necessary.
When everything is uniformly moist without dry patches your mixing is complete. This should take only a few minutes.
The dough will be wet and loose enough to conform to the shape of its container.
Cover with a lid (not airtight) that fits well on the container. Allow the mixture to rise at room temperature until it begins to collapse, or at least flattens on the top, about 2 hours, depending on the room's temperature and the initial water temperature. Longer rising times, up to about 5 hours, will not harm the result.
You can use a portion of the dough anytime after this period. Fully refrigerated wet dough is less sticky and easier to work with than dough at room temperature. So the first time you try this method, it's best to refrigerate the dough overnight, or at least 3 hours, before shaping a loaf.
The breads flavor improves with the retardation, so suggest you wait at least 24 hours before baking the first loaf! Dough may be stored in the refrigerator for up to 10 days.

To bake Boule (Round Loaf):

First, prepare a pizza peel by sprinkling it liberally with cornmeal to prevent the loaf from sticking (or use parchment paper).
With wet hands, pull up one end of the refrigerated dough. Using a serrated knife, cut off a 1-pound, or grapefruit-size, piece of dough. Hold the mass of dough in your hands; if it sticks, add a little flour until the dough no longer sticks to your hand. Gently stretch the surface of the dough on all four sides, rotating the ball a quarter-turn as you go. Most of the dusting flour will fall off. The bottom of the loaf may appear to be a collection of bunched ends, but they will flatten out during resting and baking. The dough ball should be smooth and cohesive and take no more than 30 to 60 seconds to shape.
Now it's decision time, which method to use for baking.

COVERED POT METHOD:

Cover loosely with plastic wrap and let rise at room temperature until dough has doubled in size and does not readily spring back when poked with finger, about 60 - 90 minutes.
About 30 minutes before baking, adjust oven rack to lowest position, place 6- to 8-quart heavy-bottomed Dutch oven (with lid) on rack, and heat oven to 450 degrees. Lightly flour top of dough and, using razor blade or sharp knife, make one 6-inch-long, 1/2-inch-deep slit along top of dough.
Carefully remove pot from oven and remove lid.
Pick up dough by lifting parchment overhang and lower into pot (let any excess parchment hang over pot edge).
Cover pot and place in oven.
Reduce oven temperature to 425 degrees and bake covered for 20 minutes.
Remove lid and continue to bake until loaf is deep brown and instant-read thermometer inserted into center registers 200 degrees, 10 to 15 minutes longer.
Carefully remove bread from pot; transfer to wire rack and cool to room temperature, about 2 hours.

BAKING ON GRILL:

First make a 'pillow' of aluminum foil and place in the bottom of the pot. This prevent the bottom from burning. To assure that the bottom does not burn, I also place the pot on a heat diffuser. Preheat the grill and pan to 450 degrees . . . from here follow the oven directions above.

BAKING ON STONE::

Place the shaped ball on the prepared pizza peel (or parchment paper), cover and allow to rest 60 - 90 minutes.
Place a baking stone on the lowest rack of the oven.
Place an empty broiler tray (I use my cast-iron skillet) on an oven shelf, making sure it will not interfere with the rising bread as it bakes.
Preheat oven to 450 degrees 20 minutes before baking.
Spray top of dough with cold water (which allows a knife to slash through the dough without sticking). Use a serrated bread knife to slash a 1/4-inch-deep cross or tic-tac-toe pattern onto the top.
Slide the loaf off the pizza peel onto the preheated baking stone using a quick, forward jerking motion. If using parchment just lift off peel and place on stone.
Pour 1 cup hot water into the broiler tray and close oven door to trap steam.
Bake about 30-35 minutes, or until the crust is nicely browned and sounds hollow when tapped.
The loaf will crackle, or "sing," when initially exposed to room-temperature air.
Allow to cool on a wire rack for best flavor, texture and easy slicing.
Store remaining dough in the refrigerator in your lidded container and use during the next 10 days.

Additional ideas on how to use this recipe:

Pita Bread: Recipe #310219.
Lavash: Recipe #310451.
Flatbread: Recipe #TBA.
Submit a Recipe Correction
RECIPE MADE WITH LOVE BY
"First, don't let the long list of instructions turn you away . . . it's very simple! This is my version of Artisan Bread in Five Minutes a Day (by Jeff Hertzberg and Zoe Francois), a revolutionary approach to bread baking. Actually it's a combination of Five Minute Bread and Cook's Illustrated Recipe #290761. Perfect answer to a busy life . . mix once and store in the refrigerator. (See list below of other uses for this recipe). When you're ready to bake take out the amount of pre-mixed dough needed and store the rest in the refrigerator for up to 10 days. The flavor will be similar to sourdough, developing more intensely over the days of storage. Preparation time indicated does not include pre-fermentation time, which can vary from 3 hours to 10 days. Special equipment needed: Large (5 - 6 qt.) plastic container with lid (not air tight) and a baking stone or a 5 qt. dutch oven (depending on your choice of baking methods). I've found that it's best to line a basket or bowl with parchment paper; let the bread rise, and then back in a preheated dutch oven. Note that the beer used in this recipe must be a lager; DO NOT USE AN ALE as they use a different type of fermentation. Do not use glass jars with screw tops (they could explode from the trapped gases).Lidded plastic buckets designed for dough storage are readily available -- I purchased mine through King Arthur Flour. Other ideas for use: Pita Bread: Recipe #310219 Lavash: Recipe #310451 Baguette: Recipe #317472"
Join The Conversation
I made this recipe and my dough did not rise as expected. I used the Dutch oven version and refrigerated as noted for at least 24 hours. It just didn't turn out as a nice big round loaf instead it was like a flatish loaf of bread. What do you think was the problem? I am afraid to try it again. Thanks for your input. Carol

Great recipe! I did the Dutch oven/closed lid preparation. The first loaf was great, but wanted a crustier exterior so I baked the second loaf with a pan of water on the bottom of my oven to create steam. Better crust this time around - next time will keep the lid off to see if I can get it even crustier. But frankly, it's delicious as is!!