Arroz Con Gandules (Rice and Pigeon Peas)-A Puerto Rican Fav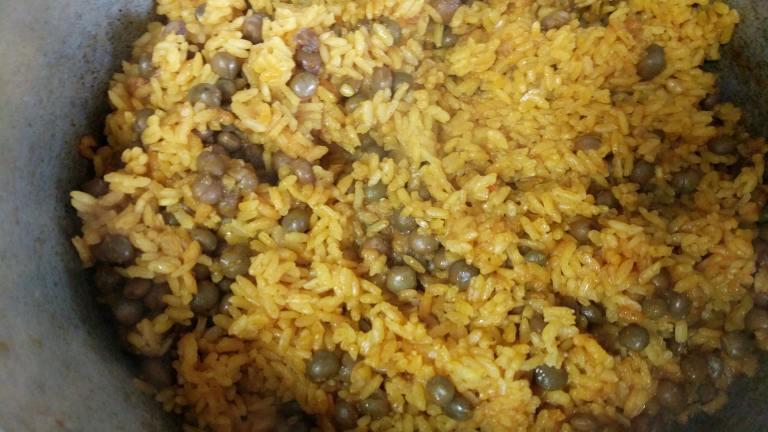 This dish is a main staple for me.
Ready In:

50mins

Serves:

Units:
directions
Pour olive oil in a cast iron/aluminum pot until hot.
Bring the temp up to med-high and pour in water, bullion, tomato sauce, sofrito, adobo, and sazon until it comes to a boil.
Pour in pigeon peas (gandules) and let boil for a minute.
Pour in rice.
Stir ONCE and put the lid on it, sealing tightly.
Let sit for 20 minutes on low-medium.
If the rice looks gummy DO NOT STIR IT, just put the lid back on and wait until the rice is firm (ready).
If you desire the crunchiness on the bottom, once the rice is done cooking, put the temp on very low temp and let it sit for about 5 minutes. The bottom will loosen up from the moisture (since it it's done cooking).
Submit a Recipe Correction
This is NOT an authentic recipe for Puerto Rican arroz con gandules or rice with pigeon peas. One should NEVER use sazon flavor packets, as they mostly contain MSG and other chemicals including artificial colors. It is best to use fresh cumin, black pepper, salt, powdered garlic and oregano instead. The base for this recipe is the "sofrito". Two tablespoons in not enough for 2 cups of rice. Sofrito is green peppers (preferably cubanelle peppers, onions, lots of fresh garlic, ajis (Italian sautéing peppers), recao (coriander) or lots of cilantro. All of these are put into a food processor and made into thick sauce and then sautéed in oil infused with annatto coloring at the start of the recipe. Capers, roasted red peppers and stuffed green olives are also added to the pot along with the tomato sauce.

Love this recipe! I am half Puerto Rican, but grew up with my mother who is not, so I am just now learning as an adult how to cook the things I remember from my childhood with my father's side of the family. I've been looking for a rice recipe for years that reminded me of my Uela's and Titi's, and this is it! The only change is that I add 5 slices of diced bacon in the pan with the oil before the rest of the ingredients. I drizzle some oil, add the diced bacon to my Bass Pro Shops cast iron pot, fry it up, then make the rest of the recipe as listed, including the 5 minutes on low at the end for the crispies, which is the perfect amount of time! This recipe never fails, and I'm excited to be able to have my own rice and beans recipe to pass along in the future!