April Fools' Day Cheeseburger Cake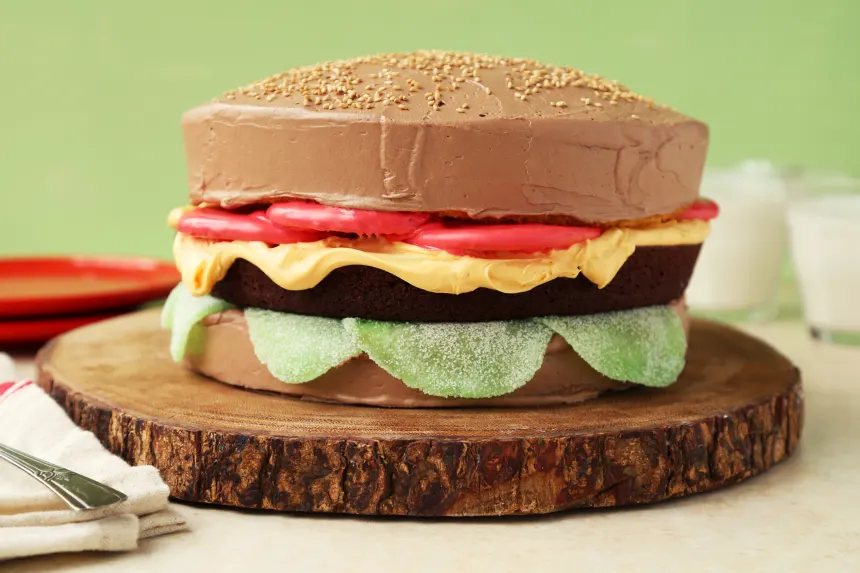 photo by Jonathan Melendez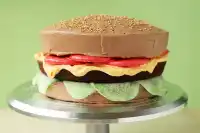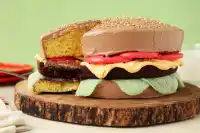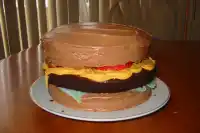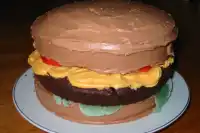 Ready In:

2hrs 30mins

Ingredients:

15
ingredients
1

(18 ounce) box white cake mix

3

egg whites (or as called for by your cake mix)

1⁄3

cup oil (or as called for by your cake mix)

1 1⁄3 cups water (or as called for by your cake mix)

1

(18 ounce) box brownie mix

1⁄4 cup water (or as called for by your brownie mix)
1⁄2

cup oil (or as called for by your brownie mix)

2

eggs (or as called for by your brownie mix)

5

sugar cookies (4 inches wide)

1

(16 ounce) can vanilla frosting

red food coloring

yellow food coloring

10

spearmint candy leaves

1⁄4 cup granulated sugar

1

(16 ounce) can milk chocolate frosting
directions
Heat oven to 350°F
Grease 2 8-inch layer cake pan.
Prepare the box of white cake mix and bake according to the recipe.
Cool on wire racks.
Invert cakes on rack after 15 minutes and let cool completely.
Prepare the box of brownie mix, and bake as directed in the 8 inch layer cake pan.
Cool for 15 minutes in pan, then invert and let cool completely.
"Tomato Slices" Place plain cookies on a wire rack set over wax paper.
Put about 1/2 cup vanilla frosting in a small saucepan.
Stir over low heat until melted and smooth.
Remove from heat and stir in red food coloring (and a bit of yellow if needed) until frosting is tomato colored.
Brush or spoon on top and sides of cookies.
Let stand at least 30 minutes until firm to the touch.
"Cheese" Spoon another 1/2 cup of vanilla frosting into a small bowl.
Stir in yellow food coloring (and a drop of red if needed) until cheese colored.
Cover to prevent drying.
"Lettuce" Sprinkle granulated sugar on a large sheet of wax paper.
Working with 1 at a time, place spearmint leaves on the sugar and fold wax paper over, so the candy is sandwiched between the sugar and the wax paper.
Roll with a rolling pin until flattened and edges are jagged.
The candy will become very sticky, but the sugar should help it release from the wax paper.
"Buns" Put remaining vanilla frosting in a medium sized bowl.
Stir in milk chocolate frosting and red and yellow food coloring, little by little, until frosting is the color of a hamburger bun.
Place one cake layer on a serving plate.
If well-rounded, best to cut off the hump, then put it upside down for the flat top.
Cover with frosting.
Arrange spearmint leaf "lettuce" on top and around edges of the bottom "hamburger bun".
Place brownie cake on top of the "lettuce" using spatulas.
Spoon "cheese" about 1 inch from edge of top of burger, letting some run down the sides.
Top with "tomato" slices.
If needed, now is the time to insert toothpicks through the brownie layer (leaving at least ¼" above the tomato cookies) to keep the cake layers from sliding off!
Take the cake layer that rose the most for the top "bun".
Place cake on wax paper and frost with remaining bun colored frosting.
Lift onto tomato topped burger.
Reviews
I've done a very similar cake but used the tube decorators icing for squeezed ketchup, mustard and mayo dripping out the sides. Also, a few sprinkled rice krispies make very convincing sesame seeds. Lastly, pound cake sliced like fries and lightly toasted make a great side of fries with "ketchup" squeezed on top.

 

I haven't put any stars as I haven't made it yet!! It only arrived in my Inbox an hr ago, a bit late to start thinking of Easter cakes/shopping for a family. HOWEVER, I think this is IDEAL for a Cheeseburger-loving son (I love cheeseburgers myself too) & I shall make for his birthday - after making a dry-run/sample cake (& eating it all myself lol). I have not seen 'Brownie' mixes in the UK, but I think a normal sponge with melted dark chocolate or cocoa powder will do. I am also unsure as to what 'plain cookies' may be in the US (for the best results), but I shall research & do my best. The recipe sounds wonderful, some of the hints here sound good too. I will put sesame seeds on top too though as well as Rice Krispies, it's a lovely idea for a birthday cake, thank you (I give 5* for inventiveness though you deserve more!!

 

I made this for my son's birthday and it was ADORABLE! I made just a few changes. For the lettuce we used green gum drops flattened with a rolling pin, which gave a ruffled edge to make the lettuce; omitted "tomatoes" and used red food coloring in the frosting for ketchup; instead of frosting the "bun", we left it unfrosted since the baked cake itself looked so "bun-like" and applied the chocolate frosting between the cake and brownie layers to get our frosting fix. We also rolled out some white gumdrops, then cut them into strips to make "onions". Thank you so much! This was such a joy to make and to give!

 
RECIPE SUBMITTED BY
I'm married with 3 young sons and another on the way! Some days I really feel outnumbered gender-wise, but they are good to me and make me feel like I am the queen of the house. With all of these guys to cook for, I favor easy, yummy recipes that make alot and keep them all happy!
View Full Profile