Apricot-glazed Turkey with Onion and Shallot Gravy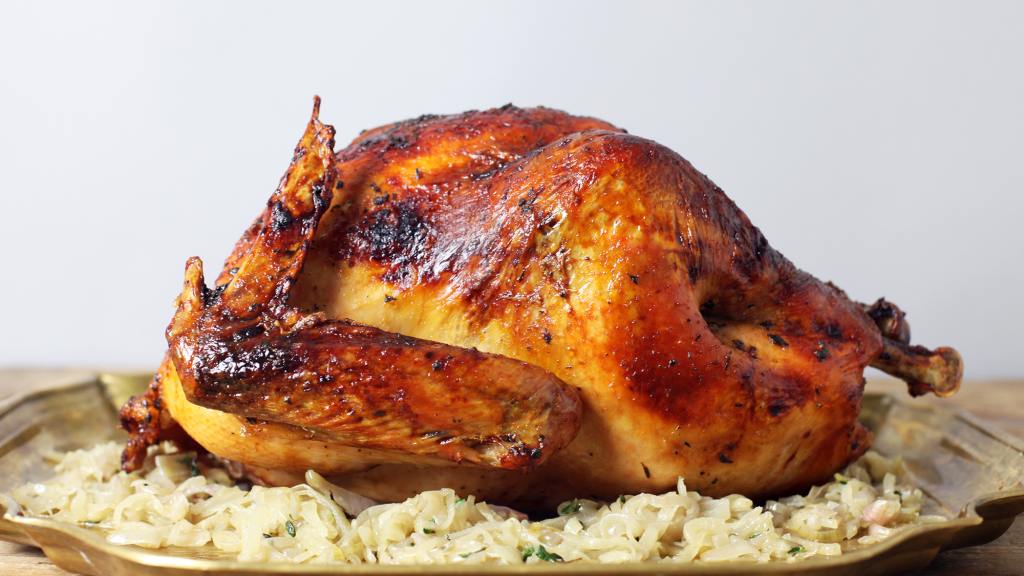 Ready In:

8hrs

Ingredients:

17
directions
For Glaze: Combine all ingredients in small saucepan and bring to boil.
Reduce heat to medium-low and simmer until thickened and reduce to 1 1/4 cups, about 15 minutes.
For Herb Butter: Blend all ingredients in small bowl.
Set aside.
For Onion Mixture: Melt butter in large skillet over medium heat.
Add onions and shallots and sauté until very soft and light brown, about 20 minutes.
Cover separately and chill.
For Turkey: Place rack in lowest third of oven and preheat to 400° F.
Pat turkey dry with paper towels.
Season turkey cavity with salt and pepper.
Place turkey on rack set in large roasting pan.
Slide hand under skin of turkey breast to loosen skin.
Spread half of herb butter over breast under skin.
If stuffing turkey, spoon stuffing into main cavity.
Place remaining herb butter in small saucepan.
Stir over low heat until melted.
Brush butter over outside of turkey.
Tie legs together loosely to hold shape of turkey.
Roast turkey 30 minutes.
Reduce oven temperature to 325° F.
Roast turkey 1 hour 30 minutes, basting occasionally with pan drippings.
Tent turkey with heavy-duty foil; roast 45 minutes longer.
Add onion mixture, 1 can broth, thyme and sage to pan.
Roast 15 minutes.
Bring glaze to simmer.
Brush 1/2 cup glaze over turkey.
Continue to roast turkey uncovered until meat thermometer inserted into thickest part of thigh registers 180° F.
or until juices run clear when thickest part of thigh is pierced with skewer, brushing occasionally with glaze and adding more broth to pan if liquid evaporates, about 40 minutes longer for unstuffed turkey (about 1 hour 10 minutes longer for stuffed turkey).
Place turkey on platter, tent with foil.
Let stand 30 minutes.
Reserve mixture in pan for gravy.
For Gravy: Pour contents of roasting pan into strainer set over large bowl.
Spoon fat from pan juices in bowl.
Transfer onion mixture in strainer to blender.
Add 1 cup pan juices to blender and puree until smooth, adding more pan juices and chicken broth if necessary to thin sauce to desired consistency.
Transfer sauce to heavy large saucepan and bring to boil.
Cook until color deepens, skimming off any foam, about 5 minutes.
Season with salt and pepper.
Serve turkey with gravy.
Join The Conversation
Still working on my magazine project to post all the recipes I like on here. (That's gonna take me years! LOL ) I first made this recipe when it was published in Bon Appetit, 1994, which is REALLY a great issue for Thanksgiving recipes! This is one moist, delicious bird! Here is what I have done over the years: It really helps to make the glaze, herb butter and onion mixture the day before. Brine the turkey first. (but not totally necessary if you don't have the time.) No need to add salt to the recipe if you do the brine. You will need less cooking time if the bird is fresh. I double the glaze and onions, everyone goes nuts over the gravy. I carmelize the onions for about 45 minutes, so they are a deep brown. And it takes me about 20 minutes to get the right consistency of the apricot glaze. I add a peeled onion cut in half and some fresh herbs inside the cavity of the bird first. Caution... the glaze makes the bird brown very fast, so cover with foil as soon as you need to, don't wait. I cook the bird to 165 degrees, take it out of the oven and tent with foil, it will continue to cook as you finish prepping the gravy. It is not necessary to strain the gravy mix, just skim some of the fat off then mix the gravy with a hand-held mixer right in the pan, sometimes adding a bit of cornstarch to thicken it up a bit. I also use this recipe on whole roasted chicken. Don't pass this one by, you will get SO many rave reviews on this beautiful bird! Thanks so much for posting Ron!