Apricot Almond Cinnamon Jam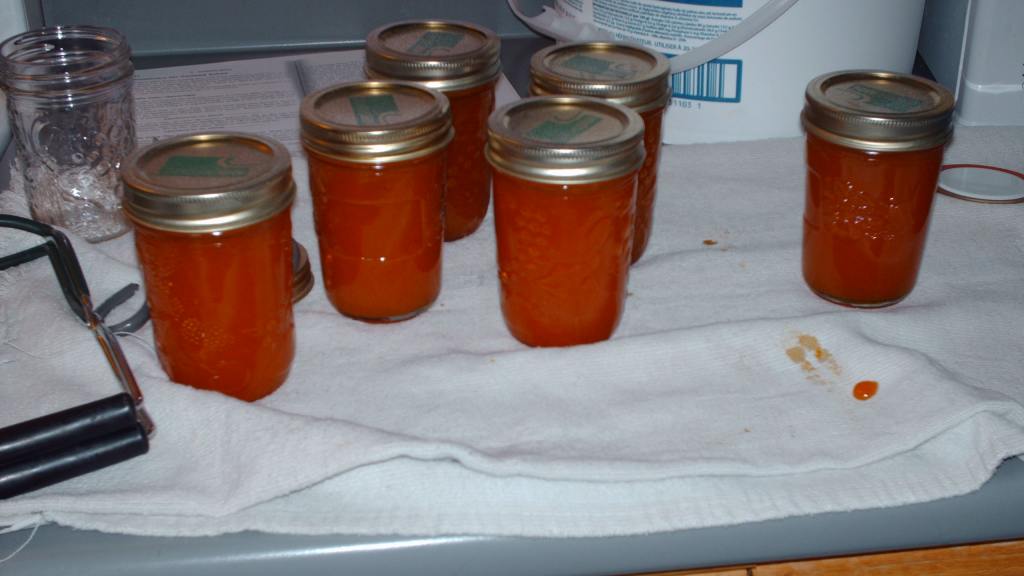 Ready In:

40mins

Ingredients:

6
ingredients
5

cups apricots, chopped

1

(57 g) box Certo, pectin crystals

5

cups sugar

2

teaspoons almond extract

1⁄8 teaspoon cinnamon
directions
Pit, do not peel ripe apricots. Finely chop or pulse in food processor.
In a large saucepan stir together prepared fruit and Certo Crystals.
Bring to a boil over high heat.
Add all the sugar, almond extract, cinnamon and butter.
Return to a hard boil for 1 minute.
Remove from heat. Stir and skim any foam to prevent floating fruit. Pour into warm sterilized jars to 1/4 inch from rim. Cover with lids and screw rings on tightly.
Notes: I process my jam in a boiling water bath, for 5 minutes, to ensure the seals. One year I didn't and had to throw out a lot of jam because the seals failed.
To sterilize I wash and rinse jars, lids and rings. I put the jars and rings on a cake pan in a 225°F oven before I start. I simmer the lids in water.
Times are a estimate; it took about 1/2 hour from start to finish.
Join The Conversation
original review 7/2011 I've made this twice now. I have used your suggestions for extract and cinnamon but the pectin box for the amount of fruit and sugar. Here (in the US) our box is 49g so it was enough of a difference not to want to risk it not setting right. This time I used the "pink box" which for less sugar. It called for 6 cups fruit and 4.5 cups sugar. It was still plenty sweet. The regular box calls for 5 cups fruit to SEVEN cups of sugar! From tasting the bowl afterwards, I'm tempted to up the amount of cinnamon and maybe even the extract to get a more pronounced flavor. Update: I have been "tweaking" this as I go along and also was getting used to which pectin I would settle on. Now I'm using the Ball pectin low/no sugar which comes in the bulk jar (4.7 oz). Ratios are as follows- 6 2/3 cup apricots, 4 cups sugar (more than pectin called for but I feel it needs it), 7 Tbs pectin, 1/2 tsp cinnamon, 2 tsp almond extract. Yield is 7 half-pints. This recipe has become a standby for me. I ran out this June and was distressed until I realized that I had some apricots in the freezer so I whipped up another batch!

I just made this up. I wanted something different than the usual apricot jam so I added some almond extract and cinnamon. When you open the jar you can smell the almond but it isn't overpowering. They both are mostly a background taste. It is a softer jam but not syrupy. Great on bread with peanut butter. UPDATE: It did jell up after about a month.