Apple Spice Cake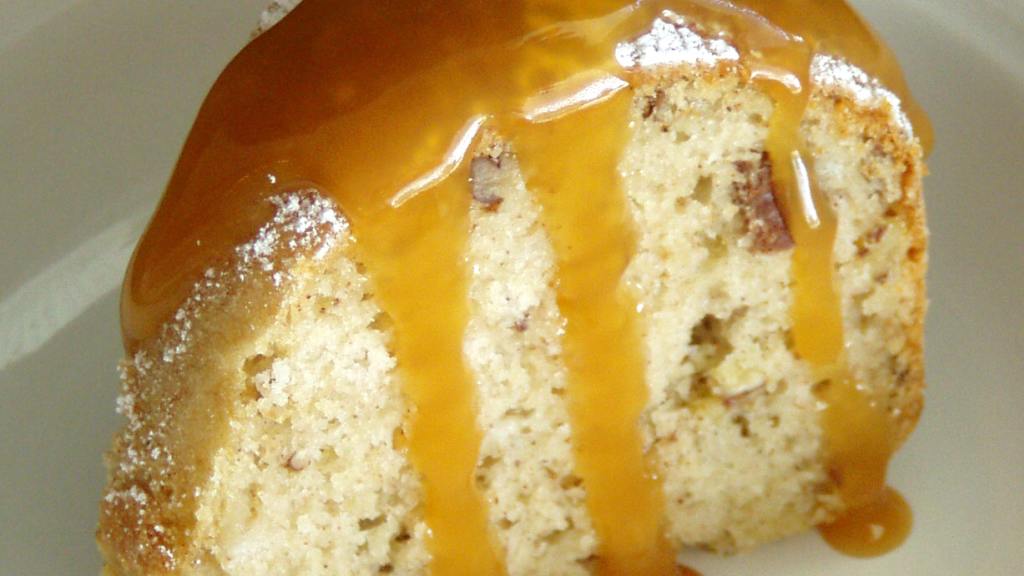 Ready In:

1hr 5mins

Ingredients:

9
ingredients
1

(18 1/4 ounce) French vanilla cake mix (don't substitute the flavor, it's so much better with this one!)

1

cup applesauce
1⁄2 cup water
1⁄3

cup oil

3

eggs

1

teaspoon pumpkin pie spice
1⁄2 cup chopped pecans
1⁄2 cup raisins (optional)

caramel ice cream topping
directions
Preheat the oven to 350 degrees. Prepare a Bundt pan.
Beat together the cake mix, water, applesauce, oil, eggs, and spice, scraping down the sides as needed. Fold in the nuts and raisins.
Pour into the Bundt pan and bake until golden brown and a toothpick comes out clean. (My oven has major hot spots and I have to really adapt the time, so it will vary among ovens. I'm going to say 45-55 minutes as an estimate.).
Cool 10 minute in the pan; turn onto a wire rack to cool completely.
When it is cool, place on a cake plate and drizzle with the caramel ice cream topping and nuts, if desired.
Join The Conversation
Let me start off by saying that this has become one of my go-to desserts to make when camping, and it usually is 'baked' on the BBQ. I have made this numerous times, and every time I fiddle with the ingredients depending on what I have on hand. There are some changes that have just become standard for us. We like a 'spicey' cake, so I use either a Spice or a Butter Pecan cake mix. I also usually add a little extra fresh ground cinnamon and nutmeg. If I have Calvados handy I will substitute it for the water. I don't use the nuts (personal preference) and increase the amount of raisins - which are soaked in rum or Calvados for at least 2 hours before use. The most recent time I made this cake was on the Valentine's Day weekend (Yes, I BBQ'd in Canada in February) and I found some apple syrup in the cupboard. To that I added a little icing sugar, a drop of lemon juice to cut the sweetness, and a little melted butter to make the glaze. It added a nice shot of apple flavour that everyone enjoyed. We topped it with whipped cream flavoured with maple syrup. Divine! When I make this in loaf pans I have also topped the cake with shaved apples and/or a streusel mix. A nice easy recipe that has accepted my tweeks and always delivered a great cake. Thanks for posting!

 

Very nice and moist and tasty! I left out the pecans b/c I didn't have any and I forgot to put the raisins in. I drizzled the caramel sauce over the top of the whole cake but I think it would have been better if I waited and drizzled each piece seperately. The caramel soaked into the cake adn I ended up putting more caramel on top when I served it. I think using chunky applesauce would be really good too.