Apple Pie Sauce for Canning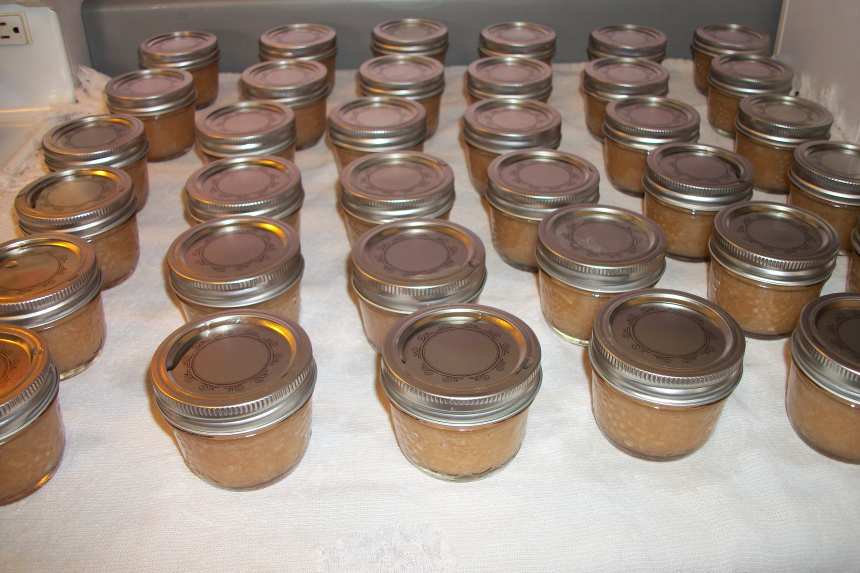 photo by tasb

Ready In:

1hr 25mins

Ingredients:

8
directions
Prepare canner, jars and lids.
In a large stainless tea saucepan, combine apples with just enough water to prevent sticking. Bring to a boil over medium-high heat. reduce heat and boil gently, stirring occasionally, for 5-20 minutes, until apples are tender (time will depend upon the variety of apple and their maturity.) Remove from heat and let cool slightly, about 5 minutes.
Working in batches, transfer apples to a food mill or a food processor fitted with a metal blade and puree until smooth.
Return apples puree to saucepan. Add sugar, if using, and lemon juice; bring to a boil over medium-high heat, stirring frequently to prevent sticking. Maintain a gentle boil over low heat while filling jars.
Ladle hot applesauce into hot jars, leaving 1/2inch head-space. Remove air bubbles and adjust head-space, if necessary, by adding hot applesauce. Wipe rime. Center lid on jar. Screw band down until resistance is met, then increase to fingertip-tight.
Place jars in canner, ensuring they are completely covered with water, by at least 1 inch. Bring to a boil and process both pint (500 ml) and quart (1L) jars for 20 minutes. Remove canner lid. Wait 5 minutes, then remove jars, cool and store.
Notes: If you prefer a tart flavor use half tart and half sweet apples when making this applesauce and reduce the quantity of sugar as desired. Tart apple varieties include Granny Smith and Jonathon. Sweeter varieties include Golden Delicious, Rome and Fuji, Gala and Pink Lade make a nice tart/sweet combination.
Adding sugar to applesauce is optional. If the sugar is omitted in this recipe, the yield will be slightly reduced. However; lemon juice is not an optional addition. Lemon juice is added to help preserve the apples' natural color and to assure the acidity of the finished produce, since different varieties and harvesting conditions can produce apples of lower acidity.
Makes: 8 pints or 4 quarts
I can this recipe in 36 1/2 cup jars, still at 20 minutes processing.
Questions & Replies

Got a question?
Share it with the community!
Reviews
Have any thoughts about this recipe?
Share it with the community!
RECIPE SUBMITTED BY
My passion is cooking, I have been baking and cooking since I was young. With 2 working parents it was essential. <br> <br>I am trained as a Professional Cook, even have a cooking certificate, lol. The best education I ever got was going to cooking school. <br> <br>I spent 3 years cooking in a gas station restaurant and all was well working there, but my heart still wanted to cook for kids. October 2008 I finally got the job I wanted. I been cooking for the kids for just over a year now and I love every day of it. The kids are great, some frustration, but it is all good, they are so smiley everyday, how could you not like work when you have a bunch of smiling faces looking at you. <br> <br>Another good thing about my job is I get the summers off. I had a pretty good summer, I got to tend to my garden and get a bunch of stuff into the freezers, I was given a second freezer this summer. I have been planning on eating mainly out of the freezers so we can save some extra cash for Christmas. <br> <br>I have plans on finding some nutrition courses that I can do online, just for dabbling in, it would sure help with cooking for the kids. <br> <br>I live with my hubby and 3 kids (11,6,5), and one cat, who is part in-door, out-door. <br> <br>I really want to get back into losing weight this school year, it has been 1 1/2 years since I lost about 15 pounds, I have maintained that loss though. I would still like to lose another 10 pounds.
View Full Profile