Apple Pie Filling With Clear Jel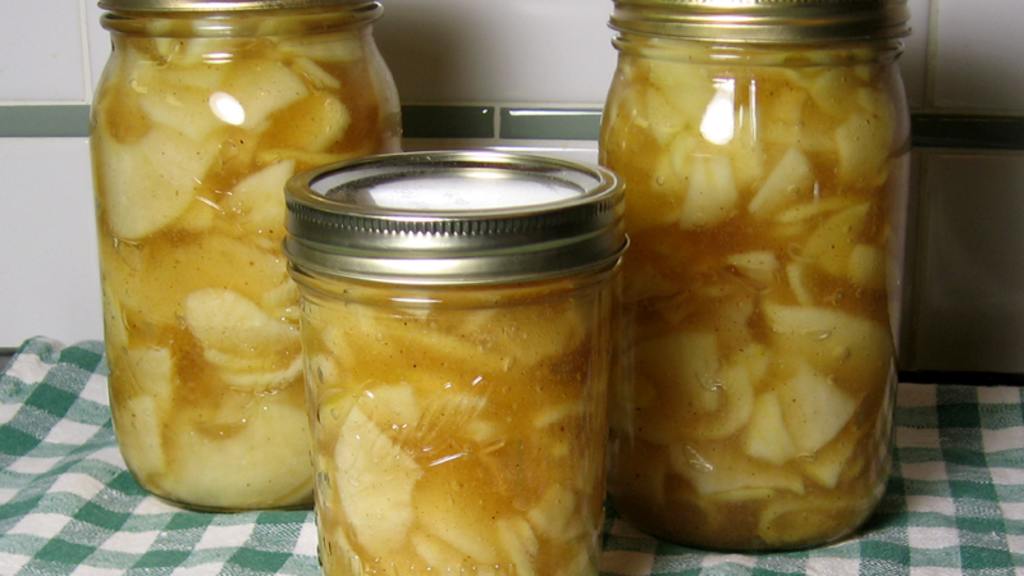 Ready In:

45mins

Ingredients:

8
directions
Blanch apple slices (you may need to do this in batches if scaling this recipe up). Place in bowl, cover, and keep warm.
Combine all other ingredients in a pot large enough to hold them, plus the apples. Place over medium-high heat, and stir until mixture begins to bubble and turn translucent. Cook one more minute, stirring constantly. Remove from heat and fold in apple slices.
Fill jars with mixture, leaving 1" headspace. Close with 2-piece caps, and process in boiling water bath for 25 minutes for pints or quarts. 1 quart will make an average pie.
Join The Conversation
This recipe is outstanding and with a very few modifications will certainly become a treasured addition to my collection. Mixing all of the dry ingredients together is the key to making this come out perfect. I heated all of the liquids to just the point of a simmer and then added all the dry ingredients stiring continuously while adding the apples. One of the modifications I did was I added one shot of Crown Royal apple whiskey to the liquid ingredients and gave it just enough time for the alcohol to evaporate before adding the apples and dry ingredients. It came out absolutely perfect and I have been asked to make many more batches of my "One Shot Apple Pie" filling. To answer your previous question in one of the reviews… Yes blanching the apples is important because it softens them just enough without breaking them down. This filling has become a must have for waffles, ice cream, oatmeal, tarts, spread over a crispy tostada and then dusted with additional Cinnamon sugar, topped with sharp cheddar cheese, broiled until the cheese melts. Enjoy

Sorry, this was a waste for me.... twice! The first batch, I followed the recipe and added the clear jel along with the rest of the ingredients. It resulted in a big old gelatinous mess, no matter how long I boiled it. I even used an immersion blender, no luck. Dumped the first batch and then tried adding the clear jel to the boiling liquid as directed on the package. Same problem, even adding it thru a strainer. Not sure what you all did, but this was a sad disappointment.

This is what I've been looking for. My question is, I just processed a ton of apple pie filling i used "corn starch" and canned it about a week ago. Do you think its safe to open all the cans of apples i just made, make the liquid "jel" portion of this recipe, combine with the jel and re-can? Thank you for sharing this!