Apple Pie Filling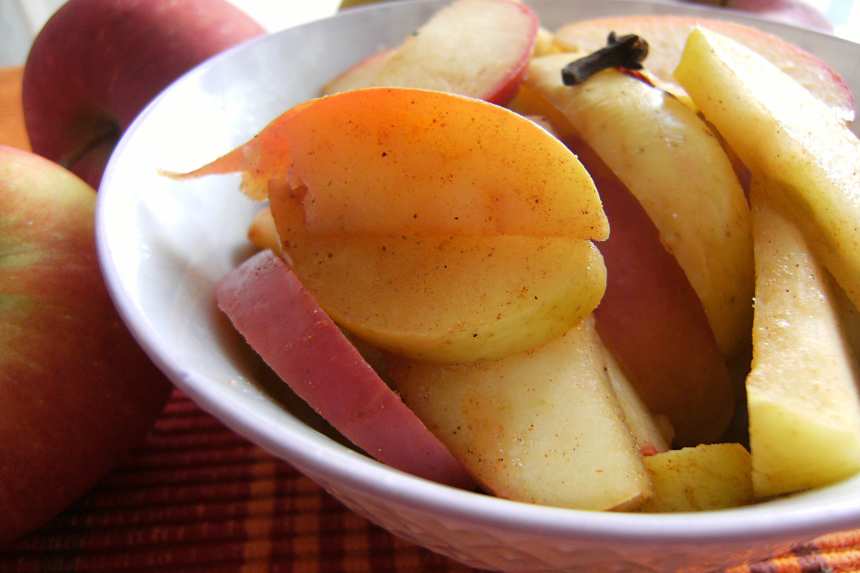 photo by Lalaloula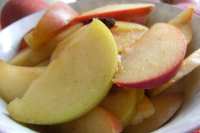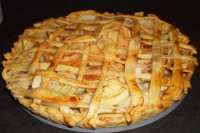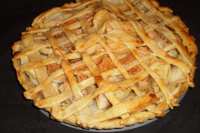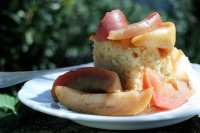 Ready In:

25mins

Ingredients:

4
directions
Peel, quarter and core apples, slice quarters.
Put sliced apple into a pot with cinnamon, cloves and lemon juice.
Cook over a medium heat until apples are tender (I don't like them mushy).
Leave to cool and remove whole cloves before using apple filling.
NOTES FOR APPLE PIE.
Roll out half of pastry on a floured surface and line 23cm pie plate.
Fill with apple filling. Brush rim of pastry with a little milk.
Roll other half of pastry out and cover the top of the pie.
You could decorate the edge of the pie with the tines of a fork.
Trim excess pastry from the edge of the plate.
Brush milk over the top of the pie. Decorate the top with excess pastry if you want (I usually cut out leave shapes). Cut a few small slits in the pastry to let steam escape.
Sprinkle top with 1 teaspoon of sugar.
Put into a preheated 180 degree celsius oven for 25 - 30 minutes until pastry is golden.
Enjoy warm with cream and or icecream or even cold by itself.
Questions & Replies

Got a question?
Share it with the community!
Reviews
Simply wonderful! So easy to prepare and soooooooo delicious! Mmm, the cloves and cinnamon add a wonderful warm touch and are the perfect addition to this fruity filling. Mmmm!<br/>I actually used the filling in an apple tiramisu, which turned out really, really great and I think its all thanks to your wonderful apple recipe. I will use this for all my pie fillings and applesauces from now on, theres none I have liked better.<br/>THANK YOU SO MUCH for sharing this wonderful, wonderful recipe with us, Pat!<br/>Made and reviewed for WTTM Tag February 2011.

 

I made the filling only, as I already had some pastry to use up. I followed recipe exactly (well nearly) One exception I did the apples in the microwave. I did use golden delicious apples which are a little tart to start with. Now here is where it gets tricky......... DH is diabetic, and so I placed half of the apples (as per recipe) on one half of the pie, the other half I added sugar to the apples before putting them into the pie....... this was for the rest of the family. So ........... It is hard to rate this recipe. DH enjoyed his a lot, but he did say it needed some ice-cream with it! The rest of the family loved there half...ME I had a little of bith sides, and yes the sugarless side was very bland and not sweet at all, but the other side was delicious, and the extra sugar was what it needed. BUT the main thing is, DH who isn't used to much sugar loved his and the others loved theirs and they also had it with ice=cream. Pat I think this is a great recipe with wonderful flavours and spices for a diiabetic and if you are not diabetic then maybe add some sugar for a little extra sweetness! OR do my trick to suit everyone, ( Yes.....I really need to get a life.) lol So with all that long winded story everyone enjoyed their share here, and I guess all I can say is ......Whateva floats ya boat, with this recipe....lol Thanks Pat, we loved it!

 

Pat - this was GREAT! Spiced and NOT too sweet, which is the way I like it! I am awarding stars now, based on me tasting this straight out of the saucepan, I have yet to make a pie with it!! When I do, I will come back and add more notes. I used Pink Lady apples and left the skin on for added crunch and colour.Made for Holiday Tag, merci encore ma leeetle sweet pea! FT:-) Edited to add - I used this pie filling as a topping for a baked sponge pudding, it was great, as the apples were still whole pieces and not mush! We liked the spicy flavour and the fact that this recipe has no sugar in it. 19/03/2009

 

I loved the fact that this contained no added sugar which I try to avoid. I liked the spices! I used mainly Macintosh apples and it turned into apple sauce almost immediately after I decided to covered it. I was not sure if I was supposed to but apple sauce was just fine as I used it in and on recipe#447114 also tasted it alone and it was good, but I am used to healthy tasting recipes. I used freshly squeezed lemon juice. I would make this as apple sauce or otherwise again. Made for ALMOST 5 GAME.

 
RECIPE SUBMITTED BY
With the demise of the forums and with no more interaction on site with what was a great community and it was a pleasure to get to know so many of you over the years and to have had the privilege of meeting some of you in person. For me now this is just another recipe site like to many on the net, it has lost its specialness, such a pity especially when Scripps changed the name from Recipezaar to Food.com and made this statement sorry cannot replicate here as considered invalid but they basically said yes the community was valuable hence .com was short for community but it was a pack of lies as they were not willing to put the money into that community and got rid of the forums which was the community so for .com has become .crap.
View Full Profile