Annie's Pecan Pralines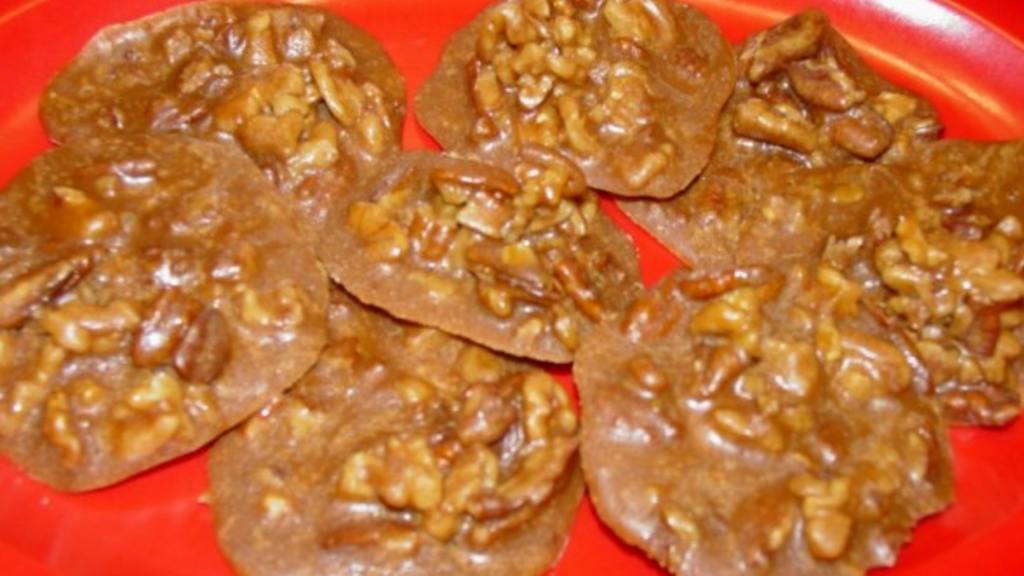 Ready In:

15mins

Ingredients:

6

Yields:

25

Pralines (approximately)
directions
Combine in a large pan the sugar, soda, buttermilk and salt.
Cook briskly, stirring occasionally, for 5 minutes.
Add butter and pecans.
Cook for approximately 5 minutes more, or until mixture reaches softball stage (234ºF).
Remove from heat and beat until just creamy.
Drop by spoonsful onto waxed paper.
Store in airtight containers.
NOTE: If you put newspapers under the waxed paper, it is easier to remove candy without breaking.
Join The Conversation
I hope this helps someone. I made for the first time tonight. The second 5 min had no where near reached soft boil. After another 20 additional it still hovered at 200. At this point my mixture was as dark as coffee. I cranked the heat up to 8 but could smell a burn so I quickly took off. I went on and tried. I spooned onto the paper. I waited and they were not runny but oh so sticky like caramel sauce. I had bought organic pecans from Whole Foods and had no intentions of tossing down the sink at those prices. I tasted and the taste was great although I had to scrape with a spoon and eat off of the spoon. This morning I thought, hmm they are like caramel and what does caramel do in the fridge? It hardens. So, I took a chance and put in the fridge. They are still a bit sticky BUT hallelujah they peeled off the paper as a praline vs scraping on a spoon. I was afraid my thermometer might have been broken for it not to work but I see others had that same problem so I"m not sure what happened. I'd love to know how the one that wrote this reciepe got perfection after only 5 minutes. The taste is wonderful so don't think you've burned it if it turns this dark, who knows, it may even taste better this dark.