Angel Food Cake - Homemade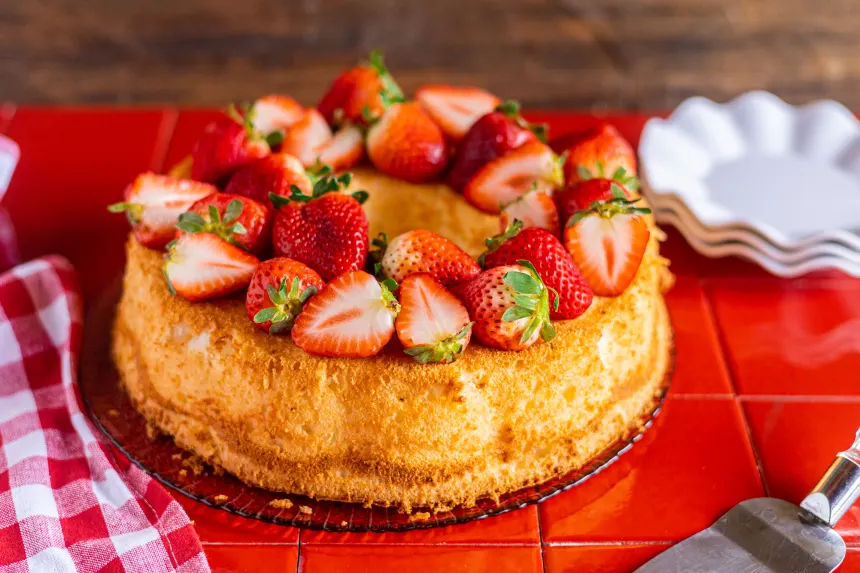 photo by limeandspoontt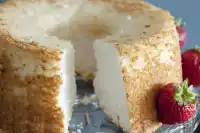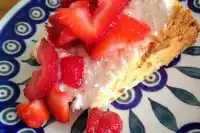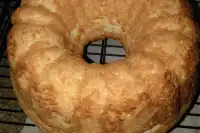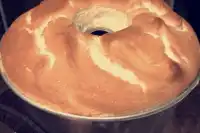 Ready In:

50mins

Ingredients:

9
directions
Note: For those not use to making angel food cakes Don't get any yoke in the whites, if you do throw out and start over. I always separate the egg in a glass first. Then if no yoke pour into measuring container.
DO NOT GREASE PAN.
I always use a two piece angelfood cake pan.
Heat oven to 375°.
Sift the cake flour and 3/4 cup + 2 Tbsp sugar separately; set aside.
Combine the extracts in a small bowl; set aside.
Beat egg whites, cream of tartar and salt until it forms peaks.
Add the other 3/4 cup of sugar slowly, then beat on high until stiff peaks form.
If you have a mixing guard for your mixer bowl now would be a good time to attach it.
Beating on LOW, add flour mixture and extracts slowly.
Make sure you fold in the sides and bottom of your mixing bowl.
(You can fold in flour mixture by hand but this way is faster.) Spoon into an angel food cake pan.
Move a knife through batter to remove air pockets.
Bake 30-35 minutes or until top springs back when touched lightly with finger.
Invert pan onto a tin funnel to cool completely.
To remove the cake from your pan run a knife around the rim of the cake pan just to get the 'crust' away from the pan.
Then firmly spank the sides of your pan.
You could use a knife but this sometime tears the sides of the cake.
Invert onto your serve plate then take the knife to the now top which was the bottom of your pan and gently cut cake away from the pan insert.
No need to cut around the center tube as you just give the cake a gently but firm tap or downward shake on to the plate.
Or you can pick up plate while holding onto the pan insert with your thumbs and firmly strike the bottom of the plate onto a folded towel. (Just give it a slam down on the towel/table).
Questions & Replies

Reviews
This cake was very tasty, and everyone loved it. I did have a major problem though which was similar to another reviewer. While cooling the cake upside down it fell out of the pan even though it tested done before I removed it from the oven. I finished cooling it on it's side after pushing it back into the pan. I did everything as the directions stated, so I decided to look at some other recipes to try to figure out what the problem might have been. Some other recipes say 12 egg whites or enough to equal 1 1/2 cups. I am thinking that since I used farm eggs and some of them are pretty big that I ended up with too many egg whites...so next time I am going to measure my egg whites to see if this will correct the problem. Thanks for posting!! After retrying this recipe for the third time, I found that it worked better to reduce the temp. to 350 and cook 40-45 minutes to ensure it was fully done and prevent it falling from the pan.

 

This was great. I used an immersion blender to chop the sugar to a finer texture (as recommended in other recipes) and couldn't find cake flour, so I took two TBS out of a cup of regular flour and added two of cornstarch. I made the quantity indicated in two 5 X 13 inch loaf pans, put a piece of parchment paper only on the bottom of each to aid in getting them out. They came out great, about 4 inches high, cooked wonderfully. Thanks for this great recipe.

 
Tweaks
Angel Food Cake - Homemade Recipe by Charlotte I'm not a baker but a cook. I read this recipe and was very confused on the instructions (once it failed). First it says to sift the cake flour and 3/4 cup + 2 Tbsp sugar separately; set aside. Then a few lines down it say to add the 'other' 3/4 cups of sugar slowly - so I added the 3/4 C + 2Tbsp that I sifted with the flour. Well, you can tell how that worked out. Wasted 12 eggs and all ingredients the first time. This receipe needs to be rewritten for the layman person baking. How about: In separte bowls, sift cake flour and then sift the 3/4 sugar + 2Tbsp sugar. Even with this clarification...it should read : Add sifted sugar (Period) not the other 3/4 cup. If this is a great recipe it is ashame that it is not written properly or edited before publishing. It's not easy writing recipes especially when you bake or cook regularly. Second attempt is in over and hopefully it works out. Thanks.