Ancient Honey and Sesame Fritters - (Arxaies Tiganites Me Meli K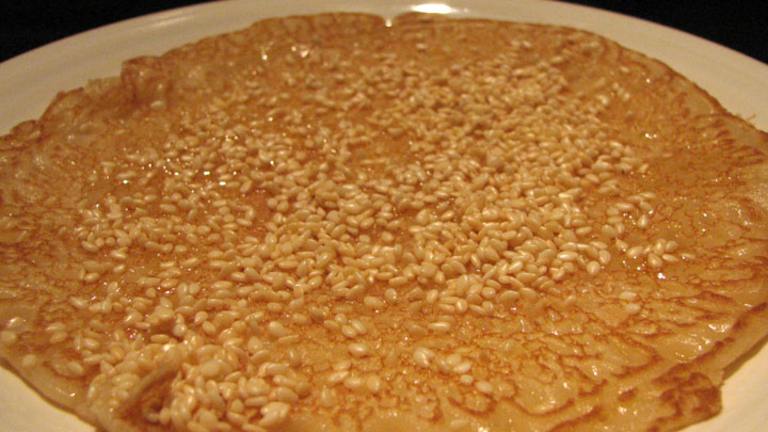 It is amazing how little this recipe has changed after 1800 years. The Roman Physician Galinos (129 – 99 ac) describes this sweet in his book with many details. Source:The Classical Cookbook, Andrew Dalby and Sally Grainger. Excelent source regarding Ancient Greek cuisine
Ready In:

23mins

Yields:

Units:
directions
Start heating the oil.15.
Mix the flour, the water and one spoon of honey and make a dough.
Heat 2 spoons oil in a frying pan and pour ¼ of the mixture.
When it thickens turn it upside down 2 -3 times to fry it in both sides. Prepare 3 more fritters following the given instructions.
Serve them hot, pour over the rest of the honey and dredge sesame seeds over them.
Submit a Recipe Correction
RECIPE MADE WITH LOVE BY
"It is amazing how little this recipe has changed after 1800 years. The Roman Physician Galinos (129 – 99 ac) describes this sweet in his book with many details. Source:The Classical Cookbook, Andrew Dalby and Sally Grainger. Excelent source regarding Ancient Greek cuisine"
I probably wouldn't rate this, except that I made it for ZWT4, and well, I want to get credit for effort! lol. I believe it can be good. Brooke the Cook in WI likes it! Zaar told me 4.25 oz of flour and 1 cup water. I judged that at a slightly heaping 1/2 cup of flour which did not give me the "pancake batter" Brooke spoke of in her review. So I added about 1/4 cup more flour. Then I found out I really need some practice making pancakes! lol. (That's a Daddy Job around here.) So, I thought they were kind of all right (kind a weird fried flour-and-water thing) and my 3-year-old gobbled one up! I will research my measurements and try these again. Probably just because "Meli" is honey and "Melissa" is honeybee! lol.

My my my, this made a yummy sweet treat! I changed the recipe to 1 serving and weighed the ingredients out carefully; when combined it really wasn't a dough - it was much more reminiscent of the consistency of pancake batter. When I poured the thin batter onto the frying pan (I just used cooking spray) it bubbled in less than 1 minute, so I flipped it over a few times and it was done within another minute. I had this finished from start to end in less than 15 minutes. There wasn't a lot of honey for the top, so I did have to spread it around with a knife before sprinkling with sesame seeds - which were quite abundant. I wasn't too sure what to think at that point, so I rolled it up and took a bite... OH YUM! The fritter itself is chewy and dough-like and its just perfect with the sweet honey and toasted sesame seeds. Made for ZWT4.