An Arabic Breakfast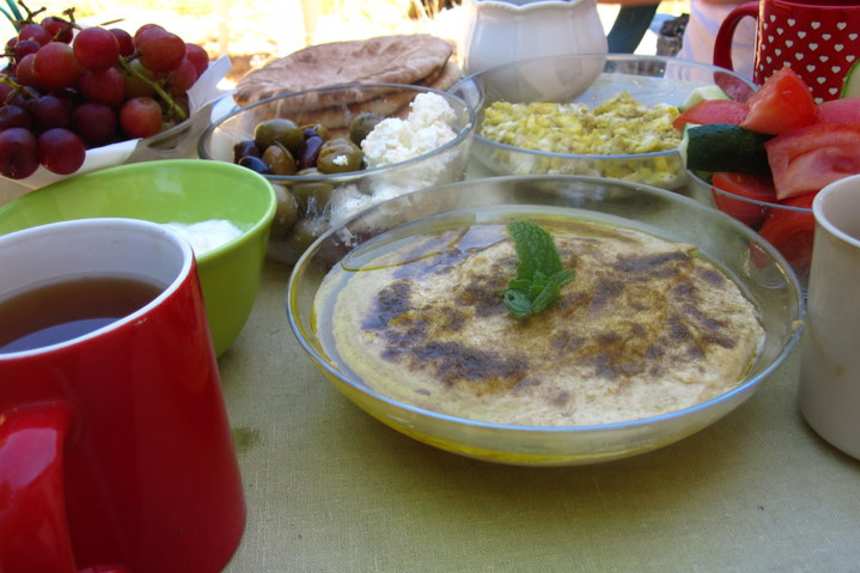 photo by alabughosh

Ready In:

15mins

Ingredients:

15
ingredients
3

eggs

4

chunks white cheese

20

olives (I love the sweet black Spanish olives but in Jordan we had ones from our garden)

za'atar spice mix (we buy it but a recipe for it is here #65710)

2

tomatoes

2

small cucumbers

labneh (we buy it but a recipe for it is here #77269 - the garlic is optional)

mortadella (optional)

arabic bread (Lebanese)

ARABIC TEA

2

tea bags (I like Lipton)
1⁄4 cup dried sage (approx.) or 1/4 cup dried mint (approx.)
directions
In a small frypan, put enough olive oil to nearly cover the bottom.
Fry chunks of white cheese until golden on each side (but don't overdo it).
Put along with oil onto small serving plate.
Clean the frypan (or use another one) and use it to make Arabic style scrambled eggs.
Place two tablespoons of olive oil in the pan along with 3 eggs and salt to taste (about 3 pinches).
Lightly turn it with a fork (Arabic scrambled eggs aren't as scrambled as the 'normal' version) until there is no longer any egg liquid (it should only just be cooked no more).
Put olives in a serving bowl.
Put about 1/2 cup of zaatar in a serving bowl.
Put 1/4 cup olive oil in a serving bowl and serve alongside zaatar.
Cut tomatoes into wedges.
Sprinkle small amount of salt over wedges (optional).
Cut the ends off the cucumbers and slice each into 4 long strips.
Put tomato wedges and cucumbers onto serving plate.
Serve labaneh with olive oil drizzled on top.
Serve mortadella sliced.
Heat the Arabic bread either by using the stove top (gas ovens) and turning frequently or heating each piece in the microwave for 30 seconds (not the authentic way of doing it!) Make tea in pot as per usual but with the dried sage or mint added.
Serve in Arabic teacups (usually small glass ones) with between 1-2 teaspoons sugar in each.
(Note: mint needs less sugar than sage) Serve all of the above.
The traditional way is to place a large tablecloth on the floor and eat seated on the ground.
Eat with Arabic bread.
Questions & Replies

Got a question?
Share it with the community!
Reviews
My in-laws also live in Jordan. When I have visited, we have had similar breakfasts. I believe the cheese you are referring to is "Haloumi" cheese. But, yes, they simply call it white cheese. It's so delicious! It's one of my favorite things. I've never had anything like it before. It's preserved with salt. So, it must be soaked in water prior to cooking it to release some of the salt. (It's still salty, but deliciously so.)

 

The white cheese, is referred to as "Jibneh Baidah" in the palestinain/jordanian region. The white cheese is usually home made as with the olives set on the the table for breakfast for in the middle east, most people take pride in making homemade cheese, olives and pickles. It usually a salty cheese very similiar to the white spanish cheese. The middle eastern stores in the states that sell commercially made white cheese will usually have the packages reading...Spanish Cheese. Jibneh Baidah can refer to just about any white cheese. Another type of white cheese enjoyed in this region is laughing cow cheese.