American-Style Panettone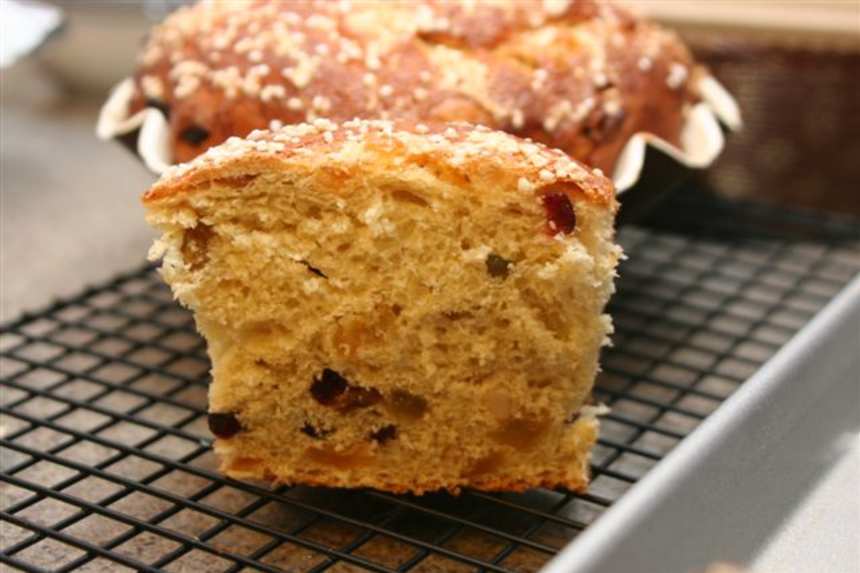 photo by GinaCucina

Ready In:

35mins

Ingredients:

12
directions
Biga: Combine the flour, water and yeast, kneading briefly to make a stiff dough; if you're using a bread machine, allow the dough to knead for 5 minutes, then cancel the machine.
Place the dough in a lightly greased bowl, and allow it to rise overnight, about 12 hours. It'll become bubbly.
Dough: In the bowl of an electric mixer (or in the pan of your bread machine), combine all of the ingredients except the dried fruit. Note: This dough is very difficult to make by hand; we suggest the use of a machine of some sort.
Knead the dough till it's cohesive; it'll seem very gummy at first, but should come together nicely at the end. Don't worry if it doesn't form a smooth ball; it's OK if it sticks to the sides of the bowl a bit.
Place the dough in a lightly greased bowl, and allow it to rest for an hour. It won't rise much; that's OK.
Knead the fruit into the dough, by hand or machine; knead only until the dough accepts the fruit, as over handling will cause the fruit to release too much sugar into the dough, slowing the rise.
Allow the dough to rest for 10 minutes, then shape it into a round ball.
Poke a hole in the center of the ball.
Slip the dough over the ring of a lightly greased 9" to 10" tube pan or monkey bread pan.
Cover the pan, and set the dough aside to rise for 2 hours or so. It probably won't double in size, but will puff up a bit; don't worry, this bread's oven spring is quite good.
Bake the panettone in a preheated 350°F oven for 25 to 40 minutes, tenting it with aluminum foil for the final 15 minutes of baking if it appears to be browning too quickly. There's a wide time-range here due to the difference in center diameters of monkey bread and tube pans; the smaller the diameter, the longer the bread will bake. The internal temperature of the dough should register 190°F to 205°F when it's done, so use an instant-read thermometer to check. If you don't have a thermometer, poke a cake tester into the center; it should come out dry, without any crumbs or wet dough clinging to it.
Remove the panettone from the oven, and after about 5 minutes turn it out of the pan. Brush with melted butter, if desired, for a soft, buttery crust. Cool on a rack.
Sprinkle with confectioners' sugar just before serving, if desired.
Questions & Replies

Got a question?
Share it with the community!
Reviews
Thank you so much for the clear, step-by-step instructions with photos. It was so helpful that my first attempt at baking Panetone was a great success! It was the best Christmas gift from God for me to be able to produce a Panetone!!! That prince of Breadcake! Your recipe produced a moist, soft and delicious Panetone, My Italian friend tasted it and said it's authentic! I'm so thrilled to be able to finally produce an authentic Panetone and enjoy it!!!!<br/>For your info, Instead of a tube pan, I used a deep, big pyrex casserole dish and it turned out so well. I used lemon and orange candied peel plus a moist mixture of glaced fruit. <br/>Also I used your weight measurement instead of the volume version because the amount of flour can vary so much using cups rather than ounces.<br/><br/>The Panetone kept well for a few days, retaining its moistness. It was also freezable! <br/><br/>Once again, many thanks your wonderful recipe, for the clear instruction and explanation of alternatives for things I couldn't get here in Manila.<br/>God bless you. May many more people get to know your recipe!

 

I made this last year and I plan on doing it again. The idea of baking it in a tube pan is perfect. The bread bakes all the way through without drying out or browning the top and sides too much. I bought paper tube pans from KA and it was perfect for gift giving. For the dried fruit I used a mixture from Trader Joes that included dried cherries, cranberries, raisins and maybe blueberries and I did put additional fresh orange zest as well. It is well worth the steps. Can't wait to make it again. If you have leftovers use it for the most delicious french toast or a bread pudding.