American Kitchen Classic Basic Thai Curry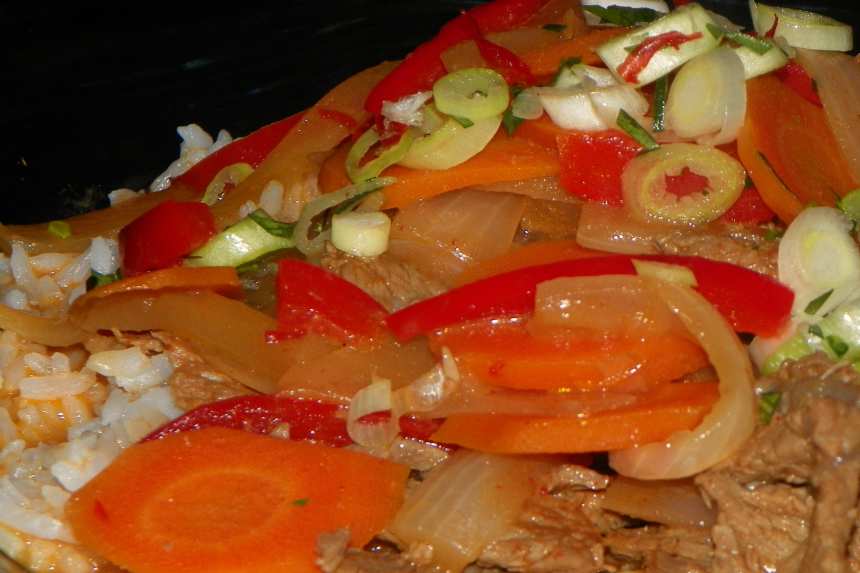 photo by Baby Kato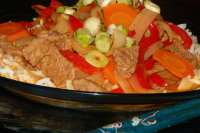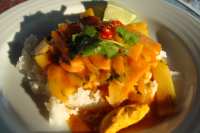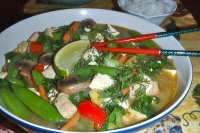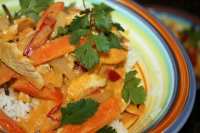 Ready In:

35mins

Ingredients:

21
ingredients
Curry Base (choose one curry paste)

1

(14 ounce) can coconut milk
1⁄4 1/4 cup yellow curry paste or 1/4 cup panang curry paste

1

cup low sodium chicken broth or 1 cup vegetable broth

Aromatics (choose up to three)

6

whole fresh lime leaves (fresh or thawed)
1⁄2 inch fresh ginger or 1/2 inch fresh galangal, sliced thinly

3

stalks lemongrass (trim off spiky top and the base, remove discard outer layers, bruise stalks lightly crushing with si)

Protein (choose up to 3 totaling 1 lb)

1

1 lb firm white fish, cut into bite-size pieces (sea bass or halibut) or 1 lb squid, tubes cut into 1/2 inch rings tentacles cut into bite-size pieces

Vegetables and Fruit I (choose 2-4 totaling 3 cups)

3

3 cups mushrooms, stemmed cut into slices or 3 cups fresh baby corn, cut into bite-size pieces

Vegatables and Fruit II

Simmer

2

tablespoons light brown sugar or 2 tablespoons light palm sugar, more as needed

1

teaspoon Thai fish sauce or 1 teaspoon vegan fish sauce, more as needed

Stir-in (choose one)

3⁄4 cup fresh basil leaf, whole (Italian or Thai)
1⁄4 cup fresh cilantro leaves, minced

1

tablespoon fresh lime leaves, sliced (fresh or thawed)

Garnishes

fresh cilantro (garnish)
fresh red chili pepper, cut into thin rings (garnish)
coconut milk, small drizzle (garnish)
fresh basil leaf, whole (garnish)
lime wedge, squeezed (garnish)
cucumber, strips wedges (garnish)
directions
Read the method from start to finish and then choose and prep your ingredients.
Curry Base: Shake the can of coconut milk or stir it well (this creates a consistent thickness, since the fat often solidifies at the top). In a 3-4 qt saucepan or wok over medium heat, simmer 1/2 cup of coconut milk, stirring occasionally until reduced by half (3-5 minutes). It will get very thick and shiny and may or may not separate-either is fine.
Add your choice of curry paste, whisk well and cook, continuing to whisk, for 1 minute. Whisk in the broth and the remaining coconut milk. Bring to a simmer over medium-high heat.
Aromatics/Simmer: Add your choice of aromatics, proteins, vegetables and fruits as well as the brown sugar and fish sauces to the simmering sauce. Be aware that some ingredients take longer than others to cook. Add the ingredients in stages, as listed in the next step.
When the aromatics are added, also add your choices of chicken, pork, carrots, onions, eggplant, green beans, Chinese long beans and Kabocha squash.
Two minutes later, add your choices of beef, large shrimp, tofu, asparagus, mushrooms, baby corn, green papaya, cabbage, bell peppers, and sugar snap peas.
One minute later, add your choices of scallops and firm white fish.
One minute later, add your choice of squid, cherry tomatoes, bamboo shoots, snow peas, pineapple and bok choy.
Cook for one to two minutes more and check for doneness. The meat, chicken or seafood should be cooked through and the vegetables should be tender-crisp.
Remove the curry from the heat and season to taste with the brown sugar and fish sauce. Add a stir-in of your choice. Transfer to a serving bowl or serve right from the pot.
Remove the aromatics before serving or tell the guests to eat around them. Serve with your choice of garnishes. The curry can be eaten as is or served with hot cooked rice.
Questions & Replies

Got a question?
Share it with the community!
Reviews
Yum! We loved this... and all of the options means you could make this dozens of times before having the same dish. This time around, I went with reduced fat coconut milk, red curry paste, chicken broth, lime zest, fresh ginger, chicken, carrots, onions, and bamboo shoots. I garnished with the fresh cilantro, red chili pepper fresh from the garden, and a lime wedge. I served over hot rice to soak up the great sauce. Thanks for sharing! ZWT9

 

I made the mistake of using almost the full amount of green curry paste. It was way too hot for my tender mid-western taste buds! It smelled delightful while cooking, but brought tears to my eyes and burn to my lips. Did I mention I was a wimp? DH liked it and wanted more! I will make again but be more stingy about the curry paste! made for ZWT9 Soup-a-Star

 

Reviewed for ZWT9 - fantastic recipe Celticevergreen- so many variations and combinations - this really is a dozen recipes in one. I made this using a red Thai curry paste, chicken breast fillet, fresh lime leave, chicken stock, galangal, carrots, onion and capsicums. Garnished with fresh coriander leaves from my garden. Delicious !! A definite make again recipe. This recipe could be easily tamed for anyone who does not like curries with heat by using less of the curry paste. Photo also to be posted

 

My what a wonderful curry this was, so good. Quick and easy to make, easy to vary. We loved it. From all the options listed I added: coconut cream, organic chicken broth, red curry paste, fish sauce, sugar, sirloin steak, carrots, onions, red peppers, lime leaves, lemon grass and ginger. I served over jasmine steamed rice and garnished with green onion, minced lime leaves and minced thai red chili pepper, for an amazing meal. Sweet, hot and spicy. Thanks so much for sharing. Made for Think Pink 2014.