American Chop Suey (Just Like Mama Used to Make)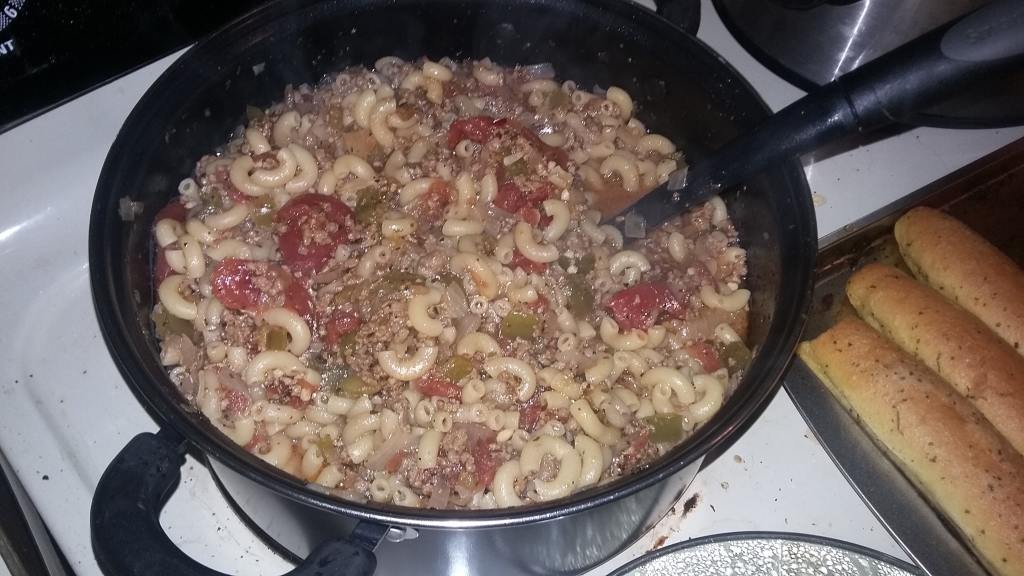 Ready In:

45mins

Serves:

Units:
Nutrition Information
directions
In a very large skillet, heat the olive oil. Add the chopped celery and cook a few minutes. Add the cut-up green bell pepper, and cook a few more minutes. Add the onion and continue to cook until celery, peppers, and onions are tender, about 5 minutes. Add the minced garlic and mix into the vegetables. Then add the ground beef, breaking up with a wooden spoon. Continue to cook until the ground beef is browned, about another 5 minutes, mixing the beef up with the vegetables. Sprinkle the mixture with the sugar, basil, oregano, and parsley and mix. Add the stewed tomatoes, juices and all. Add salt and pepper, to taste. Let simmer, covered, stirring occasionally.
Meanwhile, cook the elbow macaroni, according to the directions on box, in a very large saucepan. But, don't overcook. The macaroni should be al dente, because it will continue to cook a little when added to the beef/vegetable mixture. Drain pasta and put back into the large saucepan in which it was cooked.
Very carefully, add the beef and vegetable mixture, juices and all, to the drained pasta in the large saucepan. Mix well and keep heated, covered, stirring occasionally, on a very low heat.
When ready to serve, just put the pot of "American Chop Suey" along with bowls in the middle of the table, so everyone can help themselves. Serve with a basket of good Italian bread and butter.
Submit a Recipe Correction
Join The Conversation
I must say that this as close to how I make it channeling my "Down Maine", paternal grandmother's approach that includes using celery in it...a "must"! Having always had a prolific garden, at the end of every season, she canned quarts of what was called "Garden Special" which was meant to use up tomatoes, onions, green peppers and celery. She'd add a quart of this to a cast iron skillet of 1# + of browned ground beef to go with a cooked box of elbow macaroni to make the most delicious American Chop Suey!

I've been making this for years, my Mom made it all the time, such a comfort food/dinner. Usually I just wing it with what I have in the refrigerator, in this case I decided to try a new recipe, although not much different than what I do myself - I didn't use stewed tomatoes, for some reason they gross me out, but I used a tomato puree by La Bella San Marzano from Italy - it rocked I have to say! I also used fake meat because my partner is a vegetarian - it came out great

Thank you for sharing! I just started my hand at cooking and originally I was looking for a crockpot recipe for this since I had access to only my crockpot for a lil while but this recipe looked the best out of the ones I read. I live an hour south of Boston and love this dish. I may try adding a lil paprika to this and I am always adding more onions and garlic since I loooove both. I will let you know how it turns out! I hope my skillet is large enough. Will take pics when done! Thanks again!

I've found that the only place in the world that this recipe is called "American Chop Suey" is in and around the Boston area. Everywhere else it is known as goulash. Go into most any diner north of Boston, and "American Chop Suey" is on the lunch menu. This is a one pot meal that is terrific during these budget-conscious times. It is a comfort food that brings back wonderful childhood memories of simpler times. I've told friends that have asked for the recipe that if I give it to them, they have to call it "American Chop Suey", not goulash:).