All-American Sub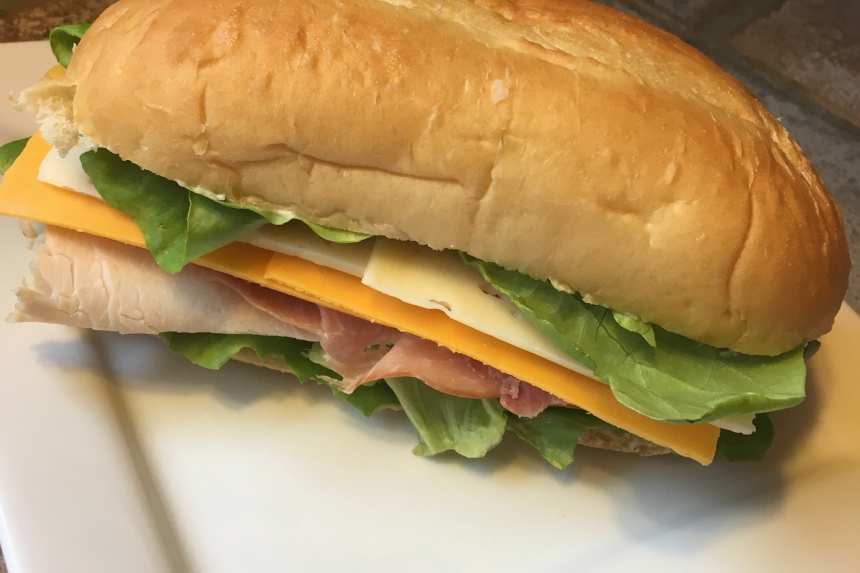 photo by Sassy J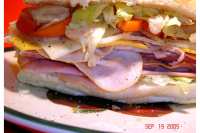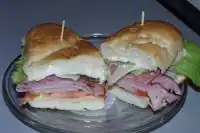 Ready In:

10mins

Ingredients:

12
directions
Cut loaf of bread (french, Italian, or grain bread) in half, lengthwise.
Spread one half with mayonnaise the other with mustard.
Cover each bread half with lettuce.
Layer meats, cheeses and top with veggies. Salt and pepper to taste.
Place top half on securing with party toothpicks.
Cut into serving slices.
Questions & Replies

Got a question?
Share it with the community!
RECIPE SUBMITTED BY
&#9829; I live in Tennessee where I am a full-time nursing student. This past May 2006 I finally graduated after 4 long years of college with my Associate Degree in Nursing. It is great to know that I can be a part of something so important. For fun, I like to jog, swim, hike,(basically anything outdoors), cook and read. There is just something about cooking that is relaxing, dontcha' think? My favorite cookbook is the Betty Crocker cookbook. My passions are my boyfriend of 6 years, Benjamin, my 2 baby kittens: Midoria (Middy for short) - she is 6 years old; and Ki-Ki - he is 4 years old...but they are both still kittens to me. They are the foundation and true essence of my life. I thank God everyday that I have been so blessed to have them in my life. My pet peeves are mean people. Here is a pic of my little KiKi B.B.&#9829;: <a href="http://photobucket.com" target="_blank"><img src="http://i61.photobucket.com/albums/h70/kikimiddy/kiki16.jpg" border="0" alt="Photobucket - Video and Image Hosting"></a> KiKi on his cat tree :] &#9829;&#9829;&#9829; :] <a href="http://photobucket.com" target="_blank"><img src="http://i61.photobucket.com/albums/h70/kikimiddy/keeks4.jpg" border="0" alt="Photobucket - Video and Image Hosting"></a> Here is a pic of Middy&#9829;: <a href="http://photobucket.com" target="_blank"><img src="http://i61.photobucket.com/albums/h70/kikimiddy/brat4.jpg" border="0" alt="Photobucket - Video and Image Hosting"></a> This is me and my baby!!&#9829; <a href="http://photobucket.com" target="_blank"><img src="http://i61.photobucket.com/albums/h70/kikimiddy/brightcont.jpg" border="0" alt="Photo Sharing and Video Hosting at Photobucket"></a> <a href="http://photobucket.com" target="_blank"><img src="http://i61.photobucket.com/albums/h70/kikimiddy/christmas2006antiqued.jpg" border="0" alt="Photo Sharing and Video Hosting at Photobucket"></a> This is when the kitties opened their new cat condo present on Christmas day!! <a href="http://photobucket.com" target="_blank"><img src="http://i61.photobucket.com/albums/h70/kikimiddy/newcondo2.jpg" border="0" alt="Photobucket - Video and Image Hosting"></a> Here is my little kiki kitten again!!&#9829; <a href="http://photobucket.com" target="_blank"><img src="http://i61.photobucket.com/albums/h70/kikimiddy/perfectface.jpg" border="0" alt="Photobucket - Video and Image Hosting"></a> Here is KiKi trying to get Middy on the new condo!! :] &#9829; <a href="http://photobucket.com" target="_blank"><img src="http://i61.photobucket.com/albums/h70/kikimiddy/kikismack.jpg" border="0" alt="Photobucket - Video and Image Hosting"></a> &#9829;I love my little babies!!&#9829; Here is a recent pic of the lil' babbies having a kitten disagreement&#9829; :] <a href="http://photobucket.com" target="_blank"><img src="http://i61.photobucket.com/albums/h70/kikimiddy/kikmid1.jpg" border="0" alt="Photobucket - Video and Image Hosting"></a> &#9829;such cuties!!&#9829; . &#9829; . &#9829; . &#9829; . <b> Favorite Cookbooks: <li><a href="http://www.recipezaar.com/mycookbook/book/37901">Make Your Own "Meat"</a></li> <li><a href="http://www.recipezaar.com/mycookbook/book/48016">Get Fit!</a></li> <li><a href="http://www.recipezaar.com/mycookbook/book/54255">My Little Tofu Cookbook</a></li> <li><a href="http://www.recipezaar.com/mycookbook/book/41407">Yummy Vegetarian Dishes</a></li> <li><a href="http://www.recipezaar.com/mycookbook/book/32254">Simple</a></li> . &#9829; . &#9829; . &#9829; . <a href="http://www.amazingcounter.com"><img border="0" src="http://c9.amazingcounters.com/counter.php?i=1880156&c=5640781" alt="Web Counter Code"></a><a href="http://www.1-coupons.com/coupons/overstock.htm"></a>
View Full Profile