2nd Time's the Charm Cornbread Pudding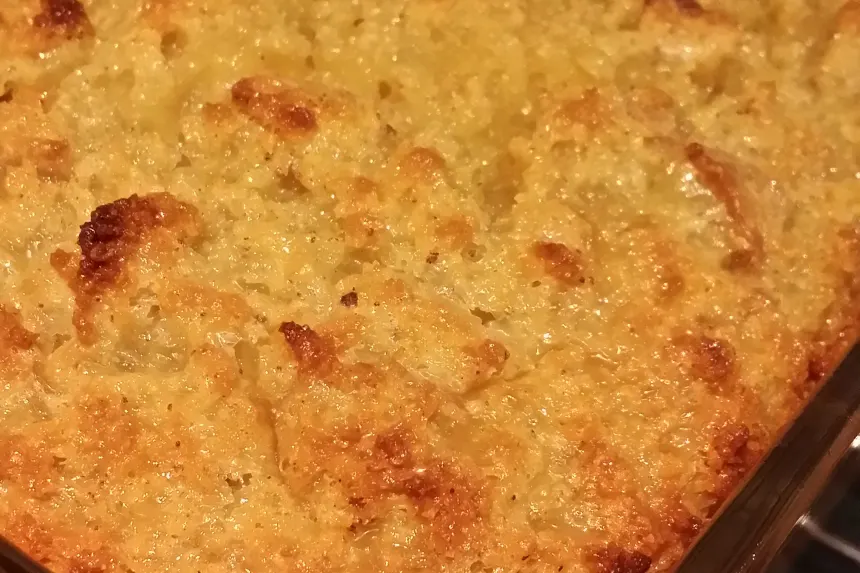 photo by Aida C.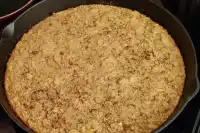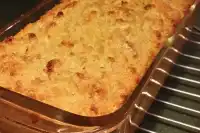 Ready In:

30mins

Ingredients:

7
directions
Preheat oven to 375 and spray glass loaf pan, then layer cornbread in bottom.
In a mixing bowl, whisk eggs, milk, sugars, and aromatics.
Pour over cornbread, pressing chunks of bread down into liquid. Liquid should cover all bread.
Bake at 375 until all pudding mixture is baked and golden.
Delicious served hot or cold!
Reviews
I decided to try this recipe with some leftover cornbread that I didn't want to waste. I've never heard of cornbread pudding, so I went into it with a "what do I have to lose" attitude. I was pleasantly surprised! This pudding turned out to be absolutely delicious! Even my picky boyfriend - who was very dubious about the endeavor - actually loved it. My only complaint is the vagueness of the cooking directions and the author not including a description of the finished product, mainly describing what the proper consistency should be. I cooked mine for 60 minutes and still wasn't sure if it was done. I was just about to put it back in the oven when I decided to Google Cornbread Pudding and, after a bit of reading, found that the dish should have a custard-like consistency. If so, I probably left mine in the oven a bit too long. It was still soft and very moist inside, but cooked beyond what I would consider to be custard-like. Probably 50 To 55 minutes in the oven would have been perfect. However, I still liked the cakey/pudding-like consistency and was happy with the finished product. I'll definitely make this again whenever I have extra or leftover cornbread, but I will take it out of the oven sooner. I did post photos of my finished dish if anyone is interested.

 

I've made this recipe a few times and absolutely love it! You can easily half the recipe if you don't want a large amount. I like mine a little sweeter so add more of the sugars (1/2 cup) and cinnamon (1 teaspoon). I cook mine in a cast iron skillet for 40 minutes til center is set. Add some butter or rum sauce to top it off. Perfect!

 

Pros: good way to use up cornbread, easy to put together, tasty with my modifications below. Cons: No cooking time in recipe which was super frustrating. I think I baked it for 45 minutes in a loaf pan. It is not 30 minutes, with or without prep time, so that is inaccurate. It did not cook evenly - moister in middle and top than elsewhere. But you get away with it because it is ok if it is mushy. I think I would prefer a square pan for more even cooking. That said, we ate it within 10 min coming out of oven, so maybe it needed to set. It was elevated from good to scrumptious with a vanilla sauce. I used this one: https://www.allrecipes.com/recipe/217181/best-bread-pudding-with-vanilla-sauce/. I would have rated it a 3/5 without it. I added frozen blueberries because I like blueberries with cornbread. Would I make cornbread to make this recipe? No. If I was baking cornbread, would I bake extra to make this recipe? Maybe. :)

 
Tweaks
This recipe halves soooo beautifully. I didnt have 4 cups of cornbread but oh boy did i wish i did. I halved the recipe and I did some adjustments. I am allergic to cinnamon. So I used about an 1/8 of a teaspoon of cardamom instead. Also I used 1 tbsp of maple syrup and 1 tbsp of honey in place of 1/4 cup of sugar. Still used 1/4 cup of brown sugar even though i halved. It was perfect. Not too sweet. I also used about 3/4 a tbsp of vanilla and filled in the 1/4 with some almond extract. It helps balance the cardamom and vanilla. Custardy and delicious. Sooo good

 
RECIPE SUBMITTED BY
My husband and I are pastors who work with college students and young adults and we absolutely love it! The students are my "kids" and constantly teach me new things and keep my life interesting. I have posted many recipes here at their behest. Sometimes I think they just love me 'cause they know that can come over and get a fresh homecooked meal -a great break from their sketchy college cafeteria food! I grew up in a beautiful, loud, fun, albeit slightly crazy, Spanish-Italian family where cooking is not just about putting food on the table -it is an art. An intense, passionate art of carefully guarded secret recipes. So cooking is in my blood and I enjoy it immensely. I love having dinner parties just so I can whip up fancy new recipes. And the college students are always happy to be my guests!
View Full Profile