2bleu's Country Ham Bacon (And Eggs)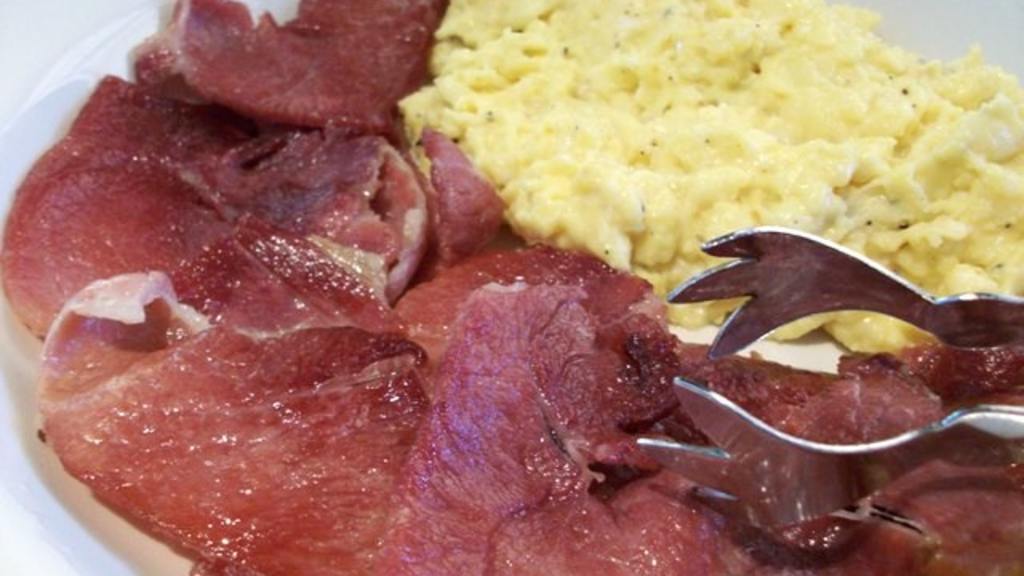 Ready In:

1hr 5mins

Serves:

Units:
Nutrition Information
directions
Cut the ham slices into about 3" pieces, removing the bone if it has one. The pieces do not have to be cut even, as I usually separate around the fat, leaving some fat for flavor.
CURED HAM ONLY: (If using leftover baked ham, see instructions below). Place the salt cured ham slices in a large *cast iron* pan (it's okay if they overlap at this point) and add the water, enough to cover the ham slices completely. The water may cook down some, so add more as you go as this removes the saltiness from the ham. The more water in the pan, the better.
Cook over med heat to a gentle simmer for about 10-15 minutes until most of the salt has dissipated into the water, turning the ham a few times to 'shake the salt out'. Remove ham slices and (using a good potholder) rinse and wipe the skillet with a clean dishcloth. Just a quick rinse/wipe to remove any salt and residue.
For BOTH types of ham: Place pan back on stove-top at a medium heat. Add the oil to the pan followed by the ham slices. Lay them in a single layer enough to fill pan but not overcrowd them. Do in batches if necessary. Cook for about 10-20 minutes depending on thickness, turning occasionally until browned. Drain ham onto paper towels. Add more oil to the pan if necessary for the next batch, although the ham will usually make it's own in the pan from the previous batch. You only need enough to cover the bottom of the pan.
EGGS: (about 15 minutes to cook) To a *nonstick* skillet, melt butter over medium-low heat (slow cooked scrambled eggs turn out extremely smooth and creamy). Beat eggs and seasonings until very well blended. When butter has melted, pour in the eggs. As they begin to firm, push them around a bit using a spatula. Continue cooking eggs low and slow while ham is cooking in the iron skillet. The ham should be done first, just place a piece of foil over top to keep warm.
When the eggs are about a minute from your desired doneness, place onto plates and serve with ham. (remember: scrambled eggs continue to cook after you remove them from the heat).
Submit a Recipe Correction