100% Whole Wheat Sour Cream Biscuits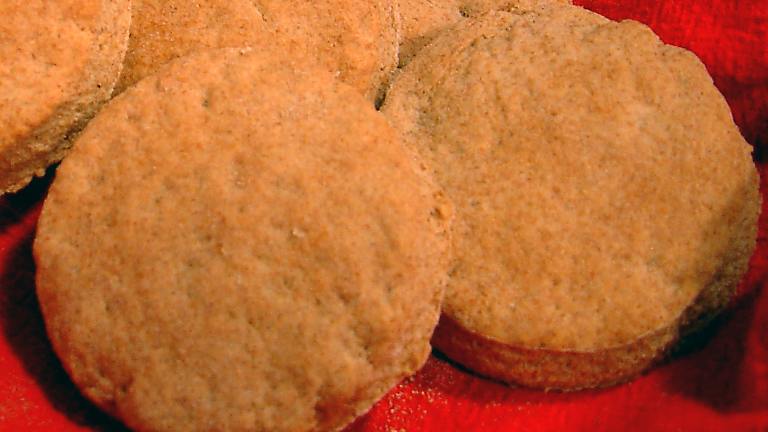 Tender, flaky sour cream biscuits like Mama never made!
Ready In:

23mins

Yields:

Units:
directions
Put oven rack just below the middle so the biscuits will bake in the middle of the oven. This will prevent the bottoms being overdone, and will produce a nice crust on the top and a tender middle.
Preheat oven to 400°F Bake 18 minutes, or until the biscuit is firm with just a little "give" when lightly pressed on top, and are golden brown. The time will vary slightly depending on the size of your biscuits.
In a medium bowl, stir together flour, gluten, baking powder, baking soda and salt.
Using a pastry blender, cut cold butter into the flour mixture until it resembles coarse crumbs. Make a well in the center of the flour mixture; set aside. (If you don't have a pastry blender, use two table knives and keep cutting across the mixture. It takes a little longer, but works as well.).
In a small bowl, stir together milk and sour cream until mixture is fairly smooth. Add the milk mixture all at once to the flour mixture in the medium bowl. Using a wooden spoon or spatula, stir just until the dough sticks together.
Turn dough onto a lightly-floured surface. Gently knead 10-12 times, or just until the dough holds together.
Pat dough to 1/2 thickness, forming a square or rectangle. Cut dough into squares or rectangles. If too large, cut squares across corner-to-corner into diamonds. OR: roll dough with a floured rolling pin to 1/2-inch thickness and cut biscuits with a floured 3-inch biscuits cutter. Push the cutter straight down and twist to cut the dough without tearing it. Push the cut biscuits out of the cutter.
Put the cut biscuits on an ungreased baking sheet, leaving about a 1-inch space on all sides between biscuits so the sides will get "crusty" like the tops.
Bake for 18 minutes, or until golden brown. Serve warm.
Submit a Recipe Correction
RECIPE MADE WITH LOVE BY
"Tender, flaky sour cream biscuits like Mama never made!"
WOW! I had stopped making biscuits because I never found a good enough 100% whole wheat recipe - but these were terrific! Like a "real" biscuit! They rose so tall, had a great flaky texture, and tasted great! I followed the recipe, using "white" whole wheat flour and "light" sour cream, and I did need a bit of extra milk. I am thrilled to have this recipe!

I made these tonight to go with dinner and my whole family found them delightful, they have an absolutly wonderful aroma and texture, taste great and as a bonus since they are somewhat heaver than regular biscuits they stay warm longer in the basket. I used freshly milled hard red winter wheat in this recipe. Best whole wheat biscuits to date! Thanks Shorter Mama!