100% Whole Wheat Low Fat Pancakes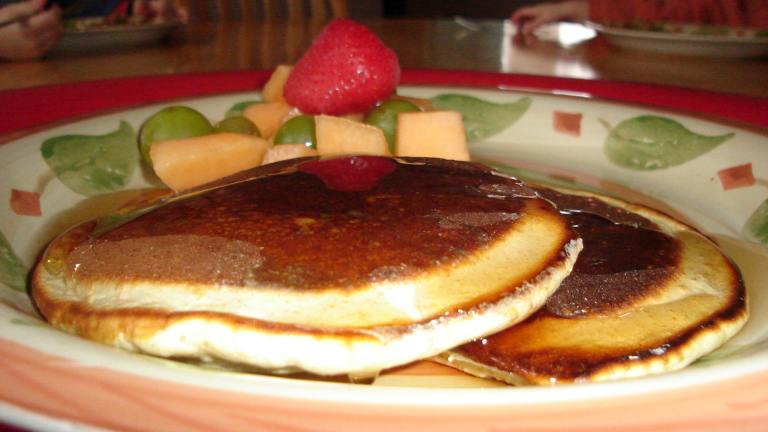 I created these one day for my kiddies when I couldn't find a recipe that fit my bill. They turned out great! Note: If you like fluffy pancakes stir wet ingredients into dry with a wooden spoon leaving some lumps (more lumps=bigger cakes), alternately if you like thin pancakes, like me, use your blender to mix all the ingredients at once and blend until smooth UPDATE: SEPT '07: For those who don't like really thick pancakes try reducing flour by 1/2cup and replacing it with milk, this will give a runnier batter and should give a thinner pancake :)THANKS FOR THE COMMENTS EVERYONE!!! (GOOD AND BAD, WE ALL LEARN FROM CRITISISM TOO ;) )
Ready In:

20mins

Yields:

Units:
directions
Depending on your preference (see description above) blend/mix all ingredients except fruit.
Heat pan on medium till drop of water "dances" in pan.
Pour batter into pan to desired size of pancake, if using fruit add small handfuls to individual cakes after pouring into pan (I've done both adding to batter and adding to individual cakes and this works best for me, fruit tends to sink to bottom of bowl but both ways are acceptable).
When bubbles appear on surface and begin to "sink" flip and cook on other side until brown.
Note: if you are using a good non-stick pan it is not necessary to use oil in the pan!
Repeat with remaining batter until all gone.
Serve with favorite topping i.e., fruit, syrup, jam etc.
Submit a Recipe Correction
RECIPE MADE WITH LOVE BY
"I created these one day for my kiddies when I couldn't find a recipe that fit my bill. They turned out great! Note: If you like fluffy pancakes stir wet ingredients into dry with a wooden spoon leaving some lumps (more lumps=bigger cakes), alternately if you like thin pancakes, like me, use your blender to mix all the ingredients at once and blend until smooth UPDATE: SEPT '07: For those who don't like really thick pancakes try reducing flour by 1/2cup and replacing it with milk, this will give a runnier batter and should give a thinner pancake :)THANKS FOR THE COMMENTS EVERYONE!!! (GOOD AND BAD, WE ALL LEARN FROM CRITISISM TOO ;) )"
Excellent recipe! I made some of the whole wheat pancakes this morning for myself (just to try it out before I made it for my whole family) and they turned out pretty good! I kinda tweaked the recipe though, and added about 6 dashes of nutmeg and 4 dashes of cinnamon. I also threw in 6 drops of agave nectar for sweetness. They tasted delicious but I'm gonna add more nutmeg next time. I ate the pancakes with some apricot jam on top and I was good to go! Thanks, LuckyMomof3!

These were quite good! I added about 1/4 cup flax meal in place of the flour. My DH usually complains when I do this, but he didn't even notice. The sweetness of the pancakes is great for adding additional grain types. I'll probably play around with this in the future, but it's a very good base recipe. I topped with a blueberry/splenda topping, and it was fantastic. Thank you for the great recipe!

Though these pancakes are more like a breakfast bread for me, I think they are delicious. This recipe is a great example of how yummy whole wheat can be! <br/>The recipe is very sturdy, meaning you can make changes as you wish and the outcome tends to be pretty similar. <br/>I personally used 1 c of skim milk and 1 c of vanilla flavored coconut milk, just to add some different nutrition to these cakes.<br/>I added 2 T of ground flax meal, which adds to the density of this recipe-if you don't like the denser pancake, I wouldn't add the flax.<br/>I also used 2 egg whites instead of one egg. <br/>Last but not least, I used a brown sugar substitute instead of regular sugar. It makes the pancakes a bit darker.<br/><br/>With a little bit of butter and syrup (I used sugar free) these really taste like a "regular" pancake. Yummmmmm.....this is a good one!!!