First-Time Tailgating Tips and Tricks
And you thought football couldn't possibly get any better.
Watching a football game is nothing short of a rite of passage in the USA. But the badge of honor doesn't simply come from knowing when your team scores a touchdown or stupidly punts on the fourth down. It's about more: the perfect pregame chili, the ultimate Bloody Mary, the color-coordinated desserts, decorations and dedication.

If you've been to a tailgate before, maybe you have an idea about what I'm talking about. Maybe you know about the size and scale of tailgates and just how fantastic and labor-intensive they can be. No matter where you stand in the tailgating range, from gung ho to no-go, we've got what you need to take your tailgate to the next level.

get the Food.com app.
Watch on your iPhone, iPad, Apple TV, Android, Roku, or Fire TV.
Learn More
1
Find your spot
Where exactly are you going to spend the time before and after the game? That might seem like an obvious question, but these plots can sell out long before the season starts. If you're tailgating IRL, I cannot advise you enough: Reserve your territory. Although, if you're tailgating from your couch, you're in good shape.

TIP
Have you committed yourself to tailgating? Then do as my uncle does and fertilize the trees on your lot year-round. You'll thank yourself during the cold fall football months, when your little tree stands up to the wind and supports the tent you've tied to it. 
2
Invest in your setup
Just like with camping in below-freezing temps, you never want to show up to your tailgate unprepared. This is a crucial step.

Knowing the climate of your tailgating region is a must. Will you need sun cover? Wind protection? A heater? These are all things to take into consideration before you pack your car and head to the game.

3
Buy the right decor
If you want to look like you know what you're doing, team-colored everything is a must. Can you tell what game I went to?

Decor and setup go hand in hand. Don't buy a white tent if down the road you're going to want team colors. Just sit yourself down and admit that you don't want to be the one weirdo who didn't invest heavily in color-coordination, and put those team-themed plates, silverware, cups, tablecloths and chocolate-covered candies on the credit card.

It never hurts to add in festive banners, coolers and even trashcans (get the collapsible kind for space-saving at home). These items can complete your game-day setup.

Some decor, however, is strictly utilitarian. Be sure to invest in a way to keep your food warm, like a chafing dish or a few brilliant chili thermoses.

4
Start with savory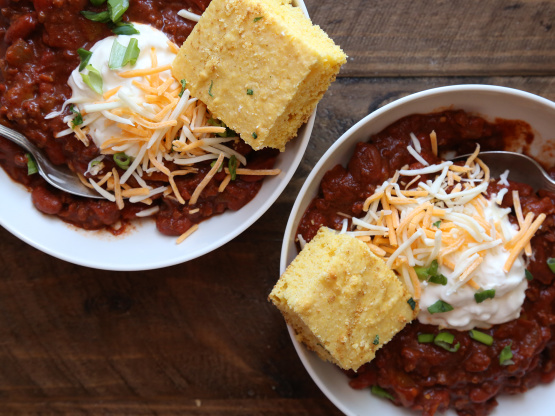 Every tailgate has its go-to food, but my tent was loaded with three kinds of chili, and I wouldn't want it any other way. As with any successful chili party, you'll need a toppings bar, but the real secret to success is keeping the chili warm (see chili thermos above).

Start by making your chili ahead of time. (I suggestion a chicken chili, a beef chili and something unique, like a venison chili.) If you make it a week or more ahead of time, you can freeze it, then reheat it for the big game, giving yourself plenty of time to get everything else in order.


TIP
No matter when you make your chili, you'll need to heat it up at home before taking it to the tailgate, putting it in your chili thermos or loading up your chafing dish.
5
Build a bar
Whether you're team Bloody Mary or whisky over ice, a well-stocked bar will make your tailgate.

For a Bloody Mary bar, you'll need: tomato juice or Bloody Mary mix, Worcestershire sauce, vodka, pickles, more pickles, all the pickles, pepper and vinegar-based hot sauce.

Oh, and don't forget the beer.


TIP
If you're lucky enough to actually have tickets to the game, always be sure to lock your booze in the car while you're away watching your team score. These bottles (and other portable things, like games) can go missing when no one is watching.
6
Stock the snacks
Big games require snacks because you'll need fuel for the whole day. Make your favorite dip, pack veggies and stock up on chips. Game-day snacks don't need to be elaborate — just plentiful.

7
Come through with desserts
Desserts are just snacks for the sugar-inclined tailgaters, making a serious dessert spread a must.

You can get elaborate with decorated sugar cookies. Or you can go simple with chocolate pretzels topped with team colors (be sure to order the candies ahead of time, as certain team colors need to be special-ordered).

And if you're not sure which team you're rooting for, chocolate chip cookies are always a big hit.

8
Bonus
If all the above felt like a walk in the park, then you're ready for the big leagues.

Bring personalized lawn games, like corn hole, to keep you busy (and warm) while you're waiting for kickoff.


Invest in your own personal, padlocked Honey Bucket to skip the crowds and ensure your experience is totally pleasant, from start to finish. Don't want to pay for renting one for the day by yourself? Find a tailgate near you, split the costs and share the combination code.

If you're ready to let everyone know whose tailgate is best, invest in a sign showing commitment to the sport of tailgating, the best sport of all.