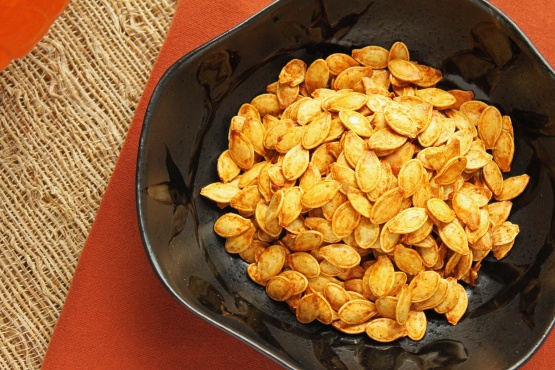 How to Roast Pumpkin Seeds
After the work of carving a pumpkin is over, you deserve a snack and luckily the pumpkin provides a crunchy, salty fall treat.


Carving fresh pumpkins? Don't toss the seeds. Go for a simple salty crunch or try jazzing them up with cayenne pepper, garlic powder or grated Parmesan and other seasonings.
get the Food.com app.
Watch on your iPhone, iPad, Apple TV, Android, Roku, or Fire TV.
Learn More
1
Ingredients


• 1 1/2 cups pumpkin seeds, from a fresh pumpkin
• 2 teaspoons melted butter (olive oil or vegetable oil also work)
• Salt, to taste
• Other spices you might like (garlic powder, seasoning salt, cayenne pepper, grated hard cheese, etc.)



Time to Make: 50 minutes | Yields: 1 1/2 cup of roasted seeds
2
Clean Pumpkin Seeds


Preheat your oven to 300°F.

Then, clean the strings from your pumpkin seeds. While it's okay to leave some strings and pulp on your seeds (it adds more flavor!), be sure to remove any large chunks — they may burn in the oven.

3
Butter & Season the Seeds


Add the cleaned pumpkin seeds to a bowl along with salt or your choice of seasonings. Pour melted butter (or oil) over seeds and mix.

4
Start Baking


Once seasoned, spread the pumpkin seeds in a single layer on a baking sheet. Place the sheet in your pre-heated oven and bake for about 45 minutes or until the seeds are golden brown. Be sure to stir the seeds occasionally.

5
Let Cool & Start Snacking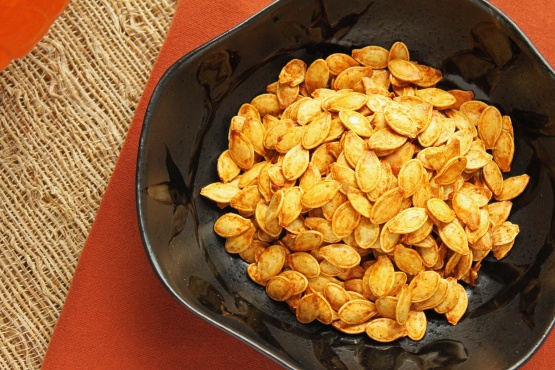 Remove the pumpkin seeds from the oven and let them cool on the baking sheet. When ready to eat, either crack the seed's shell to remove the inner seed or eat them whole...enjoy!

More Flavors to Try:
• Pumpkin Pie-Flavored Seeds
• Sweet & Spicy Pumpkin Seeds
• Sugared Pumpkin Seeds