How to Cultivate the Chillest Summer Cocktail Garden
Make all your summer happy hours the garden-to-glass variety.
There's just something magical about savoring a home-grown cocktail in the garden on a warm summer evening. What's even better? Putting your growing space to use by cultivating all the ingredients you need to make the freshest cocktails, while creating a fabulous space to relax and imbibe in. Hopefully, it's under some party lights.
get the Food.com app.
Watch on your iPhone, iPad, Apple TV, Android, Roku, or Fire TV.
Learn More
1
Grow Drink Ingredients Within Easy Reach
First things first, you've got to grow the things. As many of the things as your space and growing zone allow. Cocktail ingredients and garnishes can run the gamut of garden goods: fruits, veggies, herbs, flowers and even eggs (if you've got chickens as part of your grand garden scheme, like I do). But before you get overwhelmed with the limitless possibilities, narrow it down by figuring out what you like to drink.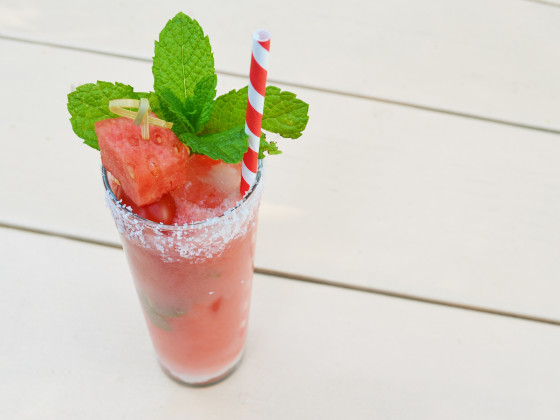 Like mojitos? You'll need fresh limes, mint and perhaps some edible flowers to use as a fun garnish. Try planting a large patio pot with a dwarf citrus tree, various mints and colorful zinnias to top it all off. Live in a citrus-challenged climate? Put that pot on casters and overwinter your lime tree inside by a bright, indoor window.

Get adventurous with your mojito ingredients, like with this savory Summer Tomato Watermelon Salad Mojito. Plant a juice-worthy tomato variety (such as Early Girl, Brandywine or Beefsteak) and a small variety of watermelon (such as Sugar Baby or Crimson Sweet; you can grow these in a container straight up a trellis to save space). Surround these fruits with mints, basils, chives and edible flowers, and you'll not only have the goods to make this tangy mojito, but a wealth of other cocktail combos (aka Bloody Marys and Watermelon Margaritas).

Maybe you've been seduced by the allure of fresh egg whites in your cocktails, and you fancy yourself a sophisticated flip. That's where you need those plucky little hens posted up in your garden somewhere (or, take the easier route and get your eggs from the local farmer's market). This Passionfruit Flip recipe makes the most of fragrant summer passionfruit, fresh lemon, vodka and a foamy cap of lovely egg whites*.

Vining fruits such as passionfruit, kiwi, grapes, melons, (brambles, such as blackberries and raspberries), cucumbers and peas (okay, technically veggies) are fabulous additions to the cocktail garden, both for their fruit and stunning blooms. Most are small-space compatible if planted in containers and grown vertically on a trellis.

*Always exercise caution when consuming raw egg whites.

TIP
See Clementine's feet in the background? She supplied the eggs.
Are pretty floral cocktails your thing? Do you have wild honeysuckle vine coming over your fence from your neighbor's yard? Make a simple syrup and put it in a cocktail, like in this Honeysuckle 75.

Other great cocktail blooms: roses, nasturtiums, lilac, lavender, dianthus, marigold, zinnia, verbena, geranium, pansies…and the list goes on. While many of them don't possess a strong enough flavor to actually affect the taste of your drink, a pretty flower always makes for an impressive garnish.

2
Keep It Organic
It probably goes without saying, but don't use anything in your cocktail garden that you wouldn't want in your drink (or around your chickens!). This includes pesticides, herbicides, chemical fertilizers and even pet waste. Try to start things from seed or buy organically-grown starter plants from a reputable nursery. Because cocktails straight from the garden are healthy, dang it. Let's keep 'em that way.

3
Create a Work Surface
We might not all be fortunate enough to have a fully-stocked outdoor kitchen setup, but even just a small table and a bit of storage can make cocktailing outside a whole lot easier. Make sure your work surface is stable (you've got to be able to cut those limes), and if it doesn't have a food-safe prep top to it, keep a portable cutting board on hand.

Other tools to have around: a good cutting knife, a pestle (for muddling), a decent bar spoon, an ice bucket/bowl and, of course, a cocktail shaker.

4
Create an Area for Relaxation
Okay, this one is important. You need to put your feet up — it's mandatory. This may be as lavish as an outdoor sectional in a full-tilt outdoor living room, or it may be as simple and straightforward as a garden bench and side table, but you need somewhere comfy to sit and enjoy your cocktails. And also somewhere to set it down; cocktail elbow is a very serious thing. Bonus points if your lounge area is within reaching distance of wherever you're growing those fabulous ingredients.

5
Set the Mood
A proper garden happy hour starts before sunset and continues well after dark. So you're going to need some ambient lighting. No matter the size of your space, party lights are always a good choice. Strung casually across your cocktail spot, they bring an easy enchantment to every summer night. You can never beat the flicker of candlelight though! Try the battery-operated variety placed in decorative lanterns, luminarias or mason jars; many are timer-operated, so you can set them to click on at just the perfect, twilit moment.

So if you've got space to plant, whether it's in a sprawling garden or a tiny balcony with enough room for a few pots, cocktail gardening is the project you never knew your summer evening happy hours needed. Let's drink to that!