Heads Up: 11 Next-Level Ways to Cook Cauliflower
It's the Cinderella story of the vegetable kingdom. Once a mild-mannered underdog skirting the sidelines of your plate, cauliflower has proved itself to be a king of edible camouflage. Now you can find that alabaster orb imitating all of your favorite dishes from mashed potatoes to pizza crust, giving them a new, low-carb lease on life. All hail the king.
get the Food.com app.
Watch on your iPhone, iPad, Apple TV, Android, Roku, or Fire TV.
Learn More
1. Harissa Cauliflower Steaks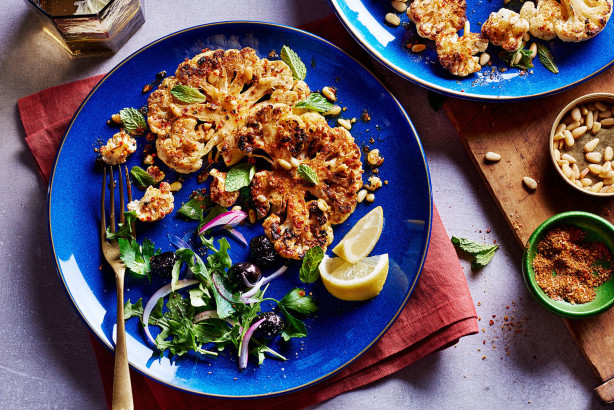 Medium-rare or well done for your steak? Neither, because nobody puts cauliflower in a corner. Free your steaks from that meaty terminology by switching to a big slab of hunky, harissa-crusted cauliflower. Browned in coconut oil and served with pine nuts, lemon, and fresh mint, this just might be the vegan lumberjack of your dreams. Get the Harissa Cauliflower Steaks recipe >>
2. Mock Mashed Potatoes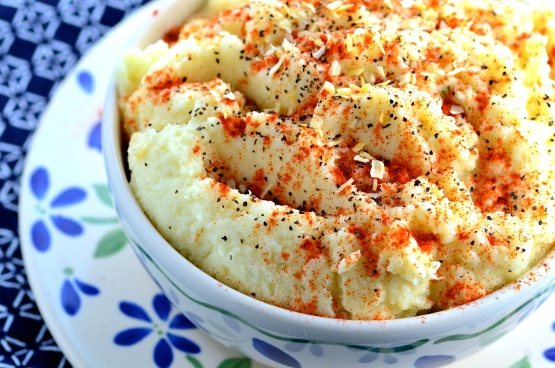 Laying off the taters lately? That's a noble crusade, but when the mashed potato jitters come calling, you'll need a healthy sidekick to help you stay strong. Keep those seductive spuds at bay with this knockout cauliflower mash, all glitzed and glamorous thanks to a rich infusion of whipped cream cheese, parmesan, and roasted garlic, plus a dainty dab of chicken bouillon powder. Get the Mock Mashed Potatoes recipe >>
3. Cauliflower Crust Pizza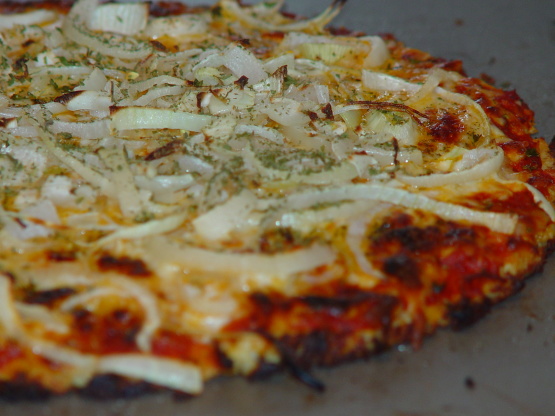 A life without pizza is no way to live. Take heart, low-carbers. There's light at the end of that dough-free tunnel you're laboring through—a shining beacon called cauliflower. Shredded and stuffed with egg, mozzarella, parmesan, and oregano, that plain Jane veg takes the shape of chewy, blistered pizza dough, just awaiting your ideal topping scenario. Get the Cauliflower Crust Pizza recipe >>
4. Cauliflower Fritters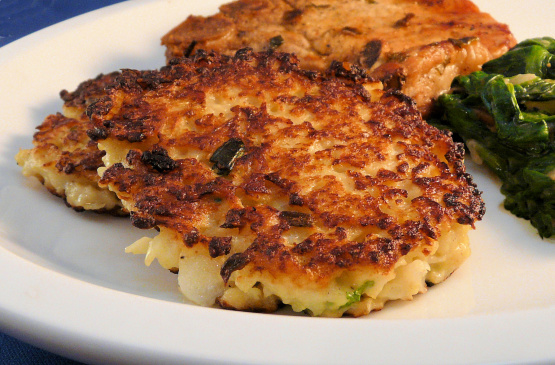 Potatoes, you can't sit with us! When those starchy tubers won't fall in line with your lifestyle, it's time to find a new best fritter friend. Luckily, cooked cauliflower can frizzle and fry like a champ when formed into patties with egg and seasonings. In other words, "smell ya later, latkes." Get the Cauliflower Fritters recipe >>

5. Butternut Squash & Cauliflower Soup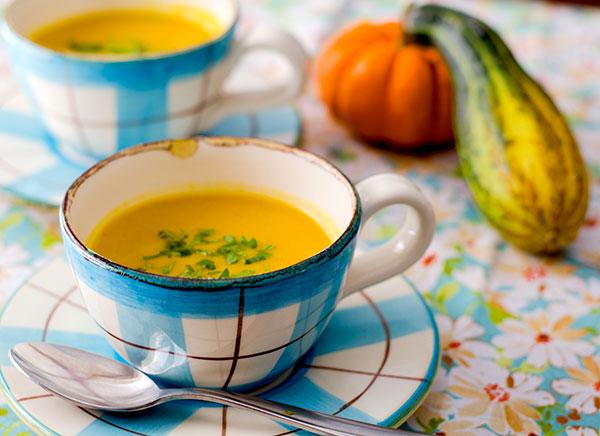 Sure, butternut might add a splash of color, but it's the pureed cauliflower that brings the smooth-like-butter star power to this soup. Lash that bowl of liquid velvet with a spoonful of curry powder and let the compliments roll in from around the dinner table. Get the Butternut Squash & Cauliflower Soup recipe >>
6. Roasted Cauliflower with Lavender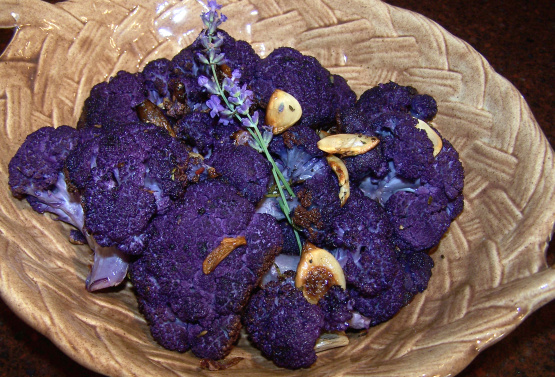 Scientific fact: Purple food tastes better. But two purples on the same plate? That's a bonafide edible event. Now's the time to go full magenta with this roasted purple cauliflower tossed with garlic cloves, rosemary, and its delicate color wheel compatriot, fresh lavender. Get the Roasted Cauliflower with Lavender recipe >>
7. Indian Cauliflower Sushi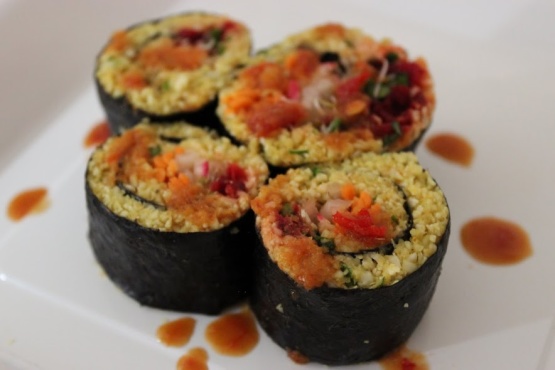 Your sushi's already stuffed with raw fish, so why shouldn't your rice go raw as well? Sayonara the starch factor by pulsing cauliflower in a food processor until it reaches the consistency of fluffy rice kernels. Then send in a volley of seasonings like cumin, turmeric, and fennel seeds and tuck that revved up "rice" inside nori along with grated vegetables and tamari sauce. Get the Indian Cauliflower Sushi recipe >>
8. Cajun Shrimp & Mashed Cauliflower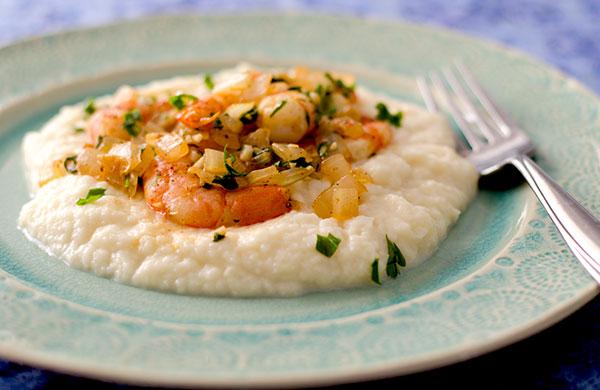 Impersonating a beloved Southern breakfast dish takes true grit—but the humble head of cauliflower is up to the task. Bolstered with milk and parmesan cheese, mashed cauliflower begins to ooze Southern charm and successfully mimics both the creamy texture and good looks of grits when topped with sauteed onions and shrimp. Welcome to the Low Country, cauli. Get the Cajun Shrimp & Mashed Cauliflower recipe >>
9. Marinated Cauliflower & Carrot Salad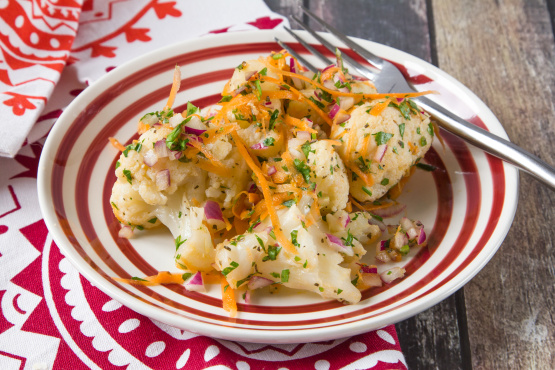 Yes, you can pickle that. And pickle you should when it comes to this self-assertive salad. It all starts when red wine vinegar walks into the room, flanked by the fire-starting trio of garlic, bay leaves and lemon pepper. Boiling hot and ready for a fist fight, they tangle with a cluster of cauliflower florets, recruiting them as new members of their tangy, rough-and-tumble gang. Get the Marinated Cauliflower & Carrot Salad recipe >>

10. Buffalo Cauliflower Wings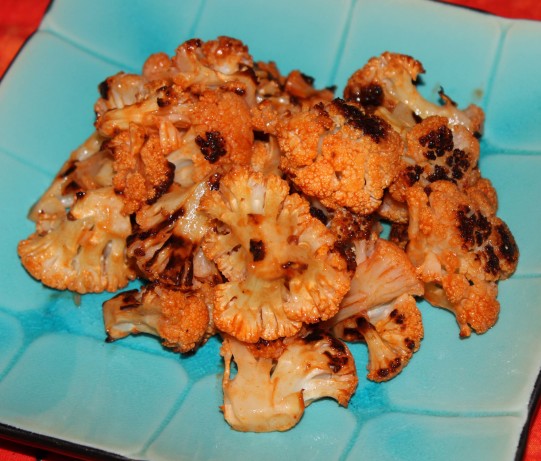 Aside from actual chicken, there might be no finer vehicle than cauliflower for transporting copious amounts of buffalo sauce directly to your face. If that spicy cayenne juice is what you crave, you might not even notice that a crisp, caramelized vegetable has commandeered your weekly wing fix. Don't tell blue cheese—what he doesn't know won't hurt him. Get the Buffalo Cauliflower Wings recipe >>
11. Bring Me Your Head on a Platter Cauliflower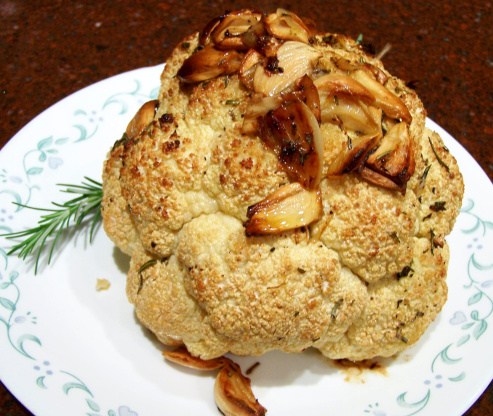 Suffering from lazy bones syndrome but still need to turn out a somewhat impressive dinner spread? In a stroke of brassica-based genius, you spy that plump head of cauliflower waving from the back of your fridge. The answer is clear: Plop that fair-haired beauty on a plate and give it a generous shampoo of garlic, rosemary, olive oil, and parmesan cheese. Roast until well-tanned and fragrant and snicker at all the suckers who think you spent hours prepping. Get the Cauliflower Head Platter recipe >>