An Alternative Valentine's Day Feast for Stranger Things Fans
Eleven and the gang are here to give the holiday a welcome sci-fi twist.
Are you sweet on Barb? Us too. That's why this year, in search of an alternative to the sickly-sweet Valentine's Day content we're all accustomed to, we called in our favorite candy conjurer, Christine McConnell. And boy, did she deliver.

Behold her frightfully fabulous Stranger Things spread, outfitted with all of your favorite 80s details from the hit sci-fi horror show — plus a fine coating of sugar. Here you'll find sweets inspired by Eleven's love of waffles and retro Valentine's Day candy cartons that bear a slightly sinister redesign (and a shout-out to Will Byers). Ideal for anyone seeking a less-than-traditional holiday, this mad mash-up could only have sprung from the mind of Ms. McConnell, as she describes herself below.
get the Food.com app.
Watch on your iPhone, iPad, Apple TV, Android, Roku, or Fire TV.
Learn More
Red Velvet Valentine Cake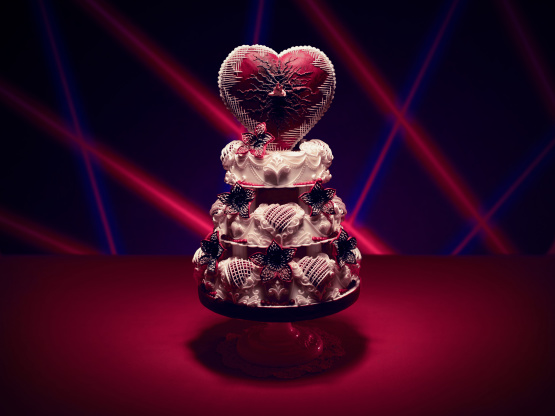 What can I say about Valentine's Day? It's awful? I can't stand it? As someone who loves holidays, this is the equivalent of a burnt kernel in a bucket of delicious popcorn. Its only redeeming quality is the candy — and a bittersweet memory of Rocky, my third grade crush, giving me a special package in class. I'm not sure what ever happened to Rocky (Did he keep that acid-washed jean jacket? Is he still three feet tall? Does he live in the Upside Down now?). I suppose I'll never know, but I'm looking on the bright side and celebrating with a spread that honors the first Valentine's Day I've ever cared about and the absolute best show on tv since Alf.

I initially planned on this cake being one of those painfully tacky, lacy abominations from the 80s, but then I stumbled upon the Lambeth method of cake decorating. It involves piping out a large decoration, then switching to increasingly smaller piping tips and layering to create something incredibly beautiful. That touch turned out to be a nice juxtaposition to the creepy crimson top layer that beckons you into the Upside Down (complete with flower blossoms that double as Demogorgon heads). Get the recipe.

Eleven's Waffle Heart Cookies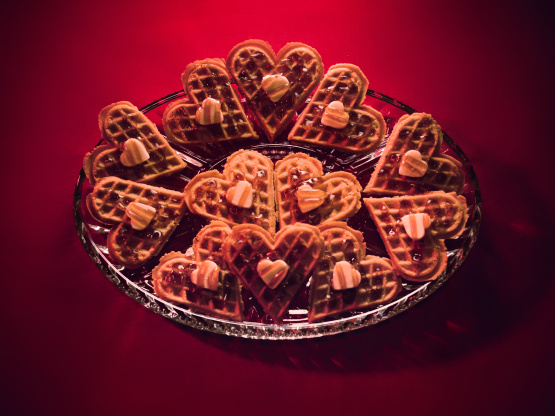 It's no surprise to me that as soon as Eleven broke out of the joint, one of her first indulgences was the golden comfort only an Eggo can provide. As a resentful prisoner myself to dieting, I too occasionally huddle in a corner with a box of pre-packaged delights. For this recipe, I decided to take a classic and give it a slightly more mobile form. These pretty little cookies aren't just for breakfast — they make an excellent gift on Valentine's Day. Get the recipe.

Strawberry Cherry Upside-Down Cake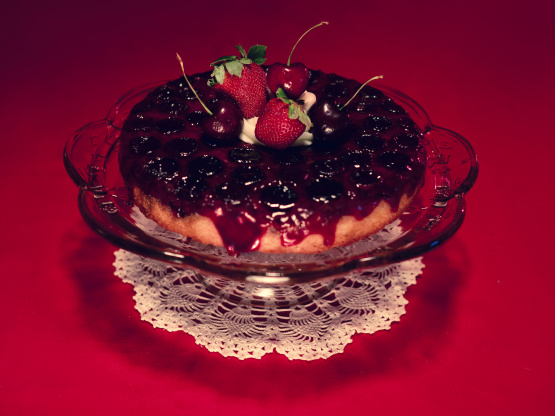 This spread had to feature an upside-down cake for obvious reasons (the Upside Down being Stranger Thing's dark parallel dimension and home to the Demogorgon). The tricky part was trying to dress up a traditionally underdressed cake. So I came up with this slightly different and incredibly delicious recipe that when served hot out of the oven, will surely earn you a special place in the heart of everyone who has a slice. Get the recipe.

Stranger Things Candy Cartons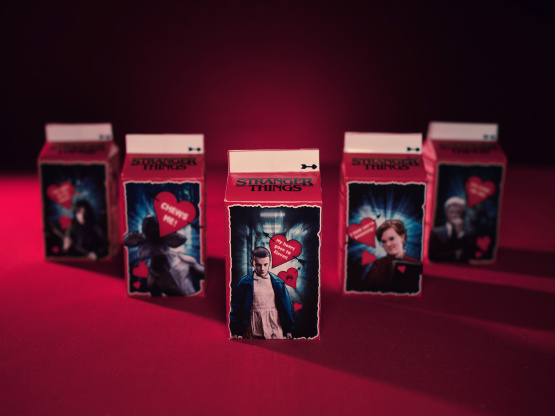 When I think of missing kids, I immediately envision those old pictures you used to find on milk and candy cartons. Since the main storyline in Stranger Things revolves around the disappearance of Will Byers, it seemed like a perfect fit to design a carton that's one-part vintage Valentine card and two-parts 80s nostalgia — i.e. Will's missing person image and bubble gum in a carton. Get the instructions and printable templates for five different candy carton designs featuring Barb, Joyce, Eleven, Dr. Martin Brenner and of course, the terrifying Demogorgon.

Strawberry Bubble Gum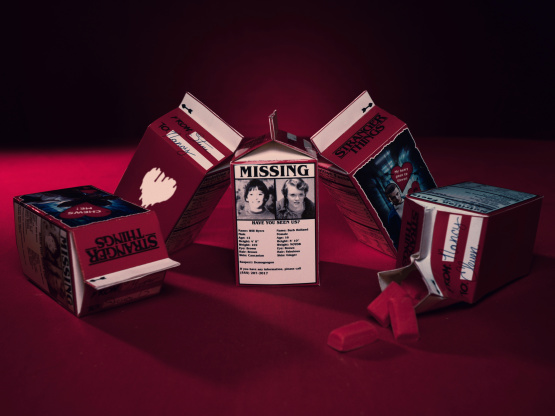 When I was little and my Dad doled out our weekly allowance, I would follow my brothers to the local liquor store to splurge on candy. One of my favorites was bubble gum that came in a milk carton. Today, thanks to the modern convenience of the internet, I was able to recreate this childhood treat (and Dustin's favorite) in my own kitchen. Two warnings: Order your gum base online sooner rather than later and whatever you do, don't put the dirty dish in the dishwasher — I'm still dealing with the consequences! Get the recipe.

Stranger Things Sweetheart Boxes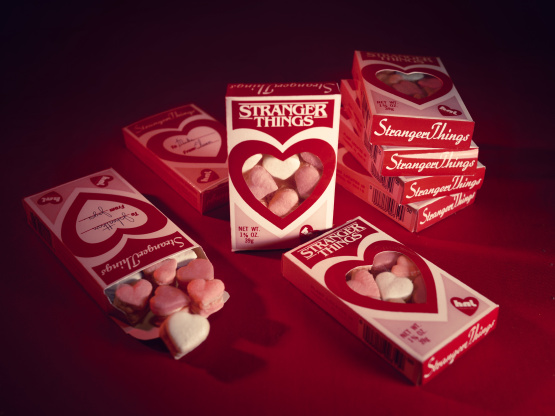 Hands down, my favorite Valentine treat ever has always been those little Sweetheart candy boxes with my name written on the back. It's been more than a few years since I last received one of those magical little gifts, and this year I decided to take a classic design and give it a strange twist. This box is a little bigger than the ones you'll remember from elementary school, but that just means they can be stuffed with three times the sugar! Get the instructions and printable template.

Heart-Shaped French Macarons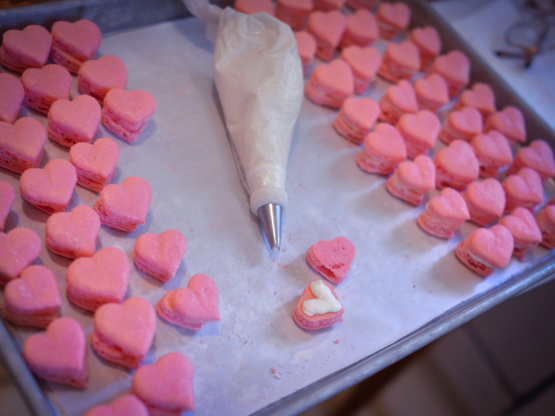 Heart-shaped macarons have been around for a while, but when displayed in oversized Sweetheart boxes, they suddenly take on a very original appearance. I would've loved to scribble cute little sayings on them in red pen, but unfortunately I have the handwriting of a two-year-old, so I'll leave that task in the hands of those with better penmanship! Get the recipe and printable macaron template.

Dodeca Demon Cookies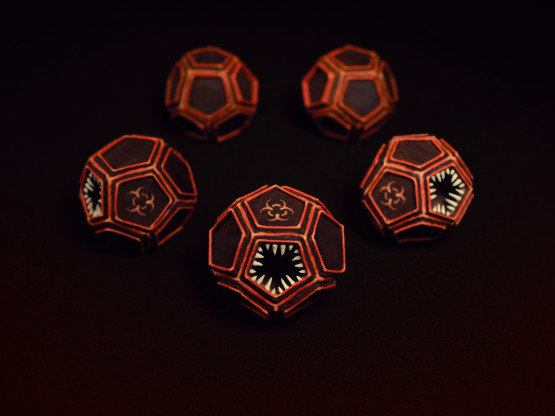 Love is always a roll of the dice. In Dungeons and Dragons, a good roll can send you on a fantastic adventure. In Stranger Things, a bad roll can lead to an unwanted vacation in the Upside Down. But that's no reason to avoid taking chances! This deliciously demonic Dodecahedron represents the riskier side of gambling — in cookie form. Get the recipe, cookie outline and printable box templates for Will, Lucas, Dustin, Mike and Chief Hopper.

Ring Pop Cakes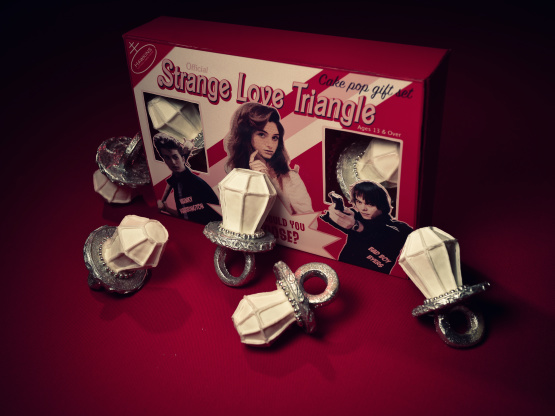 The teen angst Nancy faces while dating Steve and being tempted by Jonathan is something I think most can relate to when first discovering love's many twists and turns. But as Nancy learns, Steve isn't as one-dimensional as he seems, and choosing between the two is far from simple. Luckily, when you're in love with cake (like I am) there's no reason you can't have both! These entirely edible pops are the best combination of young love, 80s nostalgia and, of course, cake! Get the recipe and printable box cover.

Beware the Valentine Demogorgon