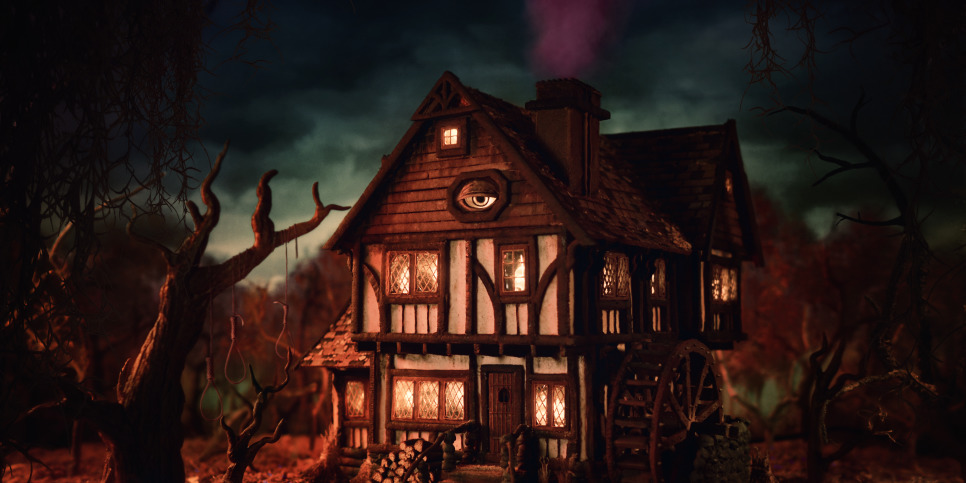 Behold: A Hocus Pocus Cottage Cake for All Hallows' Eve
The Sanderson Sisters' latest trick? An enchanted cake that'll make you want to run amok.
As any witch worth her salt knows, nothing ushers in Halloween season quite like binge-watching cult classics all October long. If you're anything like our favorite sugar sorceress, Christine McConnell, that means it's time to break out the early 90s essential: Hocus Pocus.

Inspired by the kitschy comedic stylings of the Sanderson Sisters (played flawlessly by Bette Midler, Sarah Jessica Parker and Kathy Najimy), Ms. McConnell has conjured a larger-than-life confection that combines some of the most iconic elements from the movie, including the witches' centuries-old cottage and Winifred's beloved spellbook with its roving eye. The artist's tools? Chocolate cake, cookies and cream buttercream and candy glass, to name a few, which resulted in a multi-story cake that would make even Thackery Binx proud.

No need to wait 300 years for a virgin to light a candle — you can creep on Christine's incredible process below and snag her recipe here. Plus, don't miss the special bonus recipe at the bottom, featuring a favorite Hocus Pocus character who hails from hallowed ground. Come little children I'll take thee away...
get the Food.com app.
Watch on your iPhone, iPad, Apple TV, Android, Roku, or Fire TV.
Learn More
A Witch's Warning
Heed Christine's advice or beware: This towering cake was unbelievably heavy and had to be worked on directly out of the icebox, so if you're going to try your hand at this monster, I'd recommend crafting a slightly smaller version of the cake shown above, which was roughly 40 pounds when all was said and done.

(Triple points if you impersonate Sarah, Winifred and Mary Sanderson while assembling this cake, as Christine did.)
Keep a Chill in the Air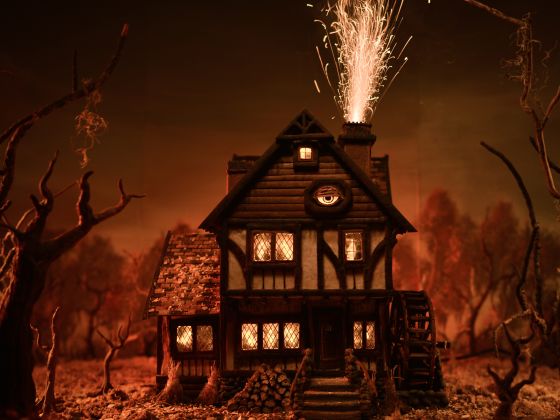 I kept ALL cake elements cold at ALL times. Allowing an oversized cake like this to come down fully to room temperature would have caused it to sag and lose its shape.

After studying the house from the movie, I cut out cake board sheets in the necessary shapes using a craft blade. Every third layer got a sheet of the board between and 4-5 cut dowel rods placed throughout the layers to provide support.

Once the structure was built, it received a generous crumb coat before its final coat of buttercream. Before the next step, I chilled it fully overnight.

Consult Your Enchanted Toolkit
The following day, the large window frames were placed in their respective places using royal icing to glue all of the cookie pieces to the house. I used a bread knife to cut small pockets in each window and door frame to allow for a light to be placed before photographing. Once these pockets were cut out, I coated all the inner walls with a bit of buttercream to prevent the cake from drying out (instructions here).

My secret weapon for cookie sculpting: I used a Dremel tool (which I only use for baking) to perfect each edge and cut every accent and roof strip to align with each other.

Just a Bunch of Hocus Pocus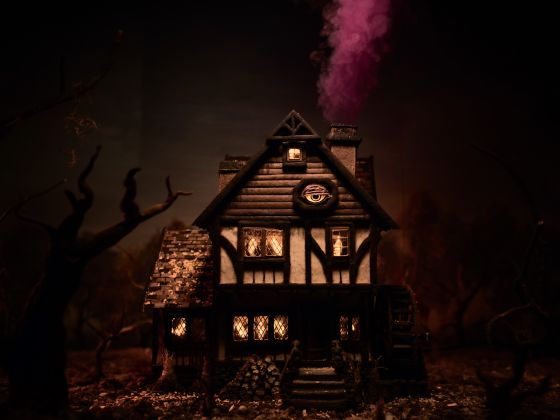 Once the cake was fully assembled, it received a few accents and shading touches with powder paints, and then the surrounding ground was coated with brown sugar and a sprinkling of royal icing leaves. As an additional decorative element, I added shredded wheat cereal as bales of hay in the front and used the remaining cookie dough to create surrounding trees. Then, I hand-painted a large tri-fold presentation board as a background landscape.

And for the final touch? Purple smoke bombs! These were placed one at a time in the chimney cavity and lit until I captured all the shots I needed. (And of course, the chimney portion of the cake should not be served after it's been touched by smoke.) Get the Hocus Pocus Cottage Cake recipe.
Bonus Round: Billy Butcher-Sundae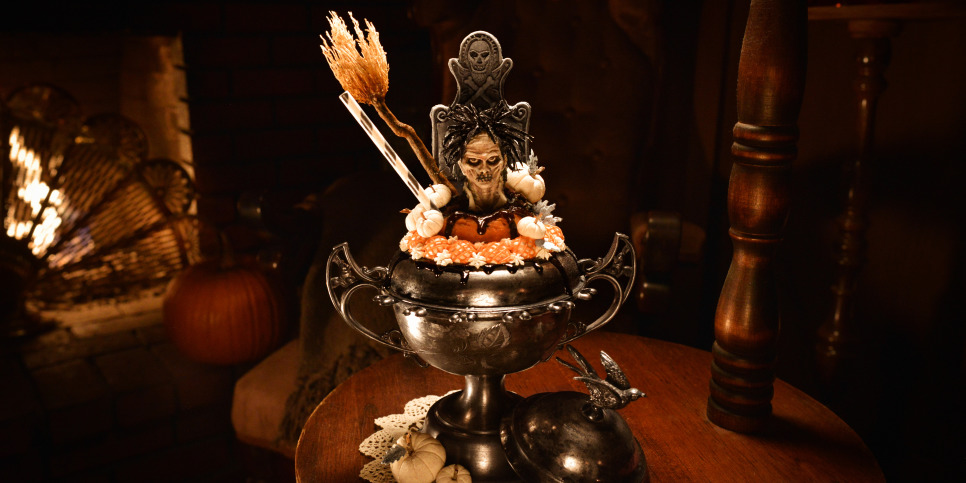 A night of bewitching wouldn't be complete without a cameo from the movie's lovable neighborhood zombie Billy Butcherson. Here, he's reincarnated as a macabre pumpkin spice-infused ice cream sundae, featuring a sugar cookie bust and tombstone and hand-sculpted white chocolate pumpkins. Get the Billy Butcher-Sundae recipe.

"Oh Look, Another Glorious Morning... Makes Me Sick!"