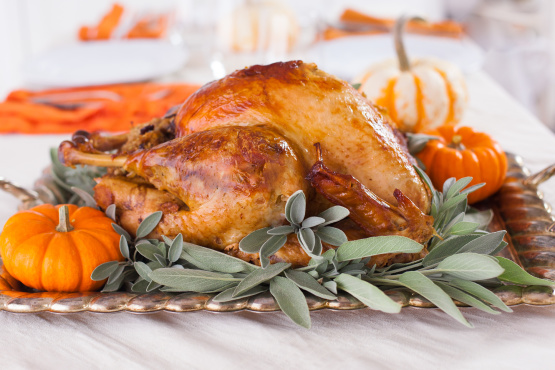 Thanksgiving Favorites from the Food.com Staff
From conventional to crazy, find out what the Food.com staff eats for Thanksgiving.
Thanksgiving, that seminal American holiday that calls for the same staples — year after year — green beans, turkey, mashed potatoes, yams, gravy, cranberries and pie. Sure, it's hard to imagine a Thanksgiving spread without these dishes, but that doesn't mean we don't have our own individual takes on the classics. Maybe your grandmother brought her recipe with her when she immigrated or perhaps your great-great-grandfather's yearly fall harvest on the family farm has created a special breed of pumpkin pie that you can't live without. Or maybe, just maybe, you're from a family where cooking isn't the priority and the turkey always turns out dry but you love it anyways and you'll never dare tell a soul that even copious amounts of gravy can't help the poor bird.

Well, we here at Food.com are no different. We each have Thanksgiving memories and recipes that have shaped our Thanksgiving experiences. Read along — laugh, cry and question our judgment — and get to know the Food.com staff. Perhaps you'll end up trying one of our Thanksgiving favorites this year.
get the Food.com app.
Watch on your iPhone, iPad, Apple TV, Android, Roku, or Fire TV.
Learn More
Hannah, associate editor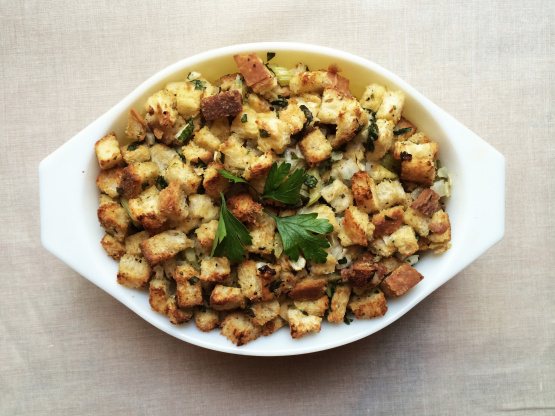 Living in France at the ripe young age of 15 shaped me immeasurably as a person, but there is one food memory from my year away I'll never forget: Thanksgiving. Another food-loving exchange student and I decided it was time to introduce our host families to what we decided was the most USA experience we could possibly offer — a full-fledged Thanksgiving dinner. The catch? Neither of us had ever cooked a meal with so many moving parts in a kitchen with only a microwave-sized convection oven. But we persevered. We got a rotisserie chicken (almost the same, non?), baked pumpkin pie and made all the other must-haves. But the thing I remember most was the stuffing: We used French baguettes and they were GAME-CHANGING. I've come a long way in my Thanksgiving prep, but I always use crusty French baguettes when I make stuffing. Forget about stuffing mix, serve a "French Thanksgiving" >>

Will, Social Guru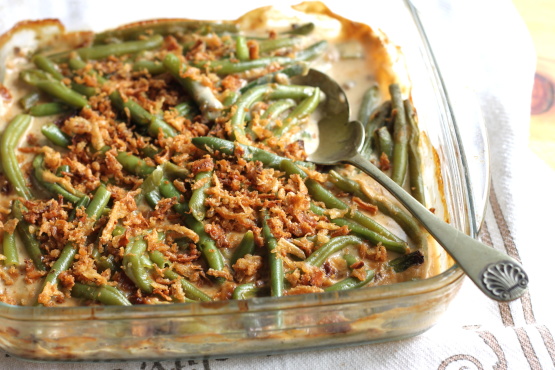 My first Thanksgiving on the West Coast was originally planned to be a solo affair. My mom felt bad for me, spending it alone in my studio apartment in Seattle and ultimately booked a last-minute flight. She arrived in the late afternoon, the day of, and we rushed to the supermarket in an attempt to put together a last-minute meal. We cooked a turkey and made all of our favorite sides – sweet potato mash, corn, and my personal favorite, green bean casserole. We both ate quietly for a few minutes then turned to each other and started laughing. The turkey was beyond atrocious. We got up from the table and tossed the remainders into the trash — we couldn't bear to look at it any longer. Laughing uncontrollably, we got extra helpings of our saving grace, the turkey casserole, and finished the night in front of the TV eating personal pints of mint chocolate chip ice cream. I so appreciated the company, if not the main course. Make a green bean casserole capable of saving Thanksgiving >>

Kevin, Director of Digital Operations
Every Thanksgiving, I look forward to one dish more than any other and that is my Mom's sweet potato soufflé casserole. My mom is from Massachusetts but we grew up in Virginia, and to my good fortune, the flavors and ingredients of Southern cuisine crept into her cooking style over the years. This recipe is an unabashed homage to the sweet in sweet potato and makes no apologies for its whipped, fluffy custard-like base. It's finished with a crunchy, golden pecan praline topping. Whether you eat your sweet potato soufflé casserole with the turkey or with the pies is up to you, but don't miss this recipe. Make sweet potato soufflé just like Kevin's Mom >>

Ricky, associate editor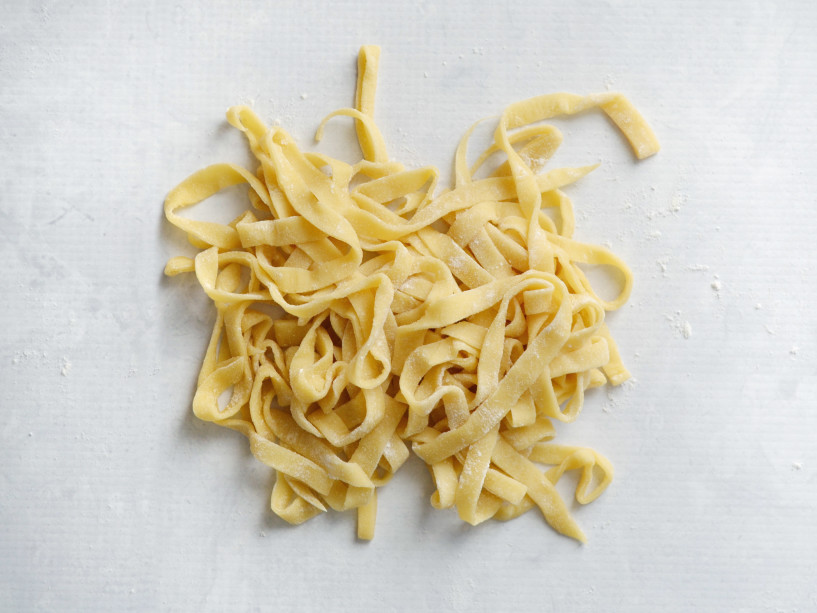 Every year for Thanksgiving, my grandma makes the most delicious homemade noodles. Even though it's not a traditional holiday side, it's what we all look forward to the most. She spends an entire day beforehand making them all by hand, then delicately placing them on tables to dry. I used to love walking into the spare room so I could peek at all of those noodles before she transformed them for the table. Thanksgiving just wouldn't be the same without them! Try handmade noodles on turkey day >>

Danny, social intern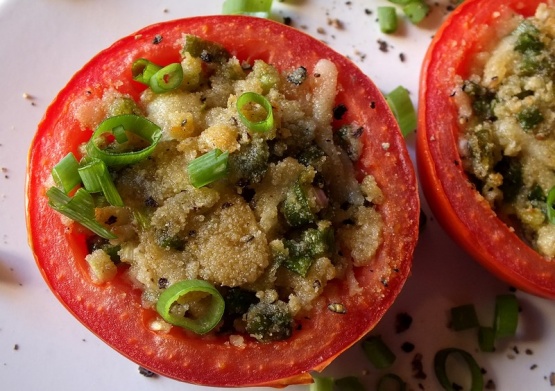 Growing up with an Italian mom meant pasta galore for almost every meal, but for Thanksgiving she stuck to the American classics. Turkey, mashed potatoes and cranberry sauce were all on the menu. Lucky for me, she never failed to throw in one of her own recipes to mix things up and bring a taste of home to the table. My favorite was her pomodori arrosto; oven-roasted tomatoes stuffed with a cheesy and garlicky breadcrumb mixture. I'd start with just two… but by the end of the night, half the tray was gone thanks to yours truly. Eat stuffed tomatoes with abandon >>

Matt, Digital Content Strategy Manager
Last year, I decided to make a deep-fried turkey. Understanding one of the top turkey frying mistakes is using too much oil, my Dad and I carefully measured our oil to avoid the error. Of course, there was still too much, which I only realized as I lowered the turkey into the pot of 375-degree oil. Stopping before disaster, we took every kitchen gadget at our disposal and scooped out the excess oil. In the end, we avoided burns, a backyard fire and served our best turkey ever. Learn how to deep fry a turkey, nice and easy >>
Amanda, Senior Managing Editor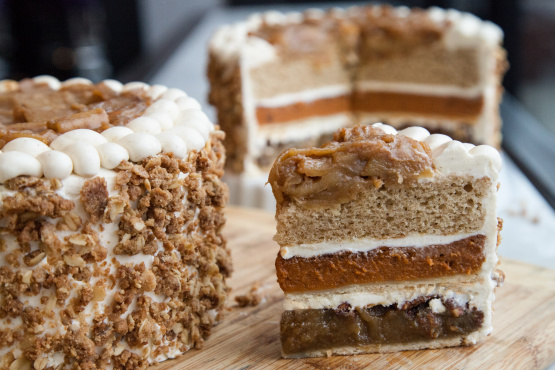 Diehard turkey devotees, brace yourselves: Thanksgiving is not my favorite food holiday. I know that's blasphemy, but I just can't get on board the gravy train (bad pun, not sorry). And since white meat can't hold a candle to a Christmas ham or Passover brisket, I tend to focus on the sweet side of the feast.

My sister's a trained pastry chef, which means that she's on dessert duty—and she always brings her A-game. Sometimes it's a fleet of pies fit to feed 30, other times it's a basket brimming with hand-painted cookies. And one year, she came bearing a cherpumple. If you're not familiar, a cherpumple is a towering hybrid dessert that houses three pie layers (cherry, pumpkin, apple) baked inside three cake layers (chocolate, spice, yellow), and it's as absurd as it sounds. Each overstuffed slice nearly buckles under its own weight and it's a marvel the whole thing doesn't collapse into a sugary sinkhole. Sounds dreamy, right? While it's hardly an annual tradition, I'll never forget the Cherpumple Spectacle of 2014 and can't wait to see what sweet magic my sis conjures this year. Get a (similar) recipe >>

Kiera, Social Media Manager
Ok, so you have your turkey, cranberry, stuffing, etc. But is it really Thanksgiving without leftover sandwiches? My eating strategy revolves around making Thanksgiving-leftovers sandwiches, even on Thanksgiving day. It's the only way to guarantee the perfect bite. Plus, it's portable! So you can go back to the kitchen to make your second sandwich while you're still eating your first. #Priorities. 20 sandwiches to make with your leftovers this year >>