3 Clever Upgrades for Your Holiday Cookie Baskets
Blast your Christmas music, turn on your twinkle lights and preheat your oven — it's time to get into the holiday spirit.
Take a minute to envision the perfect holiday gift. Is it homemade? Affordable? Thoughtful? Portable? Personalized? Reusable? If you answered yes to just one of these questions, it's time you considered (or reconsidered) the cookie basket. Cookie baskets have received a bit of a bad rap in the past, thanks to the what-do-I-do-with-this-now baskets and the less-than-exciting cookies, but what if I told you that we're here to change all that?

Meet Genius Kitchen's trio of updated cookie baskets perfect for anyone on your holiday list. It doesn't matter if you're shopping for staunch supporters of savory, whimsical wanderers or creative cuties — we've got a gift — no, a gift basket — for them all.
get the Food.com app.
Watch on your iPhone, iPad, Apple TV, Android, Roku, or Fire TV.
Learn More
Mini Basket
The secret behind a successful mini basket? Cookies in a variety of colors and flavors, which is why we're featuring three festive cookies. Each one brings its own distinctive personality while simultaneously decorating your Mason jar. Little extra decor or work is needed — just apply a bow! Now you have a cookie "basket" perfect for gift-exchanging co-workers, extra-long holiday shopping lists and every member of your book club.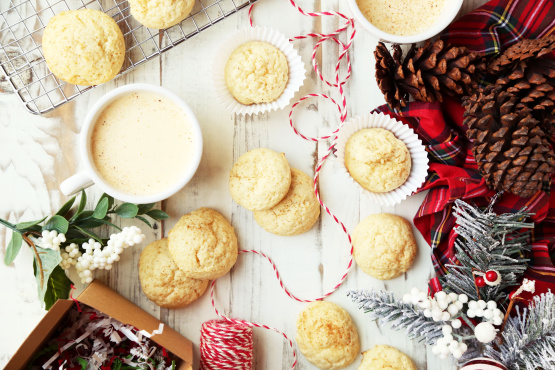 EGGNOG COOKIES
Make no mistake, it isn't December without eggnog, which is why these crinkle cookies are a perfect addition to the mini cookie basket. Plus, eggnog keeps the cookies soft and spicy. Get the recipe.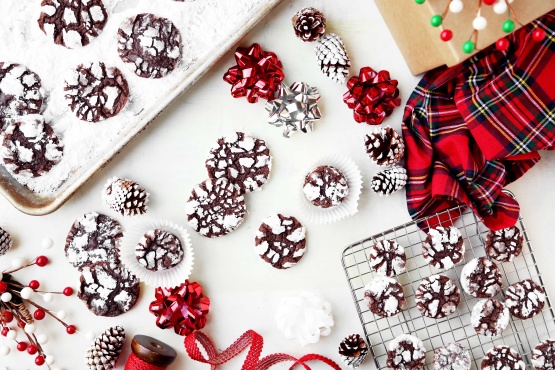 4-INGREDIENT FUDGIES
It simply wouldn't be a classic basket (made mini) if chocolate were not involved. Chocoholics will rejoice when they get their hands on these bite-sized delights. Get the recipe.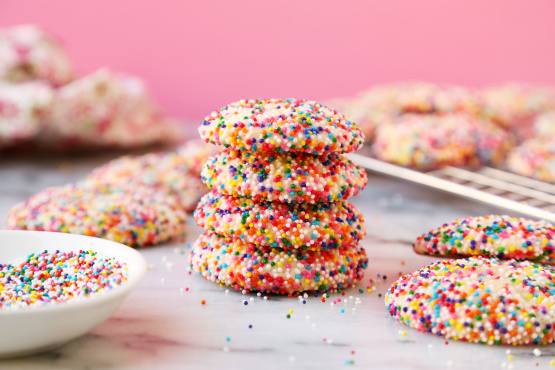 SOFT & CHEWY SUGAR COOKIES
Add the color of roll-and-frost cookies without the extra work! It's up to you if you want to go rainbow, red and green or blue and white. No matter what color scheme you choose, these will add festive decoration from the inside out. Get the recipe.

Using clear Mason or Weck jars, stack and stuff your edible decorations into wide-mouth jars — being careful not to crush any of the precious cargo! Use jars of varying sizes to add visual interest. Make sure your friends know they can reuse the jar for their hot cocoa or other fun holiday crafts. They can even make their own mini-cookie jar and keep giving the gift of holiday cheer!

Favorite Things Basket
Imagine a brown paper package tied up with string and filled with the cookie equivalent of your favorite things. Dream no longer — we've built a basket brimming with crisp apple strudels, warm woolen mittens and snowflakes that stay on our noses and eyelashes. Perfect for friends and family both near and far, this box (wrapped in brown paper) can be shipped, gifted and loved by all this holiday season.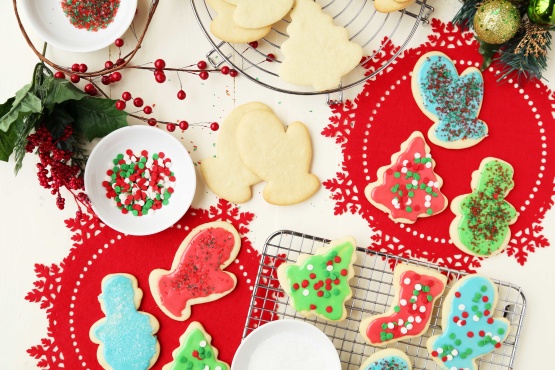 WARM WOOLEN MITTENS
The next-best thing after a pair of hand-knit mittens? Mitten-shaped cookies. These can be decorated to your heart's desire and your recipients' tastes. Get the recipe.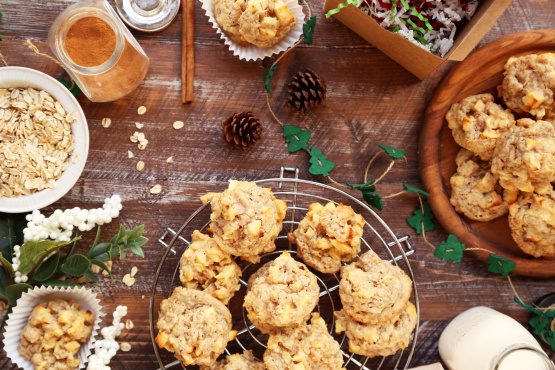 APPLE CRISP COOKIES
Warm apple strudel might not ship well, but these strudel-inspired cookies sure do. Adding them to your brown paper package will deliver a serving of winter warmth. Get the recipe.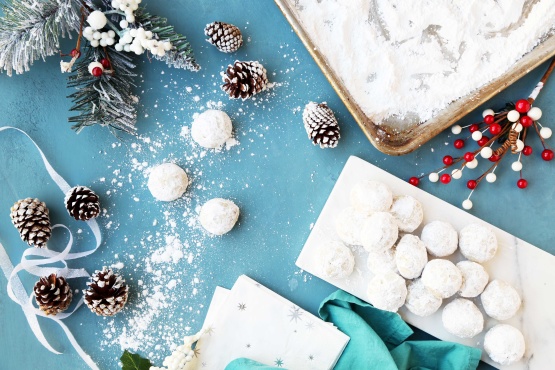 SNOWFLAKE COOKIES
While snowball cookies might not melt on your nose or eyelashes, they will, without a doubt, melt in your mouth. The delicate dough and fluffy powdered-sugar coating will have you eating these quicker than the snow falls. Get the recipe.

If you've ever avoided making cookie baskets because of the hassle of finding a basket, this ingenious packing solution is for you. Find a small square box, fill with carefully packed cookies (we recommend a little extra padding for your mitten cookies) and wrap the whole box in brown paper. Tie with string and use those calligraphy pens you asked for last year to make the box extra special. If you're shipping this box and want to make sure it'll arrive at its destination unblemished, use washi tape instead of ribbon to create the same look.

Savory Basket
Not everyone loves sweets (gasp!), but that doesn't mean they shouldn't get to enjoy the tradition of the cookie basket. Instead of piling on sugar cookie after crinkle, switch things up by making savory biscuits to pair with booze. If you're going all out (hint: a great gift for the parents), throw in your favorite wines or a few large-format bottles of beers. Our perfect Wine Lovers' Basket includes: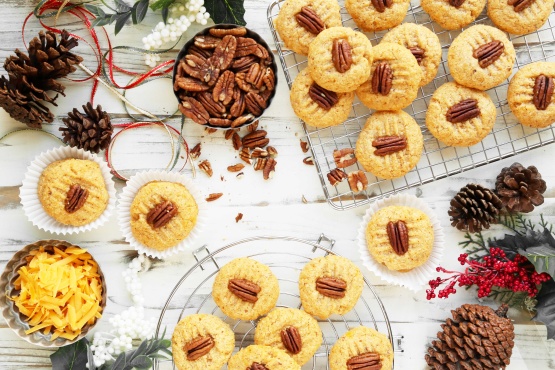 CHIPOTLE CHEESE WAFERS
Spice up your cookie selection with the subtly smoky chipotle giving your cookie basket a little je ne sais quoi. Get the recipe.

MEDITERRANEAN BISCOTTI
Have you ever had a cup of coffee that wasn't improved by a little biscotti action? Didn't think so. Throw in some magical Mediterranean biscotti and dip at your own risk (we recommend pairing with beer). Get the recipe.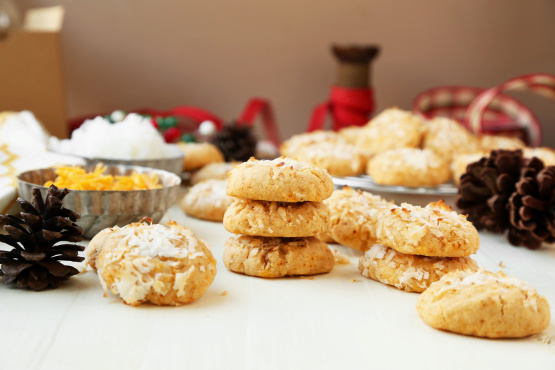 CHEESE BISCUITS
The chocolate chip cookie equivalent of the no-sugar crew, this cookie combines the power of cheddar and coconut, making it one serious staple. Get the recipe.

Because we aren't about to give the gift of sugar-free bliss in a basket destined for the waste bin, may we suggest a mini wine crate? You're not only giving a vessel holding three perfectly cheesy cookies, you're also giving the gift of organization (that's right, this basket can be reused). All you need is a little festive ribbon and cellophane to make this basket worthy of the title "Most Fought Over" at this year's white elephant party.

--
All photos courtesy of Jonathan Melendez of Candid Appetite