11 Best Quiche Recipes
These egg pies run the gamut from classic to cray-cray

Every once in a blue moon, the avid eater discovers a dish with a texture so glorious that their first instinct is to nap on it—to rest their head and drift off into a deep yet fragrant doze. Quiche—with its soft, spongy filling and its flaky yet protective crust—is one such dish. On a quiche, I could curl up and enjoy the mother of all siestas (pass me a gnocchi pillow, please?).

You might already be aware that the first quiche was baked way before you were born (unless you're, like, 200 years old). Lorraine—the hotly-contested region which ended up in French hands after a thousand-year tug-of-war match with Germany—can lay claim to the pie, which was originally baked with leftover bread dough. While the jury's out over the authenticity of cheese in quiche, the real question remains: Is quiche French or German? Unless you're French or German, it probably doesn't matter to you and you would rather just eat it because it's tender and eggy and delightful.
get the Food.com app.
Watch on your iPhone, iPad, Apple TV, Android, Roku, or Fire TV.
Learn More
Quiche Lorraine
Here it is: the flag-bearer in all of its fluffy glory. If you love the classics, or if you've never tried a bite of quiche before (what?), Quiche Lorraine is your starting point. Careful, you might just find yourself obsessed. If this is indeed the case, read on and feed the beast. Get the Recipe >>>

Quiche Cordon Bleu
Everything you love about Chicken Cordon Bleu, in a quiche. I'd say it's the best possible way to use your leftovers. Or, if you don't have leftover Chicken Cordon Bleu, you can always make leftovers from scratch. And then you can make quiche with the freshest leftovers ever. Get the Recipe >>>

Crustless Swiss Chard Quiche
Don't despair; crustless quiche can only mean two things. For one, your eggy-filling-to-crust ratio just shot way up. And two, you can now enjoy the magic of quiche with your gluten-sensitive friends. A+ for delicious quiche; V for dietary restriction victory! Get the Recipe >>>

Tomato, Bacon and Onion Quiche
Looks like pizza. Not pizza. So fresh. So smooth. So quiche. Oh, and you can't go wrong with bacon. Get the Recipe >>>

Spinach and Goat Cheese Quiche
In the 1980's, some guy at Playboy tried to tell the world that "Real Men Don't Eat Quiche." That really can't be correct, because creamy spinach quiche with a goat cheese zing was definitely Popeye's preferred spinach-delivery vessel—you know, for when he wasn't mainlining the stuff straight into his forearm muscles or eating it from the can. Get the Recipe >>>

Crustless Crab Quiche
Looking to take your quiche on a sea-faring adventure? Turns out this choice crustacean is in its element when surrounded by a winning emulsion of eggs, milk, and cheese. Try it with a shake of Old Bay for that clambake taste. Can't you smell the ocean breeze already? Get the Recipe >>>

Crustless Ham and Cheese Quiche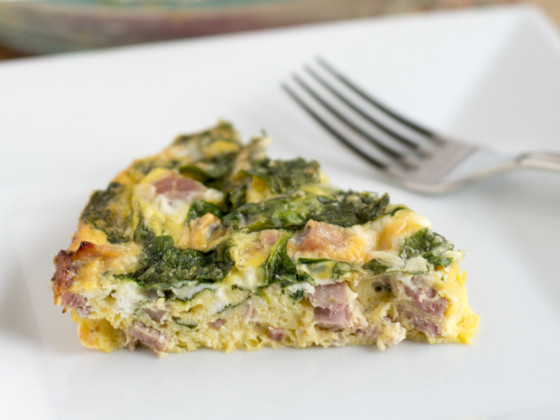 Look at this beauty: marbled to perfection with the a winning combo of ham, eggs, and cheesy broccoli in every bite. You could put it in a display case and show it off to friends, but you'll probably just want to eat it instead. Get the Recipe >>>

Sausage Quiche
Why segregate your sausage and eggs when you can whip them up into the ultimate breakfast sandwich quiche? It's an all-inclusive dish for getting the day started right. Get the Recipe >>>

Asparagus Cheddar Quiche
April showers bring asparagus flowers, but you'll want to harvest the shoots before they have the occasion to bloom. Then you can take those green and grassy stalks and mix them into your quiche. Wild! Get the Recipe >>>

Spinach Quiche
Soft, sautéed spinach runs in veins through this quiche like green gold through the walls of an eggy mine. Pick the piece with the most and you'll be rewarded with a multitude of vitamins and antioxidants.Get the Recipe >>>

Taco Quiche
I'm not sure you can even really call this a quiche, but whatever. I wouldn't worry about it because I can't stop eating it. Get the Recipe >>>

Bonus: Spring Frittata With Parsley Pesto
So this is actually not a quiche. But couldn't it be? I mean, it's basically a crustless quiche that tastes like springtime; it's got fluffy eggs, crisp zucchini, creamy ricotta and fresh pesto. It could just be the greatest not-quiche quiche you've ever tasted. Get the Recipe >>>

Need more than just quiche for Mom's mattress meal? Try:
• 20 Breakfast-in-Bed Favorites
• Muffins, 50 Ways
• 25 Fresh Strawberry Recipes