12 Life-Giving Deep Dish Pies to Lose Yourself In

Need a bad day redeemer? Call in for deep dish reinforcements. From Chicago's iconic bottomless pizza to a mile-high peanut butter pie, these recipes run deep enough to quell the most crushing case of the Mondays. And yes, they woke up like this—flawless.
get the Food.com app.
Watch on your iPhone, iPad, Apple TV, Android, Roku, or Fire TV.
Learn More
Chicago-Style Deep Dish Sausage Pizza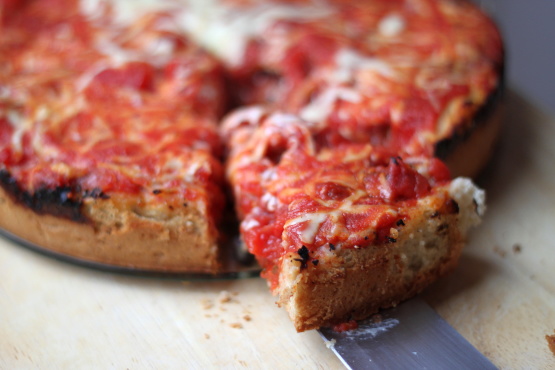 Any deep dish list must pay tribute to the original alpha dog of depth. This Midwestern dreamboat starts with a thick, scratch-made dough that bakes into a complex crust, both chewy and crisp along the edges. The secret to success lies in its assembly, starting with a dense layer of mozzarella, followed by a sheet of Italian sausage. Then comes the ladle of sauce, smothering the toppings to ensure they don't burn, and finishing with a sprinkling of Romano. Hope you have your knife and fork standing by. Get the Recipe >>>

Stove-Top Tamale Pie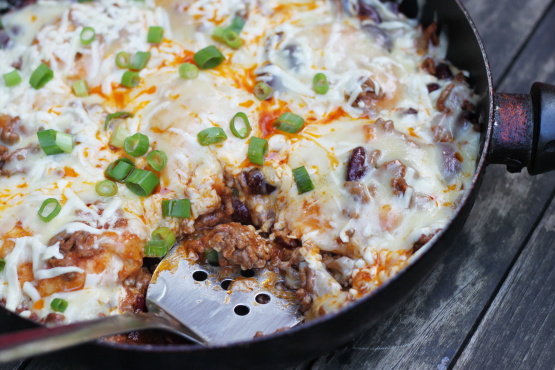 One-dish wonders are real, and this is a doozy. It's time to skip the arduous tamale-prepping process and gift yourself this skillet full of beefy dreams. Simmer kidney beans and ground beef in tomato sauce and taco seasoning, top with dollops of corn muffin mix, cheese and green onions, and prepare to dive deep. Get the Recipe >>>

Mile High Peanut Butter Pie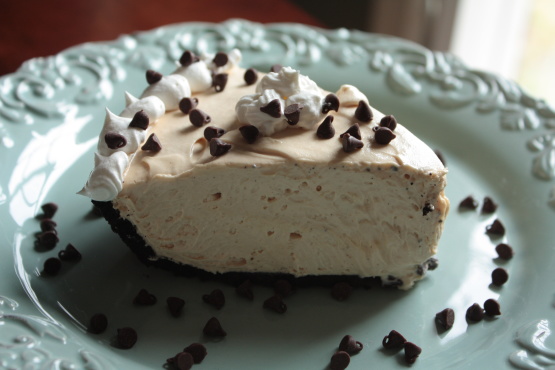 Board the five-ingredient train to bliss, leaving promptly at 8 o'clock. This chocolate graham cracker crust babysits a gang of unruly ingredients vying for attention. Cream cheese, sweetened condensed milk, peanut butter and whipped cream are all stars in their own right, but when blended, they create a towering mound of nutty velvet filling. Now that's teamwork. Get the Recipe >>>

Quiche Lorraine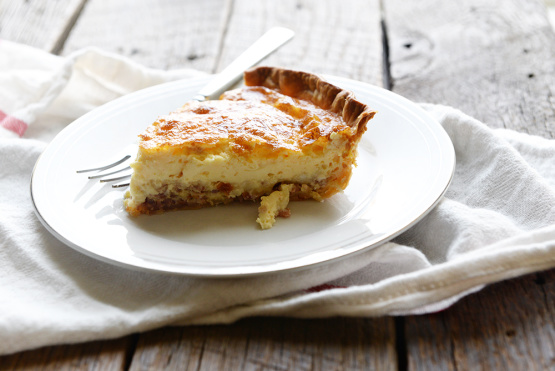 Give it up for Lorraine, the new belle of your breakfast spread. Sure, things begin innocently enough with a shapely layer of pastry dough, but then Lorraine starts vamping with a shower of crumbled bacon, minced onion and Swiss cheese. Her encore features a fluffy tulle-like layer of eggs, thickened with whipping cream and laced with cayenne—and then it's curtains. You've officially fallen for Lorraine. Get the Recipe >>>

Deep Dish Rocky Road Dessert Pizza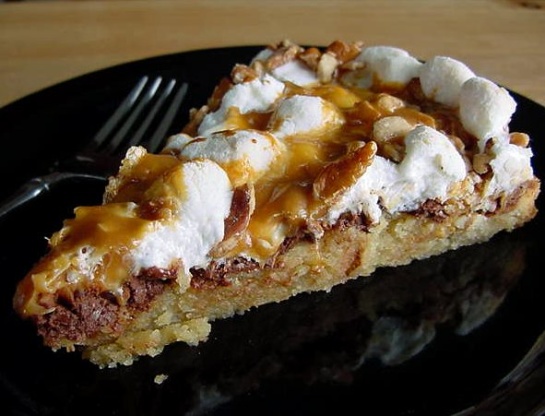 Prepare to loosen your belt a few notches once this sweet 'za hits the table. Buttery brown sugar crust? Check. Milk chocolate and mini marshmallows? You can bet your bottom dollar. Chopped pecans and a caramel drizzle? Stop it, you sound like Willy Wonka on a lifetime sugar high. I'm into it. Get the Recipe >>>

Skillet Spanish Rice with Cornbread Topping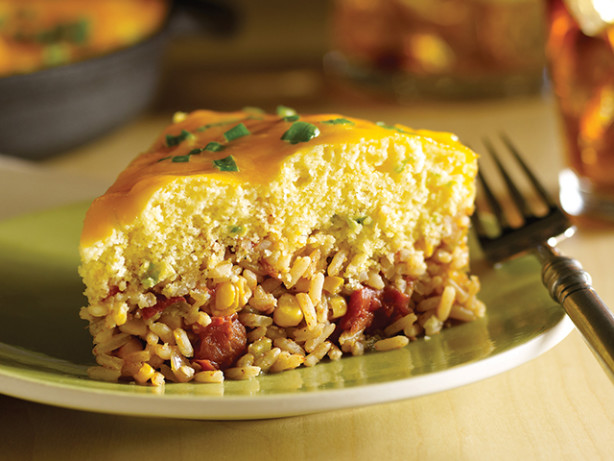 At first glance, you might think this sensuous skillet is filled with just a cheesy cloud of cornbread. Dig deeper and you'll discover an archaeological goldmine: fragrant Spanish rice studded with diced tomatoes, corn and green chiles, just waiting to be unearthed by a curious fork. Get the Recipe >>>

Triple Layer Pumpkin Cheesecake Pie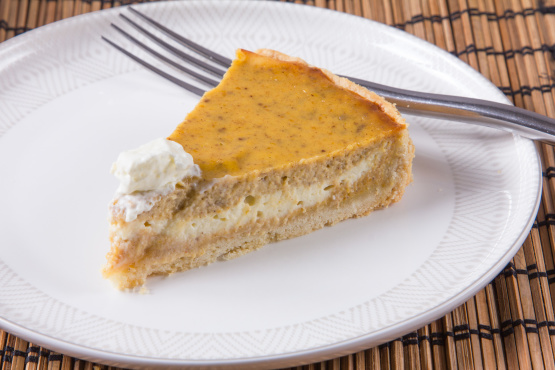 This pie lives by one simple creed: Be bold, live bigger. When two layers says "extra-special," three layers says, "break out the fire extinguisher, I'm here to riot." The tangy cheesecake core is sandwiched by twin sheets of spiced pumpkin filling, creating a silky, multi-story experience that's welcome for any occasion—not just Thanksgiving. Get the Recipe >>>

Deep Dish Pizza Casserole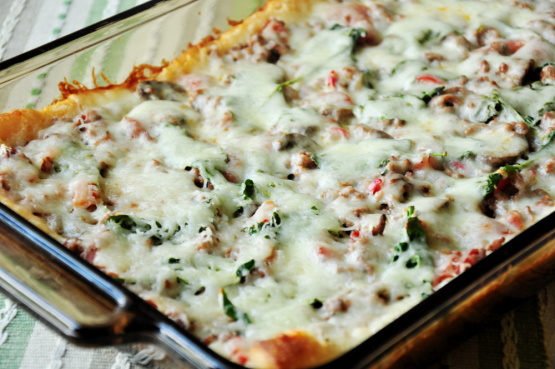 Pesky pizza stones, be gone! This kingly cross-breed combines the quick comfort of a casserole with a meat lover's pizza dream, and the results are electric. Tuck your pizza dough in snugly alongside ground beef, chunky Italian-style tomatoes and shredded mozzarella, then just try to let it cool before schnarfing a bite straight from the oven. Get the Recipe >>>

Deep Dish Watermelon Ice Cream Cake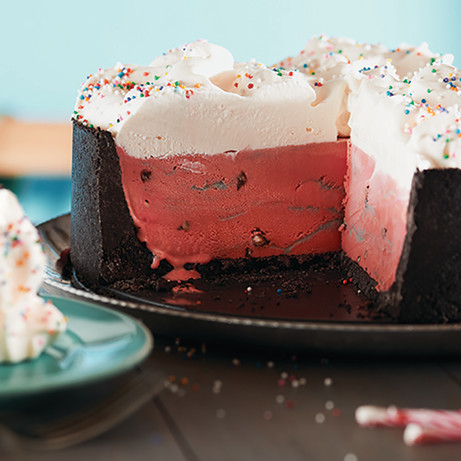 All about that no-bake lifestyle? Meet your mecca in this skyscraping cake that tastes like a summer porch breeze. Not feeling the watermelon vibes? The quick chocolate cookie crust jives with just about any flavor of ice cream, and a thick layer of whipped cream and sprinkles makes this charmer the complete package. Get the Recipe >>>

Beef Pot Pie with Thyme & Pepper Pastry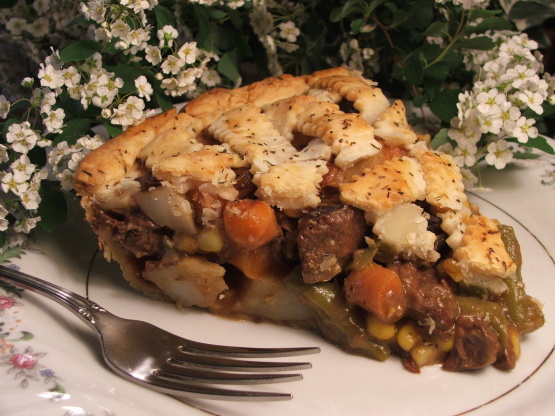 News flash: Polka dots are always in. That explains why this thyme and pepper-flecked pastry is trending like a fiend right now. What's not to dig about this daring ensemble? Flaky lattice stuffed with tender cubes of steak, beef gravy and a posse of hearty vegetables? #squadgoals achieved. Get the Recipe >>>

Cinnamon Crumble Apple Pie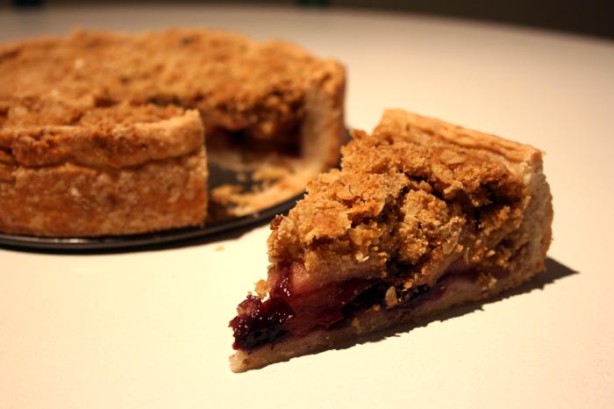 "I'll crumble 4 ya, I'll crumble 4 youuu…" were likely the original lyrics to that catchy 80s jam, let's be real. And the subject of the song? This craggy, thick-crusted pie filled with cinnamon-dusted Granny Smith apples and a sandy brown sugar crumble that keeps the track humming in sweet harmony. Get the Recipe >>>

Rigatoni Pasta Pie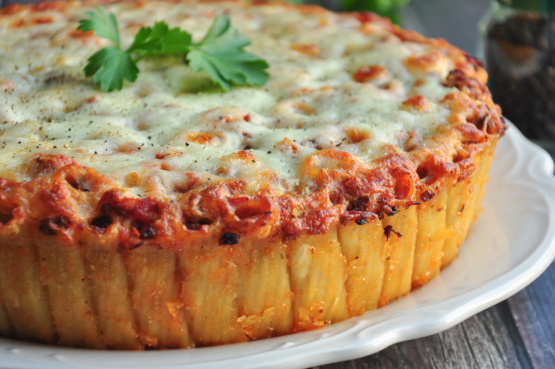 Okay ladies, now let's get in formation—starting with this springform pan. Stack those rigatonis tall and get ready to slay when you set this saucy beast on the dinner table. Why? Because piping hot tomatoes, ground beef and gooey cheese add up to one thing and one thing only: swag. Get the Recipe >>>