Piadina - Italian Flat Bread for Everything!
"Quick and easy. But unappealing texture. Kind of bland flavor. Won't be making it again. I guess I'm partial to yeast."
By RightMostReverend
on 0
Loaded Baked Potato & Chicken Casserole
"Excellent recipe! I found it extremely spicy the first time, so the second time I topped it with some sour cream....delicious!"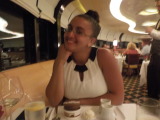 By SavyMae
on 0
"Fabulous, Fabulous, Fabulous! Quick, easy and tasty. Served them on top of Tomato Bisque soup."
By Audrey M
on 0