Baked Tilapia With Lots of Spice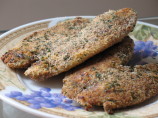 Photo by BeckyD in Tennessee
Prep Time: 15 mins
Total Time: 29 mins
Servings: 4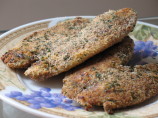 Photo by BeckyD in Tennessee
About This Recipe
"This is a fabulous recipe for oven fried tilapia slightly adapted from Paul Prudhomme's wonderful "Fork In The Road" lower fat cookbook. I served this for dinner with family and it got rave reviews. Even my picky 5 year old eater enjoyed it. The ingredient list here is long, but is mostly spices. Please don't be put off, this is wonderful stuff and once you get the spice mixture combined, quite easy to make."
Ingredients
1 teaspoon salt

3/4 teaspoon paprika

3/4 teaspoon onion powder

3/4 teaspoon dry mustard

1/2 teaspoon garlic powder

1/2 teaspoon pepper

1/2 teaspoon cumin

1/2 teaspoon basil

3/4 teaspoon italian seasoning

4 (4 ounce) tilapia fillets

1/2 cup breadcrumbs

3 tablespoons sliced green onions

1 tablespoon dried parsley flakes

1 tablespoon olive oil
Directions
Preheat the oven to 450 degrees.

In a small bowl combine the spices from the salt through the Italian seasoning and set it aside.

In a shallow container mix the bread crumbs, dried parsley, and green onions.

Measure 4 tsp of the spice mix and sprinkle that all over the 4 fish fillets.

Add the remaining spice mix to the bread crumbs, mixing well. Add the olive oil to the bread crumb mix, blending it in with your hands.

Dredge the fish in the breadcrumbs, coating well.

Shake off any excess breadcrumbs.

Place the fish on a baking pan that has been sprayed with non-stick spray.

Bake for 6 minutes.

Turn over and bake for 4 minutes.

Turn over again and bake until flaky, about 4 more minutes.

Serve immediately.