Low Carb Baked Spaghetti Squash With Garlic Sage Cream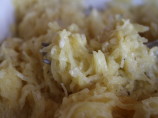 Photo by buzzy1017
Prep Time: 10 mins
Total Time: 55 mins
Servings: 6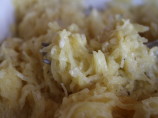 Photo by buzzy1017
About This Recipe
"A few simple ingredients transform this mild tasting vegetable into a memorable side dish. My whole family loves this, even kids and at only 2 grams of carbs per serving it is a great dish to beat back the pasta craving! It tastes alot like spaghetti alfredo. I usually serve this with grilled chicken. My girlfriend passed this recipe on to me, I have no idea where it came from. If you are watching carbs it has a net carb count of only 2 grams per serving. For those doing Atkins, use the heavy cream, for those on SBD use milk and add a wee bit of thickener if needed. I hope you enjoy it as much as we do!"
Ingredients
2 1/2 lbs spaghetti squash

3/4 cup heavy cream

1 garlic clove, pushed through a press

3 teaspoons finely chopped fresh sage or 1/2 teaspoon dried sage

1/4 cup parmesan cheese

salt and pepper
Directions
Pre-heat oven to 400°F.

Prick squash in several places and bake 45 min until tender.

Allow to cool slightly, cut in 1/2 and scoop out seeds.

Pull out squash strands from each side with a fork.

Transfer to a warm bowl.

While squash is baking: Heat cream, garlic and sage in pan over med. heat.

Cook 10 min until cream is thick enough to coat the back of a spoon.

Pour sauce over squash, toss lightly until combined.

Add salt and pepper to taste, sprinkle with parmesan cheese.

Serve immediately.