To Die for Spaghetti Carbonara by Tom Cruise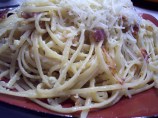 Photo by Nif
Prep Time: 15 mins
Total Time: 1 hr 5 mins
Servings: 6-8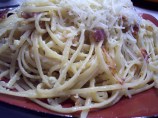 Photo by Nif
About This Recipe
"Adopted from Recipe Zaar. I haven't made this yet, but will shortly and make any alterations I think need to be made. Serving sizes will depend on how much spaghetti you make."
Ingredients
good first cold press extra virgin olive oil, 1/2 inch in large saute pan ( Don't skimp on oil quality!)

2 garlic cloves, minced, to taste

1 chopped onion, to taste

8 -12 slices pancetta, thick slices ( Italian bacon)

4 eggs

2 (16 ounce) packages spaghetti ( use your good judgement on quanity, we eat alot!..you may not!)

2 cups fresh grated parmesan cheese (Again, don't skimp on quality!) or 2 cups parmigiano-reggiano cheese ( Again, don't skimp on quality!)

crushed red pepper flakes

salt & fresh ground pepper
Directions
Put 1/2 inch of olive oil in sauté pan.

Add 2 cloves (or more) chopped garlic, onion and bacon cut into small squares.

Let simmer 30 minutes, don't let mixture boil!

During last 10 minutes of simmering add crushed red pepper flakes if using (I used 1 teaspoon).

In bowl, beat 4 eggs with lots of salt and fresh ground pepper.

Cook spaghetti until al dente.

Drain and immediately add egg mixture to pasta. (The pasta needs to be real hot in order for the eggs to cook).

Stir until eggs are cooked.

Mix into sauté pan and finish with the grated cheese.

ENJOY!