Glazed Cinnamon Rolls - Bread Machine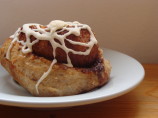 Photo by Lieutenant Ducky
Prep Time: 2 hrs 30 mins
Total Time: 2 hrs 50 mins
Yield: 9 rolls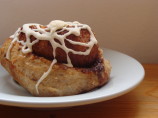 Photo by Lieutenant Ducky
About This Recipe
"The bread machine makes these rolls easy! I usually make them at night and refrigerate them to bake for the next day's breakfast. Adapted from Betty Crocker's Bread Machine Cookbook. Prep time listed includes the dough mixing time and rising time."
Ingredients
ROLLS

177.44 ml water, plus

29.58 ml water

29.58 ml unsalted butter, softened

591.47 ml bread flour

59.14 ml granulated sugar

4.92 ml salt

4.92 ml bread machine yeast

FILLING

78.07 ml granulated sugar

9.85 ml ground cinnamon

29.58 ml unsalted butter, softened

GLAZE

236.59 ml powdered sugar

2.46 ml vanilla

14.79-29.58 ml milk
Directions
Place water, 2 Tablespoons butter, bread flour, 1/4 cup white granulated sugar, salt and yeast in the bread machine and start on dough cycle.

Once dough is complete, roll out into a 9" square on a lightly floured surface.

Mix 1/3 cup sugar and 2 teaspoons ground cinnamon together (I mix it in a measuring cup).

Spread 2 Tablespoons softened margarine over the dough and sprinkle with the cinnamon mixture.

Roll up tightly into a log and pinch the edges to seal.

Cut into 1" slices and place in a greased 9"x9"x2" square pan (brownie pan).

Cover loosely with plastic wrap and let rise 1 hour or so until double, OR in refrigerator overnight if making for breakfast.

Preheat oven to 375°F and bake 20 minutes or until golden brown.

Mix powdered sugar, vanilla and milk to make glaze, drizzle over rolls and serve warm.