Quick & Easy Pepperoni Loaf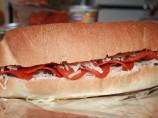 Photo by **Tinkerbell**
Prep Time: 10 mins
Total Time: 20 mins
Yield: 1 loaf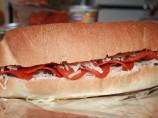 Photo by **Tinkerbell**
About This Recipe
"I had something similar to this at a party and loved it. So, I did my best to recreate it for my next party! I've since learned this is a very different method than what she used, but I love my version because it is fast and tastes just as good. This is good as a sandwich or cut into smaller slices as an appetizer. (Servings vary depending on size of slices.) Can be made ahead of time and kept in refrigerator until ready to heat. (Refrigerated loaf will need to be heated a bit longer.)"
Ingredients
1 baked French bread or 1 Italian bread, 12 inch size

1 (3 ounce) packages sliced pepperoni ( I use Hormel)

2 tablespoons cream cheese

1 -2 tablespoon italian seasoning

5 slices mozzarella cheese

5 slices provolone cheese

1 cup marinara sauce
Directions
Slice off top half of bread, cutting lengthwise.

Spread cream cheese over entire length of bottom half of bread.

Sprinkle Italian seasoning over cream cheese.

Lay 5 slices of mozarella cheese over length of bread.

Layer pepperoni over mozarella cheese (you may need to make more than one pepperoni layer, just keep going until you use it all).

Place 5 slices of provolone cheese on top of pepperoni.

Place top half on bread back on sandwich.

Wrap in aluminum foil.

Bake at 350 degrees for about 10 minutes.

Slice and serve with warmed marinara for dipping.