Polvorones de Chocolate (Mexican Chocolate Cookies)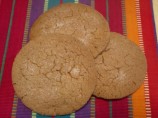 Photo by Kim D.
Prep Time: 45 mins
Total Time: 1 hr 5 mins
Servings: 13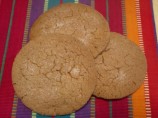 Photo by Kim D.
About This Recipe
"I found this recipe in a Mexican cooking magazine called "Panaderia Mexicana Tradicional". The recipe was originally written in Spanish and the measurements were in grams. I translated the recipe into English and converted the measurements to accomodate the American kitchen. Living in Texas, we have a lot of Mexican bakeries! I love going into the panaderia by the farmer's market. I love Mexican pastries because they are not too sweet. This cookie is one of my favorites!"
Ingredients
2 1/4 cups all-purpose flour, plus

1 tablespoon all-purpose flour

2 1/4 cups powdered sugar, plus

2 tablespoons powdered sugar

1 1/4 cups vegetable shortening, plus

2 tablespoons vegetable shortening

2 eggs

2 tablespoons cocoa

2 teaspoons baking powder

1 teaspoon pure vanilla extract

granulated sugar, for rolling
Directions
Combine all ingredients in a mixing bowl.

Blend well.

Cover dough and refrigerate for 30 minutes.

Preheat oven to 350°F.

Scoop about two tablespoons of dough, roll into a large ball, then roll in granulated sugar.

Place ball of dough onto a baking sheet.

Flatten ball with the palm of your hand to about 1/4-inch thick.

Sprinkle a little extra sugar on top.

Repeat process with the rest of the dough, placing them 2-inches apart once flattened.

Bake for 15-20 minutes.

Make sure you not over bake!

Remove cookies from oven and leave on cookie sheet for 5 minutes, before transfering to a wire rack to cool completely.