Candied Apples Topped With Coconut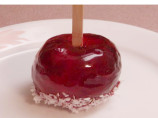 Photo by Rita~
Prep Time: 10 mins
Total Time: 40 mins
Servings: 6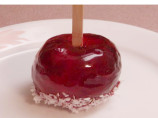 Photo by Rita~
About This Recipe
"These are for Cindy! If you like sweet crisp apples bite into this. If you don't like the coconut just place the dipped apples on to a very well grease the cookie sheet pan. Or you can dip into those colored candies if you have a real sweet tooth."
Ingredients
2 cups granulated sugar ( or vanilla Flavored Sugars recipe #53926)

2 cups corn syrup

1/3 cup red cinnamon candies

1 cup water

1 teaspoon cinnamon

1/2 teaspoon vanilla

1 teaspoon red food coloring

6 crisp fresh apples

1 -2 cup flaked coconut
Directions
Remove stems from apples, wash, and towel dry.

Insert a wooden skewer or popsical sticks in each apple, running through the apple from stem end to base without protruding all the way through the bottom end.

Combine sugar, corn syrup, cinnamon candies, and water in medium to large saucepan.

Cook until candies dissolve, stirring constantly.

Be careful not to boil.

Add cinnamon, vanilla, and food coloring.

Mix thoroughly.

Boil mixture to 300°F using a candy thermometer without stirring for the hard crack stage, or if you like a nice so HARD to cook the candy to 245 or 250, to the firm ball stage.

As soon as mixture reaches 300° F.It will be very thick.

Remove it from heat and quickly dip each apple-one by one-into the mixture until it is thoroughly coated.

Dip the base end of apple into coconut to coat the bottom and place coconut side down skewer pointing up, on baking sheet until mixture hardens.