Grandma's Chicken 'n' Dumpling Soup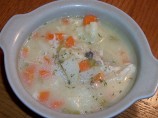 Photo by Hey Jude
Prep Time: 25 mins
Total Time: 3 hrs 25 mins
Servings: 10-12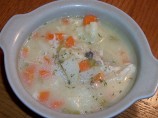 Photo by Hey Jude
About This Recipe
"This came from a Taste of Home recipe collection from several years ago. It is requested by my family several time a year. Great during cold weather and when you are feeling under the weather. Takes a little time to prepare, but well worth it."
Ingredients
1 (3 lb) chicken, cut up

2 1/4 quarts cold water

5 chicken bouillon cubes

6 peppercorns

3 whole cloves

1 (10 3/4 ounce) cans cream of chicken soup, undiluted

1 (10 3/4 ounce) cans cream of mushroom soup, undiluted

1 1/2 cups chopped carrots

1 cup fresh peas or 1 cup frozen peas

1 cup chopped celery

1 cup chopped peeled potato

1/4 cup chopped onion

1 1/2 teaspoons seasoning salt, to taste

1/4 teaspoon pepper

1 bay leaf

DUMPLINGS

2 cups flour

4 teaspoons baking powder

1 teaspoon salt

1/4 teaspoon pepper

1 egg, beaten

2 tablespoons butter or 2 tablespoons margarine, melted

3/4-1 cup milk

snipped fresh parsley, optional
Directions
Place chicken, water, bouillon cubes, peppercorns and cloves in an 8 quart Dutch oven or soup kettle.

Cover and bring to boil; skim fat.

Reduce heat; cover and simmer for 1-1/2 hours or chicken is tender.

Strain broth and return to kettle.

When chicken is cool to touch; debone and cut into bite sized chunks.

Return chicken to kettle and add cans of soup, vegetables and seasonings; bring to boil.

Reduce heat; cover and simmer for 1 hour.

Uncover and increase heat to a gentle boil.

Remove bay leaf.

For dumplings, combine dry ingredients in a medium bowl.

Stir in egg, butter and enough milk to make a moist stiff batter.

Drop by teaspoonfuls into soup.

Cover and cook (don't peek) for 18-20 minutes.

Sprinkle with parsley if desired.

NOTE: It states in the recipe 10-12 servings, I serve bigger bowls, so it probably serves 6-8.

I also use a little less seasoned salt due to the salt content of both cans of soup.