Zucchini, Peppers, and Tomatoes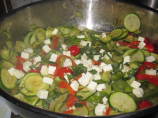 Photo by Katanashrp
Prep Time: 20 mins
Total Time: 40 mins
Servings: 4-6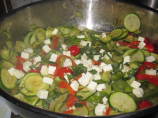 Photo by Katanashrp
About This Recipe
"This is a really quick, simple, and flavorful sauté from The Victory Garden Cookbook. It can be served hot or cold, and reheats well."
Ingredients
1 lb zucchini

2 tablespoons butter

1 tablespoon olive oil

1 cup sliced onion

1 -2 cup sliced bell pepper ( any color)

1 1/2 cups peeled seeded and chopped tomatoes

1 teaspoon chopped fresh basil

1/2 teaspoon oregano

salt & freshly ground black pepper

1/2 cup feta cheese (optional) or 1/4 cup parmesan cheese (optional)

1/2 cup sliced black olives, to taste (optional)
Directions
Wash, trim, and slice zucchini.

Salt zucchini lightly and allow to drain for about ten minutes, then pat dry.

Heat the butter and oil, sauté onions until wilted.

Add the zucchini and peppers, cook 2 to 3 minutes.

Stir in tomatoes, herbs, and add salt and pepper to taste.

Cook 4 to 5 minutes, or until the vegetables are tender.

If the tomatoes are especially juicy, cook briefly over high heat to reduce pan juices.

Remove from heat, stir in optional feta and olives or parmesan, if desired.