Great Key Lime Pie (Vegan, but You'd Never Guess It!)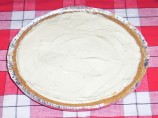 Photo by Kree
Prep Time: 20 mins
Total Time: 20 mins
Servings: 6-8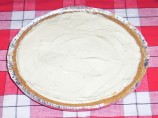 Photo by Kree
About This Recipe
"This pie is so rich and decadent it almost tastes more like a key lime cheesecake! I made it for a Caribbean-themed party without telling what was in it and everyone raved about it! I'm not even a vegan and I plan on making this one frequently. I got the recipe from VegWeb."
Ingredients
1 (12 1/3 ounce) packages mori-nu firm silken tofu ( I use lite)

8 ounces soy cream cheese

1/2 cup key lime juice

2 teaspoons freshly grated lime rind

2 (4 ounce) packages mori-nu mates vanilla pudding mix ( must be this brand, it's made to go with the tofu)

1 tablespoon liquid sweetener, to taste ( I use honey but that's not vegan!)

1 (9 inch) baked pastry shells (I prefer graham) or 1 (9 inch) graham cracker crust ( I prefer graham)
Directions
Drain any excess water from the tofu.

Blend tofu and lime juice in a processor or blender until creamy and smooth.

Add the rest of the ingredients (except crust!), and blend again until smooth.

At this point, I had to transfer the mixture to a bowl and beat on high speed with an electric mixer, since it was too thick and stiff for my blender.

Pour the mixture into the crust and chill 2-3 hours or until firm.

This sets up very firm.

It also makes a great pudding or little tartlet filling for fancy desserts!

Note for those who try with other pudding mixes. Make sure your mix is Vegan. Commercial mixes can contain meat by products making them not Vegan or Vegetarian.